Combining high grade aluminium with precision engineering, Origin Global has established itself as the UK's leading specialist manufacturer of aluminium bi-folding doors and windows
The doorway to success
Combining high grade aluminium with precision engineering, Origin Global has established itself as the UK's leading specialist manufacturer of aluminium bi-folding doors and windows
In a way, as Sales and Marketing Director Ben Brocklesby explains, Origin Global (Origin) was something of an accidental business when it comes to how it came to be formed in 2002. "It was my
father-in-law and his brother, who at the time owned a swimming pool company, who were first introduced to the concept of aluminium folding sliding doors. After discussing the technology with their respective children, Victoria Brocklesby and Neil Ginger, they concluded that there was a noticeable gap in the UK market that they could fill by designing and manufacturing the highest quality bi-folding doors and supporting this with unrivalled levels of customer service."
Since then, Origin has continued to work tirelessly to create products that offer flawless design and functionality, and has subsequently expanded into the manufacture of stylish aluminium windows. "Everything we have achieved as a business to date has been as a result of retaining our family ethos of looking to do the best job possible in all that we undertake," Ben continues. "As anyone familiar with doors and windows will know, they are rather ubiquitous in their nature, so what we have chosen to do to differentiate ourselves is to focus on designing products that are desirable and that are manufactured to each of our customers' bespoke specifications."
In responding to the demands of its customers, Origin has actively looked to include innovative nuances into its products. Examples include the
introduction of a finger safety gasket to its newest bi-folding doors, providing an added layer of protection for young children who may be opening said doors, and the company's unique utilisation of Aerogel, considered to be the world's best insulator and used by NASA to insulate its space suits, in the manufacture of its windows. By using Aerogel in the thermal break of an Origin window, it considerably limits the heat transfer from one side to the other, delivering a A++ Energy Rating in the process.
Unique offering
As well as putting the customer and their wishes at the top of its list of priorities during the design stage, Origin applies the same approach during the manufacturing process. "One of the trends we have seen growing in importance over the years amongst our customers is their desire to have what they want, when they want it," Ben states. "Traditionally, the average lead time within the aluminium door and window industry is between four and eight weeks, but by embracing a Lean Manufacturing model we are able to offer the quickest lead times on bi-folding doors, delivered under our 'Your lead time, not ours' promise.
"Under this promise, if a customer chooses a product in one of our 13 most popular colours they can specify its delivery date, be it a day, a week or a month after its order. Once selected, we fast track the product to the head of our manufacturing line and our customers receive the bespoke doors or windows they want in
the timeframe they need. This capability, and the increased degree of flexibility it provides our customers, has helped us to grow rapidly and afforded us the enviable opportunity to possess a wholly unique manufacturing offering that few others would be able to replicate without a vast amount of capital investment and industry know-how."
US foothold
Having established a commanding presence within the UK, Origin has also made considerable strides when it comes to increasing its export business. One of the big markets being targeted today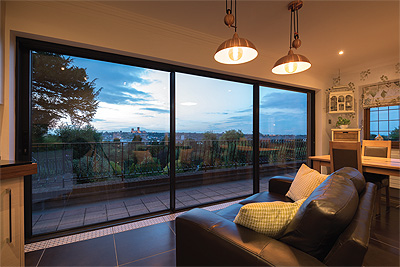 in the United States, where it first introduced its products approximately four years ago. "Upon entering the US market, we wanted to go into one of the most challenging environments possible in order to test the durability of our products, and that was South West Florida, which regularly experiences the effects of hurricanes and tropical storms," Ben says. "By putting our UK manufactured products through stringent hurricane testing, we not only confirmed their ability to pass the highest levels of testing around but also identified any key areas of improvement that would benefit our customers."
Buoyed by these test results, and benefiting from the respect and kudos that the 'manufactured in Britain' tag continues to carry with it, Origin has been able to establish a solid foothold in the United States, with it now also offering a fabrication service for its products on that side of the Atlantic. "Today, we remain one of a very select few manufacturing houses in our industry to offer European systems and solutions in the US," Ben adds. "It is truly a fascinating market to be active in, but our approach remains the same, and that is do our best by our partners, customers and home owners."
Plans for 2019
Elsewhere throughout the world, Origin products have long been present in the Middle East, where the company continues to experience strong demand particularly in places such as Dubai, where new money coming into the area is being used to bring the quality and standards of housing up to European equivalent levels. Speaking of which, demand across continental Europe also remains high, with parties from different countries regularly approaching Origin to determine the appetite for launching its products into these locations.
Turning back to Origin's products, the last 12-18 months have seen the company make a move into the front door market and launch its second window system. In the case of the former, the Origin Front Door boasts advanced security, tasteful aesthetics and thermal efficiency, comes available in a range of panel choices, colours and styles, is completely bespoke, and has become one of the fastest growing areas of the business. Meanwhile, The Origin Slimline Window', or 'OW-70', was launched earlier in 2018 to great excitement. The company's slimmest window to date, with sightlines of just 65mm wide, the OW-70 is ideal for spaces where maximising glass size and light is essential, and comes with a guarantee of up to 20 years.
"We have always been both an optimistic and ambitious business, and as such we are predicting further growth for Origin during 2019," Ben goes on to reveal. "We have grown year-on-year since our inception and we see no reason to think that 2019 will be any different. Over the course of the next year we will be working hard to solidify our existing partnerships, increase our footprint and customer base, and develop our e-commerce offering as we further encourage home owners, builders and architects to engage with Origin.
"We are not ashamed to say that we have some pretty audacious goals, and among the biggest is the desire to see Origin regarded as one of the marquee brands within the door and window industry. From a personal perspective, I would love to get the point where, when people decide they want to purchase a bi-folding aluminium door or quality aluminium window that they say, 'I want an Origin', and I see no reason why that can't be realised!"
Origin Global
Products: High quality aluminium bi-folding doors and windows