Quality, service and a strong team is central to Origin's offerings, but it is the company's ability to respond to the market that has provided the driving force
Original thinking
Quality, service and a strong team is central to Origin's offerings, but it is the company's ability to respond to the market that has provided the driving force
When cousins Neil Ginger and Victoria Brocklesby couldn't find the doors they wanted for family building projects in 2002, they recognised a gap in the market for high quality bi-folding doors. Deciding to act upon the recognition the two set about designing and manufacturing the doors to the highest quality in the UK, with a defined focus on customer service. Success ensued with extraordinary levels of growth throughout the recession and in December last year the company manufactured its 100,000th bi-folding door. With a commitment to growth and expansion the company now offers windows and blinds, has a sales operation in Dubai and has moved into the United States. Achieving ISO 9001 in 2014, quality sits at the heart of everything Origin does. Spot that this is married to an unparalleled level of service and it is clear to see why the company has achieved the rapid success it has.
Commenting upon what has warranted the business such success, managing director Andy Halsall explains: "We were fortunate to start at a time when the products was just becoming noticed, and we have benefitted from the market growth. We were also able to find some good people in the key areas of sales, marketing, production, IT and accounts to help make the business a success. Ultimately, we have an edge on customer service and supply chain management, as well as a huge ongoing commitment to the quality of the product and the fabrication." The company operates according to a 'your lead time, not ours' philosophy that allows the customer to specify their own lead time. As a result, Origin recently set a record lead time within the glass and glazing industry, of 48 hours from order to delivery for its most popular colours.
Part of being able to achieve this is its approach to continuous improvement and lean manufacturing. Within its manufacturing sites at High Wycombe, the company operates a flow line manufacturing system, which designates each factory worker a defined role in the production process. The aim of the system is to streamline work and improve efficiency levels by breaking down each task. The result is a high quality product with extraordinary lead times.
With a strong team, excellent service and quality product Origin has demonstrated its refined ability to respond positively to market conditions. "With a lot of high quality home improvement going on the product is ideally suited for helping people with their dreams of a happier home," highlights Andy. "The market for these products is currently enjoying a strong growth as the product is extremely popular. As a result of this responsiveness, the company has been able to expand into new, related products. A particular example of this is its range of window solutions, which launched last year. "Our customers wanted a window supplied with the same service and attention to quality as we supply our doors. Therefore, we were pressured externally to provide a window solution," he adds. A similar approach has been applied to its electric blinds to dress the doors and windows to offer a more complete range of fenestration products.
Using aluminium in the construction of its products has many benefits. The strength of aluminium combined with its light weight, allows for greater freedom in the creation of frames, thus facilitating the bespoke service Origin offers to its customers. The strength of aluminium also allows for slimmer frames, increasing the window surface and therefore improving aesthetics and view – resulting in Origin's goal of providing a happier home. Using 100 per cent recycled aluminium with durable powder coatings in a range of colours means that the frames have guaranteed longevity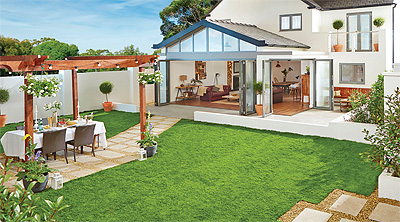 and are thermally efficient. Making the most of the benefits provided by the materials, Origin implements a stringent quality process to assure the highest quality frames. Such is this quality the company is able to offer a 20-year guarantee, something that is unprecedented within the UK market.
Middle Eastern market
With the view to becoming a global company, Origin has set up a sales operation in Dubai to serve the Middle Eastern market, and in 2014 set up a factory in Florida to break into the US market. Andy outlines the company's strategy: "Our vision is to become the first choice brand for customers when considering aluminium fenestration products. This will involve a serious commitment to investing in our staff, our continuous manufacturing process and our products. Essentially, giving all our customers and their customers a more pleasant and simple experiences is the core." Remaining focused and reactive to the market conditions is also essential to the company's continued success: "Our main challenges are to keep pace with the potential in the market and to keep our products 'vital' in changing and demanding markets," he concludes.
Only 12 years into existence, Origin has experienced extraordinary growth to get to where it is today. Whilst maintaining quality standards and service ensures this growth continues, its ability to respond to the market is the key and the company is fully aware of this. By remaining so, Origin looks set to enjoy a long and successful future as it grows into new markets.
Origin
Manufacturing: Bespoke aluminium bi-fold doors, windows and blinds