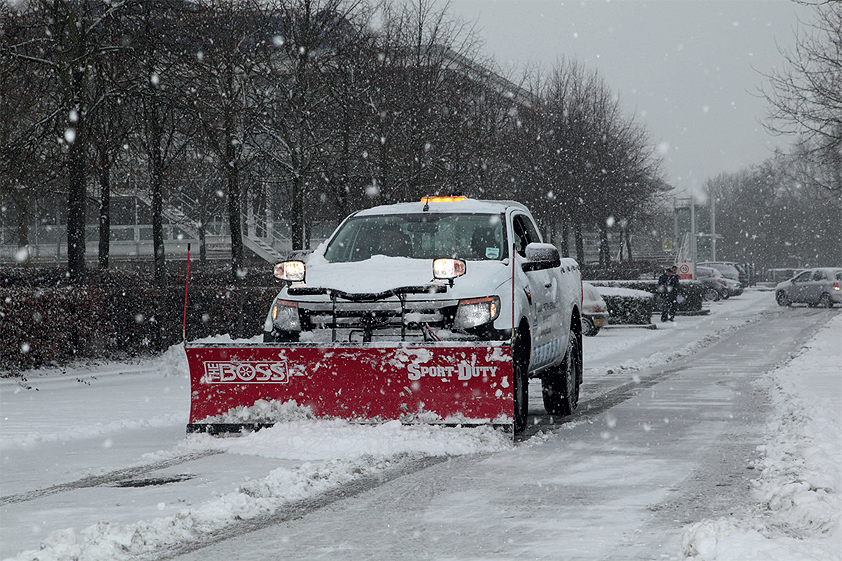 Delivering a year-round service
This month sees GRITIT rebrand as OUTCO. The new brand reflects the company's journey: Following significant investment and strategic acquisitions, it has transformed from a premier, industry-leading winter services provider, into a comprehensive outdoor services provider primed for further growth in all seasons
OUTCO's story starts in 2004, with the founding by South African serial entrepreneur Jason Petsch of GRITIT, the first company in the UK to focus exclusively on winter gritting and snow clearance. Today, the company not only boasts award winning winter maintenance services – including mobile gritting services for roads, car parks, walkways etc. – but also extensive commercial landscape maintenance and management solutions, and infrared pothole repair capabilities. The new OUTCO brand, and the positioning as 'Outdoor Estate Compliance Experts' reflects this more comprehensive offering. Today, the company can proudly state that it works with some of the country's leading companies.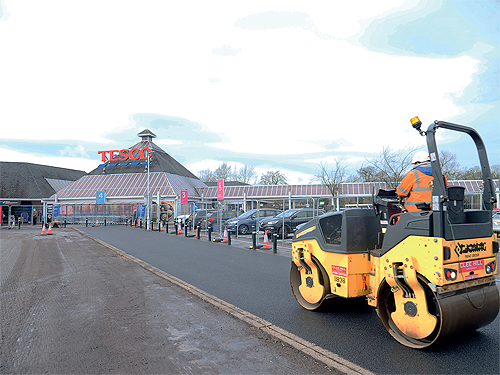 "The company very much came about because Jason took a hard look at the world of winter services with the view of identifying a better way of doing things than simply throwing salt down and leaving a note under a client's door to say the task had been completed," explains Chief Executive Officer, Andrew Barry. "What Jason knew was that he wanted to place technology at the centre of everything, and what he was looking for was something that could help to interpret weather forecasts so as to be able to send out teams to carry out tasks in the most efficient way possible."
Jason and his team experienced strong growth from a relatively early stage, bringing in a range of different clients including facilities management companies, government departments, hospitals and schools. It was then, in 2009, that the company choose to invest heavily in its technological capabilities by building its own CRM platform, dubbed NIMBUS. "The idea behind the NIMBUS system is that it uses the latest integrated tracking and telematics software in conjunction with an algorithmic decision-making platform, to control, automate and guarantee all aspects of our business and service delivery," Andrew states.
Using daily weather forecasts, NIMBUS raises jobs for all sites that have been activated for service over the coming evening, while all of OUTCO's operatives carry hand-held devices that are equipped with the software. Important features of the platform include winter gritting route optimisation, gritting attendance verification, vehicle tracking, and gritting reporting. "Since 2019, NIMBUS has very much sat at the heart of the business and has enabled us to get the right people to the right place, at the right time," Andrew continues. Such was its success that it helped the company to be named as the Institute of Workplace and Facilities Management (IWFM) Supplier of the Year in 2013.
"Around this time – and at the behest of an increasing number of our clients – we began to explore turning our hands to other services, and in 2014 we started to provide ground services, and a year later we went into civil pothole repairs," Andrew says. "That takes us to 2018, when we agreed to take on third party investment from the private equity company Total Capital Partners, which allowed us to really ramp up our investment activities, both in terms of technology and through the acquisition of complementary businesses in the winter and ground services arenas."
Outdoor expertise
In November 2020, GRITIT made one of most significant acquisitions to date when it completed the purchase of Doncaster-based surfacing, engineering and external environment maintenance business, NMC Group Ltd (NMC). This transformational development effectively doubled the size of the company overnight, creating a £55 million provider of external infrastructure compliance services.
"The purchase of NMC represents a critical point in our journey to grow the business from being simply a winter services provider to one that gives its clients a year-round offering for all of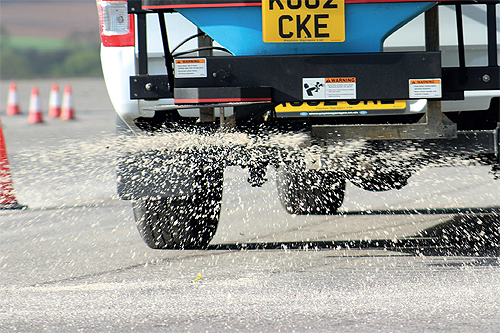 their outdoor service needs," Andrew states. "As GRITIT we had built for ourselves a fantastic reputation in the winter services field, but with this acquisition the company became so much more and were able to position ourselves as outdoor compliance experts in the broader sense. With NMC, there were a number of obvious cross sale opportunities for us, and significant opportunities to expand into other segments such as drainage, specialist surface coating and colouring, and even electric vehicle charge points. What was perhaps most important of all, however, was that we recognized right away that this was a like-minded, people and product led business, driven by innovation and with a fantastic management team."
This repositioning of the business within the marketplace makes this the ideal time for GRITIT to relaunch itself this May as OUTCO. "This is something we have been working extremely hard on in the background for the last three months or so now. Supported by an entirely new website, the OUTCO name leaves no doubt whatsoever about what it is we do and what we can deliver to our clients in terms of services," Andrew enthuses.
With the launch of OUTCO, Andrew and the rest of his team can reflect back on the past 12 months with a great deal of pride and satisfaction for a job well done in often challenging circumstances. In fact, 2020 saw the company experience its best spell of winter performance on record. "I think in some ways there was an element of luck involved with this, but much of it has been down to our ability to most quickly meet our client's demands, and our people's flexibility to pivot or adjust to different ways of working during the Covid-19 pandemic," says Andrew.
"We service around 7500 sites across the UK, and even at the height of the pandemic the most that we had on hold was approximately 115, so in that respect we were somewhat protected from the impact of lockdowns and the like," Andrew adds. "Nevertheless, we still had to make changes to the way in which our teams operate. For example, from a grounds maintenance perspective it meant reducing the number of people per vehicle down to one in most instances in order to maintain social distancing rules. Little changes like this can have a big impact on the delivery of services, so we had to evolve quickly to accommodate such things.
"I am proud of the fact that we have never once wavered in the large amount of support that we have provided our people with as they adapt to these new ways of working. In the meantime, we also collectively have become much more used to utilizing technology to communicate with our clients, which helped greatly in retaining business over the course of the year."
Exciting period
Turning to the months ahead, Andrew details how the number one priority is – understandably – the continued integration of NMC into OUTCO. "In a previous working life, I have myself been involved in several large mergers, and in my experience the faster that you can bring all of the pieces of the puzzle together into one entity, the better. Today, we talk about having three primary lines of business – our winter business, grounds business, and surfacing/infrastructure business – and the sooner that we complete the process of bringing those under shared CRM and financial systems, the quicker that we can maximise the sharing of best practices and start to develop those new opportunities that we believe are available to us."
Technology-wise, there are also several areas that the business is hoping to get into next. "There are some very interesting developments and advances emerging right now around site surveying in particular that we are taking a keen interest in," Andrew confirms. "This involves the ability to send a vehicle onto a site to map it out with cameras, the data from which could then be used to identify issues such as potholes, or missing fences or broken signage. This information would then be submitted in a report to the client in question, and a plan of carrying out works to fix the issues can be devised. Similarly, we have also developed a client-facing app, which gives our clients the chance to submit photos or report any issues or damage to their sites, which we are then able to quote to make safe the works within no more than 72 hours.
"Further down the line, I can also see the business embarking on further infill acquisitions that will increase our capabilities into areas such as jet washing, graffiti removal, and so forth. We continue to do a lot of work behind the scenes examining the markets for such services, and the work that would be needed to multi-skill our teams to a greater degree. In conclusion, I think I can safely say that what we are doing as a business in 2021 makes for a very exciting period of time for all of us!"
OUTCO
www.outco.co.uk
Services: Grounds maintenance, surfacing, infrastructure, EV and winter services