Following a successful period of engineering development OWEC seeks to overcome traditional concepts shadowing the wind farm industry
Stretching its legs
Following a successful period of engineering development OWEC seeks to overcome traditional concepts shadowing the wind farm industry
On the horizon elements attack without remorse and in the offshore industry standing tall requires having a secure footing. As the wind turbine industry sweeps into new territory it looks to pioneering companies to guide its future both above and below the water. CCE spoke with Per Bull Haugsøen, business development director at OWEC about the technology underpinning the industry and the importance of its recognition.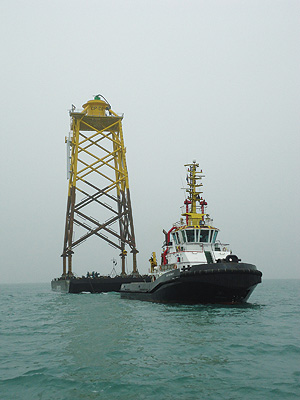 In 2001 OWEC embarked on a process that would see huge developments in the foundations supporting wind turbines. Keen to take on the challenge of a new industry, with its offshore gravityand steel structure experience in tow, OWEC began investigating. "Inour opinion, jacket based structurewas the best foundation, so we introduced it," explained Per, "at that time most of the work was in very shallow water, and in Denmark they used either small gravity foundations or monopiles, and when it came to deeper water it seemed tripods were the preferred option.
"We did some consultancy work and gradually developed a solution.In the beginning our solution was much more traditional, based on our experience from oil and gas,but as we came into 2004 wehad developed quite a specialistversion, based upon the jacket but with some special features and our own patented elements." Atthis time OWEC began work on a pioneering project, developing the Beatrice wind farm project for Talisman Energy and Scottish and Southern Energy. Per emphasised that 'Talisman Energy wanted to show that it was possible to install a turbine in up to 50m of water and with the biggest turbine at the time'. Per proposed to Talisman OWEC's jacket solution and threemonths later they began workingtogether. "Had we not done that at that time and been quite persistent and believing in what we were doing, I believe this drive in wind farm technology would not have happened."
Since 2004 and the completion of Beatrice wind farm, OWEC hasfurther developed this design,'some of the main philosophy remains the same, but some very important elements in the foundation have changed and improved'. Per elaborated byreflecting: "What is regarded as mainstream now, was not regarded mainstream at the time. Wedeveloped the use of a template, we installed the piles first and then put the jacket on top. That had never been done before." The Beatrice wind farm project was completed by first putting the jacket on the sea floor, then installing the piles with sleeves. But for the next project, Alpha Ventus, its first German offshore project, OWEC introduced pre-installed piles. This was the first time the industry had seen this done.
International offshore and marine group Keppel Corporation collaborated with OWEC in 2012 which has provided more financial resource funding investment in further development, but it has not all been plain sailing for OWEC. Developing patented technologies such as its Quattropod foundation has positioned itself as a leader in the future, but tackling the view that foundations are an engineering commodity is proving a larger wave to overcome.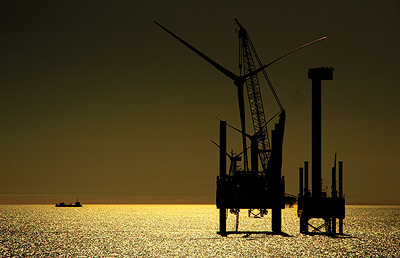 As Per highlighted: "The very traditional way of thinking is that engineering is just something that can be done by anybody, and the concept behind it is not of major importance. We are competing with huge, more generalised engineering companies, with all kinds of disciplines, and we find ourselves competing on quite different criteria. We have developed this product for more than ten years. It is not just a concept." Discussing how the industry can reduce cost he stated: "It's much too expensive today. We see that that the difference between foundation design can be as much as 20 per cent, but if you just select an engineering partner, and you don't consider the result, you might end up with a very expensive solution."
As Per explored the channels of overcoming these hurdles he focused on encouraging utility companies to take advantage of these technologies. "Sub-optimising by reducing engineering costs at an early stage may save them some pounds but in the end they get a much, much more expensive project," he said.
Although it has considered other locations, as OWEC moves into the future market it recognises that Europe is still the most important market. "We have also considered and even done studies outside Europe. We see the Chinese market getting very big in a few years, as well as development in Korea and also growth in America. Using our strengths of a good design, a wealth of experience, we have developed our own methods and software and so are able to do very efficient studies and perform very quickly and efficiently. As an example on one project, we started detailed engineering in May one year, and we started installing the piles in April, only 11 months after."
Much of OWEC's efforts have been to talk directly with customers who are open for new and good ideas. Per concluded: "If they can make their own choice and design, they will of course have an interest in choosing the best design. Over the next years we want to be the main supplier of technology for offshore foundations, but we need the customers to understand what we can deliver."
OWEC
Services: Offers design solutions for offshore sub-structures in the renewable energy sector