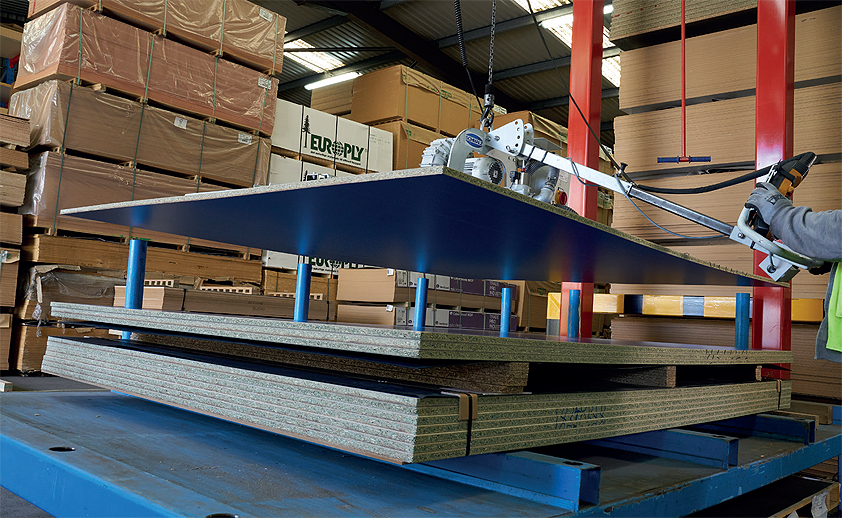 The art of wood
For more than 100 years, Palmer Timber has remained at the forefront of the Timber Trade supplying customers throughout the UK with their Hardwood, Softwood and Panels related needs
Aprivately-owned family business based in the West Midlands, Palmer Timber's 13-acre site is home to over 100 years of experience in the supply of Softwood, Hardwood and Panel Products to a wide range of industries throughout the UK. Said site was originally a brick works, producing blue engineering bricks from the clay that existed there in its abundance. It was not until the land was purchased by William Henry Palmer in 1916 that it became the epicentre of a sawmill dealing in home grown hardwoods. "It was the efforts of my great grandfather that really
helped to set Palmer Timber on a path towards more than 100 years of growth and success," explains Managing Director, Richard Palmer.
Moving forward into the 1970s the company under the guidance of the founders' grandson Bill Palmer, the company started importing joinery grade softwood from Scandinavia. A decade later, Palmer Timber expanded into trading in both hardwoods and panel products commencing with a major programme of investment that resulted in extensive modernisation of its facilities and machinery.
Today, Palmer Timber in addition to supplying sawn goods boasts a large modern milling facility that enables it to produce both standard and bespoke mouldings from its extensive range of Scandinavian Redwood and Whitewood, clear softwoods from North America and Temperate and Tropical Hardwoods sourced from certified resources from around the world. In addition, the company also carries a large comprehensive range of Panel Products with more than 2000 items ex stock, including MFC, MFMDF, Decorative laminates, Veneered boards, MDF, Chipboard, HPL and Compact Laminates, as well as also being one of the UK's leading suppliers of 38mm mezzanine flooring. The company can likewise offer a fully bespoke, accurate Panel Products cut-to-size service courtesy of its large versatile Beam Saw.
"There are a number of factors that contribute to the business' success as we speak now in 2021," Richard continues. "These range from the individuality and passion of our employees, to our ability as a company to remain at the forefront of research and development and to source new products in a timely manner for our diverse base of customers. The size of the business and its management structure also allows it to source competitively and compete in the market place without losing the high levels of accessibility that our customers want. It places Palmer Timber in the unique position of being large enough to be competitive, but not so large as to lose sight of the importance of tending to our customers' needs."
Demand uplift
Palmer Timber supports the delivery of its wide range of products with its own modern transport fleet and supporting infrastructure. "Wherever possible, we aim to manage all of the services that we provide in-house," states Deputy Managing Director, Ian Cox. "We do indeed run our own fleet of vehicles, the drivers of which are on the front line of building that rapport with our customers which has helped us to retain business from many of them for a number of years now."
Turning our attention to Palmer Timber's performance in recent times, it is heartening to hear that in the latter quarter of 2020 the company experienced several record months in terms of sales, which is a trend that has continued into 2021. "I believe there are a few reasons behind the excellent results we have seen in the last few months," Ian says. "Most importantly we have recently restructured our sales department to combine what were previously separate timber and panel sales teams, which has helped us immensely. At the same time, we have invested a great deal in all of our employees, all of whom we consider to be experts in their field possessing a wealth of specialist knowledge in everything we sell, right down to our more niche product lines. In fact, a high proportion of our team have benefited from receiving accreditation from the Institute of Wood Science, and it is their collective expertise that is helping to meet the uplift in demand that we have seen from the trade which in turn has been generated from the general public who have used the downtime caused by Covid-19 lockdowns to improve their homes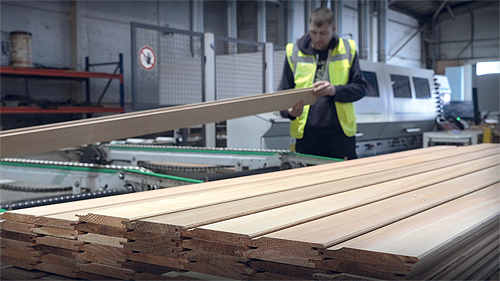 and gardens."
Growth for Palmer Timber has come from several sectors, Richard goes on to highlight, "One example being the introduction of High pressure and Compact laminates although it is Timber Claddings which is the growth area that we are perhaps most proud of. We have developed the expertise, machining capability, fire treatment and coatings services for cladding over the course of decades having already become one of the UK's largest importers of material such as Western Red Cedar, Siberian Larch and Thermo Wood, we were perfectly placed to service the boom in the cladding market that we have seen emerge."
A cornerstone value of Palmer Timber is its commitment to continuous improvement, which has allowed the Company to remain a well-respected and valued member of the Timber Trade for over 100 years. "As has been the case throughout its history, Palmer Timber will always look to stay at the forefront of new technology and machining capabilities in whatever avenue of timber or panel products that we are looking to provide to our customers," Ian confirms. "We are constantly in the process of renewing our plant and equipment so that it remains up-to-date with the latest technological and environmental requirements."
"It is also important to highlight the fact that this is a company that has always been passionate about investing heavily in people," Richard affirms. "We are all about developing our employees and promoting from within, and this has given us an incredibly loyal workforce. Meanwhile, in terms of bringing fresh talent into the company, we are always looking to take on apprentices or recruiting expertise and in turn it is their progression that invariably contributes towards Palmer Timber's success."
Future plans
Turning the topic of conversation to what the immediate and longer-term future holds for the company, Ian is keen to highlight how the Covid-19 pandemic has adversely impacted the timber trade by creating shortages in supply throughout. "Against this challenging backdrop," he states, "our primary aim is to keep our customers supplied by finding them the materials they need at the appropriate grade and still remaining competitive. That, in itself, is not easy at present, so it is imperative that we maintain the excellent connections that we have with our network of agents, shippers and suppliers in order to remain adequately supplied to meet future demand."
In spite of this specific challenge, as Richard and Ian both go on to emphasise, there is every reason to be optimistic that the years ahead will be just as fruitful – if not more so – for the company as those gone by. "Palmer Timber is a company that has very much stood the test of time, and we have done so fundamentally by focusing on what we think we do best, and constantly looking for ways in which we can operate better," Ian professes.
"By maintaining the most up-to-date capabilities in terms of machinery, technology and personal expertise, Palmer Timber has remained at the forefront of the timber trade for more than a century, supplying the UK with its timber and panel product requirements, and we have no intention of this changing whatsoever in the future," Richard concludes.
Palmer Timber
www.palmertimber.com
Services: Comprehensive timber and panel products