Recently joined by Stamco and Fairalls, Parker Building Supplies is now part of the largest independent builders' merchant group in the South East of England
Proud regional provider
Recently joined by Stamco and Fairalls, Parker Building Supplies is now part of the largest independent builders' merchant group in the South East of England
Two recent collaborations have elevated Parker Building Supplies (Parkers) to being part of the largest independent builders' merchant group in the South East of England. Acquiring Stamco and welcoming Fairalls to the wider Parkers family means it has expanded its network to 24 branches serving Surrey, Sussex, and Kent; increased headcount to over 500 colleagues; and recorded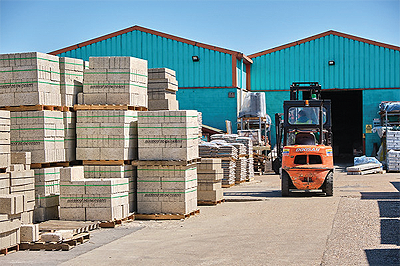 combined revenues in excess of £120 million.
The business' own acquisition by Cairngorm Capital, finalised in March 2018, is the platform upon which Parkers has built its recent growth. Since then, the builders' merchant has enjoyed the financial investment and strategic support of Cairngorm, developing at a much greater pace than it would have been able to otherwise.
Chris Maityard, Managing Director of Parkers, discusses the company's integration into the Cairngorm group, as well as its subsequent partnerships with Stamco and Fairalls. "Our approach to integration has been a collaborative one, based on getting to know and listening to our colleagues, customers, and suppliers. We have learnt a lot from them and – as well as carefully observing how the business operates – we have been able to identify best practice in how we can develop and grow the business to better serve our customers whilst retaining the independent ethos that is so key to what Parkers is all about."
Being part of Cairngorm has allowed Parkers to action the opportunities it's seen as to see how and where it can add the most and best value. As a result, the company has invested significantly into extending its branches and putting new vehicles on the road. "We have also added over £500,000 of new stock to our fleet and welcomed a number of new colleagues, all helping us to improve our service and the 'customer-first' experience that is such an important part of being an independent merchant," Chris comments.
Parkers' clear-cut objective of assuming market leadership within the South East has seen the company complete two new additions in quick succession earlier this summer. First, was its acquisition of specialist in wholesale timber processing and distribution – Stamco – in June, followed by Fairalls, the provider of a mix of heavy and lightside building materials, becoming part of the Cairngorm Capital group a month later.
"The Stamco acquisition has really enhanced our proposition, both geographically and product-wise. Their highly complementary product range and specialised timber business mean that we can deliver even broader building solutions through an extended network of local branches. We have also gained a whole load of very experienced and knowledgeable colleagues who we have been delighted to welcome as part of the Parkers team."
What Chris sees as the most important reason that makes Stamco the perfect partner for Parkers, however, is that its values and ambitions accurately reflect those of Parkers. "As a company, we believe very strongly that people buy from people and that experienced, friendly, and customer-focused colleagues are key to success. In addition, we think that it is essential to keep hold of all the great things about being a good regional, independent business. We felt that Stamco shared this ethos and because of that, we would have a successful working collaboration," he explains.
"And of course, with Fairalls joining the Cairngorm Capital family and the three of us coming together, we have an even greater opportunity to present a collaborative offer to our customers across an ever-growing geographic area," Chris enthuses.
Knowledge and support
Even though there is still some work to be done to complete the integration of Stamco under the Parkers brand, as well as quite a lot of possibilities for collaboration still to explore with Fairalls, Parkers is also open to the right opportunities for further acquisitions that will strengthen its network within its chosen region. "We want to keep growing and improving so it is natural that we will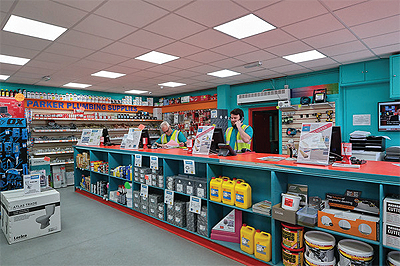 continue to consider future partnerships with other like-minded businesses," Chris adds.
Moving on to the company's performance in the market as of late, he is keen to observe that the demand for all products is seeing positive growth. "We are definitely selling more of our existing items to our existing customers. We have noticed, however, that this has been accompanied by an increasing demand for product knowledge and support, so we are also working ever more closely with our clients and helping to provide the right and complete solutions for the projects they are undertaking.
"Last year, we put a lot of hard work in optimising our sales and customer service processes, which has now been fully incorporated in our activities," Chris continues. "Our focus continues to be on listening to and understanding our customers' needs, so we have invested in our sales team to drive customer engagement and keep those conversations going. We are also measuring our customer service using the industry-standard Net Promoter Score system and getting some great feedback from that."
He concludes: "As we are concentrated predominantly on local trades that work within the Repairs, Maintenance, and Improvement (RMI) sector, we are pleased to say that we are seeing some significant growth in this market. Evidently, construction in the South East has proven to be quite resilient, as our customers are growing their businesses with a big focus on RMI and some new build.
"Going forward, we'll continue to invest in our people, our branch network, and our product range, we'll keep working closely with our suppliers, and we'll keep listening to our customers to help us build an even better business. At heart, Parkers is a regional builders' merchant and we want to preserve and enhance this independent and local culture. Obviously, we are looking to grow and consolidate our position, but we will always remain a friendly, independent, regional business, whose mission is to support our local customers."
Parker Building Supplies
Services: Builders' merchant