For over a quarter of a century, Parker Building Supplies has been Sussex's and Kent's favourite independent builder's merchant, helping to shape its customers' projects with a comprehensive range of materials and products
Making a difference
For over a quarter of a century, Parker Building Supplies has been Sussex's and Kent's favourite independent builder's merchant, helping to shape its customers' projects with a comprehensive range of materials and products
When Tom Parker started Parker Building Supplies (Parkers) in 1984, he did so from a single branch in Uckfield, East Sussex. In the time since, the Company has grown into a strong regional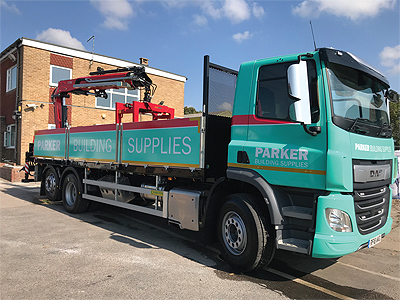 player with 15 branches across Kent, and East and West Sussex, supplying building and plumbing materials, alongside specialist Architectural Ironmongery, Joinery and Kitchens. In 2017, the company generated revenues of £66 million.
The Business is made up of five specialist divisions, combining to create a one-stop-shop for Parkers' customers. These divisions are Heavy Side, Plumbing, Kitchens, Joinery and Architectural Ironmongery, supported by the branch network and Direct Sales business. Where Parkers once operated its divisions separately, today the respective trade counters work side-by-side to promote a more integrated and comprehensive service offering to its customers.
In March 2018, the Company entered the next stage of its evolution when it announced that it had been acquired by Cairngorm Capital Partners, a specialist private investment firm providing equity capital and management expertise to leading UK companies. Cairngorm Capital invests in well-performing, private mid-market growth companies, and Parkers represents its 13th proprietary transaction since July 2016.
New phase
Cairngorm Capital's ambition for Parkers is to transform the scale of the business in order to become a market leader in the builders' merchant sector in southern England, and leading this charge is a team of new senior managers, led by Cairngorm Capital operating partner, and now Parkers' Executive Chairman, John Declerck. "Parkers' partnership with Cairngorm Capital is the start of a new phase in the firm's development," he stated at the time of the acquisition being announced. "Our goal is to increase our network of builders' merchants over the next five years, to become a leading distributor of building products in the UK. We aim to achieve this through a mix of acquisitions, new site development and organic growth. We are interested in further opportunities that allow us to fulfil our plans for innovation and growth, to the benefit of our customers, employees and suppliers."
The new team are further supported by Managing Director, Chris Maityard, and Chief Operating Officer, Iain Bell, with the former telling Construction & Civil Engineering what he puts the success of Parkers down to. "I think there are a number of elements behind this, one of the most important being the company's people and their service orientated customer focus," he explains. "We have worked hard to empower our teams and give them what we call 'the ability to trade'. When Tom ran the business, he always took a very customer-focused approach and that is the ethos and culture that we are putting at the forefront of Parkers today.
"One of the ways we are doing this is by spending significant time each week visiting our customers and suppliers to understand their businesses, together with time in branches to get a clear idea of what issues they have, how we can provide help and assistance, and what improvements we can make to our own operations to support them. To date, from the customers I have met, without exception, I have found that they have come away with a new-found knowledge of the range of products that we can supply and with a willingness to engage with us on projects going forward."
Engaging customers
Selling more of Parkers extensive products to its existing customers – or 'cross selling' as Chris refers to it – is also high on the company's list of priorities. "We have spent a great deal of time and effort encouraging our colleagues to actively engage with as many of our customers as possible in order to further understand their businesses and raise awareness of all that we can offer them," he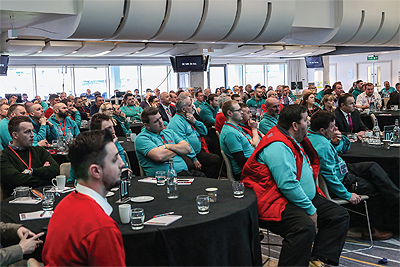 states. "As a result of these efforts we have been able to grow our monthly like-for-like sales consistently since acquisition. So, for us, it has been an incredibly successful relationship to date and we remain immensely proud that Tom had the confidence and faith in us to become custodians of the business he worked so hard to build."
Future investment
The Parkers' Team also understands that this is just the beginning of a journey towards long-term prosperity and they have considerable investment plans for the business, with over £100,000 already committed on various projects with further significant spending due for approval in the near future. "When we acquired Parkers, we did so with a clear investment strategy in mind, one that is made up of a combination of transforming the existing business and of future expansion," Chris adds. "The investment we intend to make will assist us in further demonstrating the abilities of the teams and the business, and we are confident that when it comes to growth and performance there is still a great deal we can look forward to achieving."
At the heart of Cairngorm Capital's 's plans for Parkers going forward is the aim of taking what is a great business, with great people and helping it reach its full potential, all while maintaining the high level of customer service that it is known for. "What we do here is about more than simply selling products, rather we sell solutions to our customers that they can acquire quickly and easily from a one-stop-shop. I truly believe that what we do on a daily basis makes a positive difference to those people that we serve and we want to continue along that path in the years to come," Chris concludes.
Parker Building Supplies
Services: Independent builder's merchants