As the Swedish leader in prefabricated bathroom pods, Part AB produces complete rooms that can be lifted into position ready to be connected for use
Ready for action
As the Swedish leader in prefabricated bathroom pods, Part AB produces complete rooms that can be lifted into position ready to be connected for use
Specialising in the production of high quality prefabricated pods, Part AB is a leading Scandinavian-based manufacturer that offers an unrivalled level of quality in prefabricated bathroom modules. The company aims to produce asealed unit that will arrive on site with all finishes 100 per cent complete, which proves more cost effective and efficient for customers who then simply have tohoist the construction into position in the building.
Outlining Part's remit, senior advisor Nils Lundholm says: "Our prefabricated bathroom pods are mostly manufactured for the Scandinavian market, particularly Norway, and also for the UK and Ireland. In 2007 we made 6000 pods and it is looking as though we will be exceeding that figure this year. We're the first pod manufacturer with a patented product that is approved by the governmental Norwegian Institute For Building Research."
Part has a great deal of know-how, having delivered tens of thousands of prefabricated bathrooms in mainland Europe. Its ready-to-install creations allow construction managers and planners the benefit of only having to plan the installation of a finished room. "Our high level of quality is our main strength and we run a very effective production system with several high performance machines, much like a car factory as we're building our pods in the same way as the automotive industry operates," comments Nils.
Pods arrive at their destination complete and featuring floor and wall tiles, furnishings, lighting, plumbing and electricity – all that remains is to lift the pods into place and make the necessary connections. With off-site fabrication, much of the process is transferred from the site to controlled factory conditions, which reduces the amount of time spent on site and results in better and safer working conditions. In addition, Part's pods are protected from the climate so the quality remains high.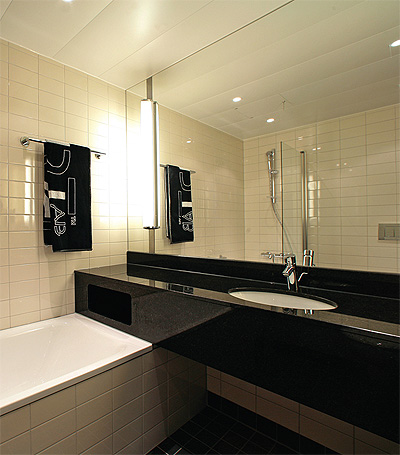 The organisation's bathroom pods are ideal for new build projects such as hotels, lodgings, accommodation and nursing homes, and Part has been responding to an increase in demand for hotel bathrooms recently by tapping into that dynamic market. "We have seen a change over the past six months due to the fact apartment buildings are less in demand whereas the prevalence of hotel projects is growing," explains Nils. "Consequently, we're trying to take a major part in the construction of hotels and concentrating on lifting our ready-made bathrooms pods into the hotel room frame. To fully exploit the growth in this market we have even started to construct complete hotel rooms for hotel buildings – not just the bathroom but also the entire room – so it can be lifted into the frame at the building site. As much as we can do outside of the construction site benefits customers in terms of cost and quality."
Part is thriving despite the financial strains experienced by many companies at the moment and has plans to grow into new market areas once the economic climate is more favourable. "Production has increased by over five per cent each year for the past five years and this year we're actually looking at an increase closer to ten per cent," reveals Nils. "We're putting more effort into our marketing activities in order to achieve this growth although we are waiting for the worst part of the recession to blow over before we continue to expand our production facilities. We also want to wait for a better time to try to reach other countries as it's the same situation inevery market, although some countries are less affected than others in that respect. We're still expanding in the marketplace despite the current recession and I feel that our main challenge is to maintain our market share in Scandinavia whilst striving to achieve growth in other countries such as the UK, Ireland and Belgium in the coming years."
Part's strengths will hold it in good stead for the future, as offsite manufacture becomes the preferred choice for buildings in construction projects.
Reflecting on how Part has achieved its leading market position, Nils concludes: "Our success is down to effectiveness, good quality and short delivery times. We work quite closely with our customers and almost everything is projectdesigned rather than standardised. We have a dedicated R&D team that works on design and innovation, and although we have some standard pods our production is mostly customised."
Its experience and commitment to developing its product line gives Part a competitive advantage and Nils plans to continue pushing the benefits of the organisation's pods in order to build on its success.