Thinking outside the box, Part AB sought to develop inside the box. Determined to speed up construction projects, behind closed doors it manufactures pre-fabricated bathroom solutions that are both aesthetically and financially impressive
Complete suite
Thinking outside the box, Part AB sought to develop inside the box. Determined to speed up construction projects, behind closed doors it manufactures pre-fabricated bathroom solutions that are both aesthetically and financially impressive
Constructors have long battled with wet room design, requiring specialist knowledge, time and precision to meet high demands on quality, finish and cost-effectiveness. Part AB claims to have the perfect solution, producing its prefabricated bathrooms in the factory, it delivers high volumes at competitive prices without compromising on quality and flexibility. The solution has been met with positivity, resulting in a production capacity that amounts to 6000 bathrooms each year. As a family owned company, the business today employs 200 people to execute the offering, destined for hotels, nursing homes and residential properties. Trading since 1989, the company has over 25 years of experience delivering this everevolving concept into the heart of the construction industry.
The slow down in the housing  market for the five-year period following the birth of the company swayed the mainstream focus for Part AB into the hotel sector, supported strongly by the increase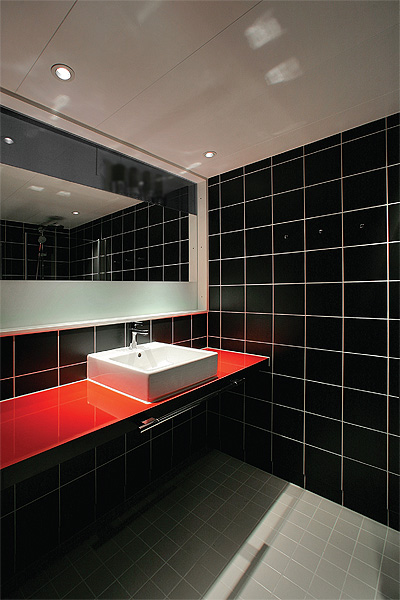 in hotel construction ahead of the Winter Olympics of 1994. However, as the housing market improved the ratio was brought into equilibrium, and today an equal split between construction for residential accommodation and hotels exists. "That figure is continuing to evolve, and we expect that work within apartment complexes will soon outweigh demand in hotels," begins Nils Lundholm, chaiman of Part AB group, adding: "Our products have become far more advanced over the years, and today we are able to produce pods with complex systems attached, including ventilation and electricity packages. Whatever requirements our clients have, we aim to facilitate those, and each project is engineered specifically in line with a specification."
High-quality prefabricated bathrooms are manufactured and supplied from its two factories in Kalix in northern Sweden. Lightweight walls of aluminium, zinc and steel coffered plate form the foundation of the modular system, and the client is able to determine the placement of openings for windows and doors, selecting the finishes and tiles from a large range of options. The floor is die-cast concrete in a steel frame and slopes towards the floor drain with a wet room liner that is tested and certified before installation on site. A wet room ceiling made of coffered, white-lacquered polyester-coated steel plate provides further flexibility in the design. Each bathroom is fitted out on delivery with the sanitary ware, fittings and interior fixtures, and with just one lift, the bathroom is in place in the building. Subsequently, all that needs doing is connecting the electricity, water and sewer lines, and the bathrooms are ready to use.
Supplying its services to the Scandinavian market, Norway and Sweden represent the biggest sector, with Denmark and Finland in hot pursuit as demand for this method of construction picks up pace. "Time is one of the most important factors with projects today, and using pre-fabricated pods is the best way to ensure that this is kept to a minimum. Production time for between 25-50 apartments takes no more than six months, and we aim to install at the earliest stages of building erection. However, it is our drive to offer the best price and quality available that really adds to the benefits our clients enjoy. Our pods can be up to 20 per cent cheaper than a standard bathroom installation, and the quality achieved is far greater than what is possible on site.
"The effort that goes into the manufacture of the suites ensures that the pod is delivered to site with a quality and certification that could only be achieved within a factory environment," insists Nils. High and consistent quality is the result of industrial production indoors under controlled conditions, and reflecting this, a ten-year warranty is included. As with all materials, there comes a time when replacement becomes a necessity, or within the residential market, renovating rooms as desired. The units manufactured by Part AB are designed with this in mind, and add a great deal of ease into the question of renovation. Tiles may be easily removed and replaced without fear of damaging the gypsum board, which is a common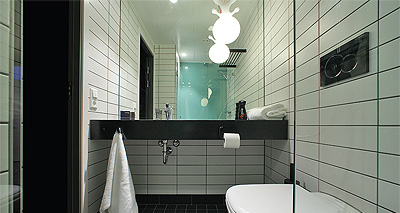 issue in a standard room design. This is because the structure utilises steel plates that can withstand such activity. "We have a service team that is available to carry out any refurbishment works to suites if required," he points out.
Every project the business undertakes is unique, and in apartment-based contracts designs are drawn up to incorporate the specification of the architect, as well as the individual customer. "We place a big emphasis on R&D, both in production and how to develop the product itself, with new solutions and options being made available. As an example, one customer may want the wet room floor slope to be in one corner, whereas his neighbour may be looking for a drainage channel across one wall. Being at the forefront of design possibilities, understanding customer needs and remaining flexible ensures we can facilitate such requests," Nils explains.
Environmental interests are at the top of everyone's agenda in today's challenging market, and Part AB has worked hard to ensure that its system supports the eco drive. The material of the frame is approved by the Swedish construction industry's system for environmental assessment of construction products, and furthermore, the bathrooms comply with the requirements for the Nordic eco-label building concept and the criteria of SundaHus for environmentally aware choice. Part AB is the first manufacturer of prefabricated bathrooms that has achieved certification of a type-approved product, holding a certificate issued by SINTEF and Swedish type approval from the SP SITAC, which have assessed that the product complies with high quality standards.
The need for newly produced housing is increasing, and there are several major factors behind that demand, resulting in high expectation for growth over the next five years. For a business that is driven by energy, expanding into new markets is a natural step, and through its newly established sister company, Space Interior AB, it has begun supplying finished kitchens for new build apartments. As product development continues, the next year will reveal more costeffective, high-quality solutions, incorporating much more of the building services envelope. Confident in the future path, Nils concludes: "It is our underlying strategy to add more value to the product, and to make the installation easier and more efficient for the construction company."
PART AB
Services: Prefabricated bathrooms