Part AB specialises in the production of high quality prefabricated bathroom pods
Pod's law
Part AB specialises in the production of high quality prefabricated bathroom pods
Part AB is a leading Scandinavian-based manufacturer of prefabricated bathroom pods, which offers a unique service to its customers. The company has many years of experience and is dedicated to offering customers an unrivalled level of quality in prefabricated bathroom modules.
"We have a lot of know-how and have delivered tens of thousands of prefabricated bathrooms in mainland Europe," says Nils Lundholm, managing director of Part AB. "The best of Swedish knowledge, construction and quality goes into each and every pod we create. Our prefabricated bathroom pods are ideal for new build projects such as hotels, lodgings, accommodation and nursing homes. We manufacture the pods here in Sweden and then transport them by truck to the building site and hoist them into the building by crane."
The concept of Part AB's bathroom pod is to produce a sealed unit that will arrive on site with all finishes 100 per cent complete to a consistently high standard. This will give construction managers and planners the benefit of only having to plan the installation of a finished room. Traditionally, they would need to coordinate a number of trades to carry out what is often the smallest room within the building.
"Our bathrooms are complete on delivery with floor and wall tiles, furnishings, lighting, plumbing and electricity. All that remains is to put them into place and make the connections.
"Off-site manufacture has long been recognised in Scandinavia asoffering numerous benefits to all parties in the construction process," he continues. "The key feature of offsite fabrication is that much of the process is removed from the site to controlled factory conditions. This reduces the amount of time spent on site and allows for better and safer working conditions. In addition, as it is protected from the climate, it is more likely to lead to better quality."
The Swedish market is currently booming, and demand for the pods produced by Part AB has never been greater. There are notoriously high labour costs in Sweden and, for this reason, more companies favour offsite manufacture, as it keeps costs
down. What's more, a prefabricated bathroom pod has a number of advantages such as high quality at very competitive prices, as well as shorter production times and one partner.
"The industry in Scandinavia, although it has always been big, has expanded considerably in the last six months," explains Nils. "For one reason or another, off-site manufacturing is extremely popular in Scandinavia and this is a very exciting time for our business. Orders are up; in fact, it is hard to think of a time when we have been busier. This means we have not been able to push the market in Europe as much as we would have hoped. But we will do so in the future, as we improve our capacity and look to capitalise on opportunities in markets outside Scandinavia."
Scandinavia is the company's main focus at present, but its build methods are appealing to customers around Europe. Unfortunately, off-site hasn't really taken off outside Scandinavia, but this trend is set to change when consumers become more aware of the benefits of building in a controlled environment.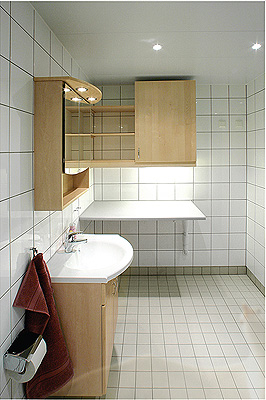 "We are looking to increase our penetration in the UK and Ireland, where they tend to build 'wet'. We will convince them of the benefits of our pods and show them how construction time can be reduced significantly and quality improved considerably," says Nils.
For the moment however, the main focus remains Scandinavia where business is booming. As a result the company's main focus is on expanding volume: "We are increasingly optimistic about the future. We are currently running below capacity, so there is plenty of room and potential for us to grow, if there is adequate demand. We are currently producing 140 pods per week, but we could increase that to around 200 if we wished.
"At the moment, we are planning to expand in all our markets and sell more pods. Recent large investments in our manufacturing processes mean we can increase production if we need to, as I said before. Our main market remains Norway, but we are successful throughout Europe, namely Sweden, Denmark, Finland, the UK, Ireland and Germany. However, we would still like to sell more pods."
Quality is very important to the company, so all of Part AB's pods are subjected to a thorough quality control check through the whole manufacturing process and a full
testing program on completion. Once built, the unit is then delivered to site ready to be cradled into place at the relevant building stage. Then, as soon as the services are connected to the pod, the room is immediately ready for use.
"Our pods decrease building time and increase the quality and value of any building. New high quality bathrooms at competitive prices, which are installed in shorter
construction time, may sound unattainable but our pods are built rationally in a controlled factory environment and the benefits of this are clear – every aspect of the production can be controlled.
"We are excited about our future, and the impact our products will have," concludes Nils. "Offsite manufacture is becoming more important and we have a quality solution, popular with many. Our experience and commitment gives us a competitive advantage and we will continue to push the benefits of our pods in order to achieve increased success."