Pfeifer Cable Structures, one of the eight business units of the Pfeifer Group, specialises in the manufacture of cables as well as its use in construction projects
The lightness of construction
Pfeifer Cable Structures, one of the eight business units of the Pfeifer Group, specialises in the manufacture of cables as well as its use in construction projects
Operating today as a modern and globally established business, the Pfeifer Group has ties to the past and a strong heritage that few other companies can match. In fact, the roots of the family business can be traced back to 1579. In 1996 Gerhard Pfeifer took over the management of the business from his father, while Pfeifer took the defining step of becoming an internationally focused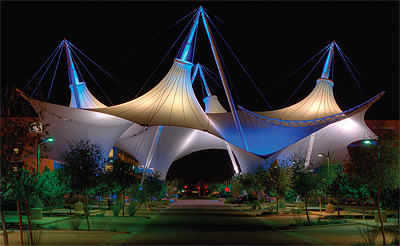 group of companies. "Today the Pfeifer Group is an international business with a turnover of around €245 million and over 1350 employees within 19 countries," explains the Head of Business Unit Pfeifer Cable Structures, Christian Schloegl.
The headquarters of the Pfeifer Group continue to be based in its traditional home in the German town of Memmingen, Bavaria. The company presently divides its business into eight business units, rope application technology, cable structures, elevator products, mining and industry ropes, rockfall protection products, connecting and lifting systems, lifting technology, as well as attachment and lashing equipment, which allows it to ensure that Pfeifer is able to offer its clients targeted solutions that match their exact requirements. As the head of the company's cable structures business unit, Christian works to ensure that the cables provided by the Pfeifer Group are delivered to the correct market and utilised with the highest levels of quality and competency.
"Pfeifer does not produce all of the highly specialised cables that are used by our clients in our own manufacturing facilities (for example at Pfeifer Dako in Mülheim), but rather we are supplying the right kind of rope to the required market and cutting it to length before moving to provide the required structural engineering for a project. The cables that we use can be utilised in buildings, such as bridges, stadium roofs, exhibition halls and all sorts of structures spanning wide distance that require a transfer of load without using columns. Our clients in our product business often include contractors such as timber, steel and bridge construction companies and we have completed over a thousand visionary projects to date, allowing Pfeifer to deliver weight-minimised support structures and high-performance envelope structures that create innovative architecture," Christian details. "To enable us to continue to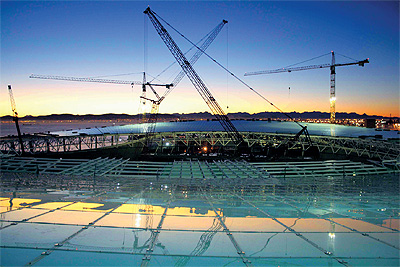 provide these services, we have a substantial engineering department that can provide an extensive range of accessories, clamps and holders and essentially whatever is required to bind or connect the cables. We manufacture these connectors in-house and are able to further support the client through our own dedicated installation teams."
Further to its tradition cable and rod systems, the Pfeifer Cable Structures business unit has diversified over the years to offer leading solutions in primary and secondary steel structures; movable structures, including convertible roof structures, umbrellas, shading systems, canopies; glass roofs, facades and envelopes; membranes; and maintenance systems. Within its membrane portfolio in particular, Pfeifer is proud to offer a complete turnkey solution that includes a spectrum of membrane materials including PTFE glass, PVC-PES, silicone glass, mesh, ETFE and ETFE foil cushions. "Membranes often require a steel cable support system and in this respect, we are able to provide a solution as a full and complete package," Christian elaborates. "We consider ourselves as a specialist contractor in the field of lightweight architecture and in the field of construction this is a turnkey speciality contract that combines a full steel cable and membrane solution or using other cladding materials."
As part of this turnkey package, Pfeifer is also able to offer specialist services relating to retractable roofing systems. These are typically applied to large stadiums for which the company can deliver full mechanical solutions, as well as the required hardware and software solutions to manage the covering system. Indeed, Pfeifer has recently completed a major conversion project for the Olympic Stadium in London in preparation for the structure to be used as a football stadium. The company was contracted by and worked in collaboration with Balfour Beatty dismantling the Olympic Stadium Roof including steel, membrane and the cables and in erecting the cable structure for the new roof.
Pfeifer is a proven specialist in the market for cable applications and light construction solutions and during the coming years the company is keen to further strengthen its position and to promote the market acceptance of light construction technology. "We are focused on developing further the market for light architecture and in assisting the designers to be brave and visionary enough to build structures that we bid on and ultimately provide a full solution," Christian concludes. "Secondly, we would like to develop this market more in North America and South-East Asia, as the region is not quite there in the acceptance of this technology. Lastly, we are keen to use our retractable system to be used in multi-purpose arenas so that it can be used for several new and interesting concepts."
Pfeifer Group