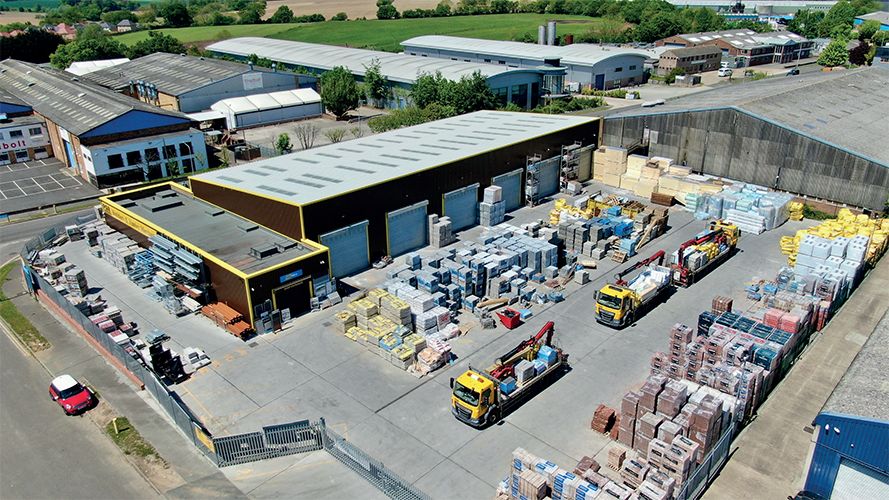 PGR Builders and Timber Merchants
The right tools
Since 1984, PGR Builders and Timber Merchants has provided a uniquely broad range of building materials and resources to the UK construction industry
It has been 37 years since Graham Toomey, founder of PGR Builders and Timber Merchants (PGR), noticed that builders in his local area of Basildon were struggling to source materials for their work. Seeing it as an opportunity, he began cutting and selling timber, and from there PGR has seen decades of success as a family-owned builders merchant. The company now has nine branches across Essex, and one in Surrey, all of which offer an exceptionally diverse range of products, from sheet materials to landscaping technology.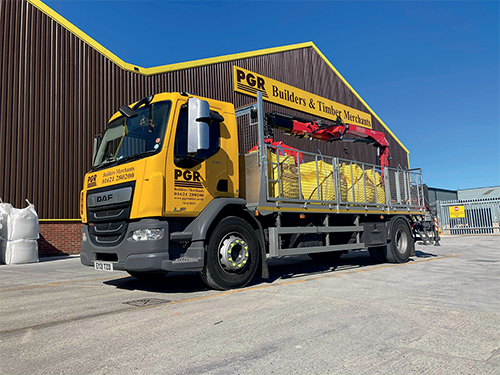 Since its genesis in the 1980s, PGR has changed and grown exponentially. As Operations Director, Mark Gunner, observes: "The last ten years is when we've significantly grown in size. We have begun stocking a lot of new products, and tried to diversify our business, away from what you might expect a 'normal' business merchant to be like."
Diversification has helped PGR keep up with the demands of an ever-changing construction market. "I would say we're very modern, and we change very quickly. Fashions and tastes change; we're very quick to see that and adapt," Mark confirms. "I would say we keep a unique product range. We obviously need to invest in building essentials, such as bricks, blocks, timber, and cement. However, we are also very big in landscaping, so we really invested heavily in a range of landscaping materials as well; things like patio slabs, block paving for your drives, sleepers, top soil, all your garden-only products. When I started five years ago I took this element of the business under my wing, and it's broadened our range massively.
"Ultimately, we offer a good choice for customers, as we now also stock premium products, such as millboard decking. Millboard is a top of the range composite decking, and I'd say products like that have really helped us stay unique," he adds.
PGR's range of products and services is not the only thing setting it apart. The company's loft department provides an essential service to many working on home conversions, as Mark reveals: "Our loft department is quite unique; it essentially means that we have a lorry that cranes into people's lofts. Builders haven't got to carry or crane all of their stuff up, because we do it all for them on delivery.
"We had the idea to incorporate this department when we were supplying a company that had this kind of lorry with a crane attached; they were buying all of their timber from us, collecting it, and going on to supply the loft converters. We saw that this was something we could do ourselves, and so invested in that technology. We got one lorry in, and put our Sales Manager in charge of the department. It's been going very well, and we now have three lorries and one more on order. It's gone from strength-to-strength, really."
From providing timber to the construction workers of Basildon in 1984, to adopting the use of crane technology in 2016, PGR has always been backed by people who have the ability and drive to innovate. "We are an independent, family-run business, and that is reflected in our company culture," explains Mark. "We're very close to our staff. We are always encouraging them to come up with ideas, and keep us updated on what builders are doing. In addition, the director's doors are always open to everyone. I don't believe any of the staff would have any qualms in coming to talk to us about anything. People feel very comfortable communicating here, even with the owner himself." PGR's open and accepting company culture is one of the key components of its success. "I think communication is really central to what we do; I certainly like giving managers authority and ownership over their own branch, so they feel comfortable trying new things and coming up with their own ideas," says Mark.
"Communication is made stronger by the fact that, as managers, we're still actively involved in running the business day-to-day," he continues. "We remain part of the sales process, as we've got our own customers that we still interact with every day. I think it helps us keep our ear to the ground; we know what new innovations and products are out there because our builders tell us."
It's clear that PGR values its people, and as the company experiences growth, those people remain its driving force. "In the two new branches we just opened, with the exception of one staff member, they were all promoted internally," Mark announces. "That's 14 members of staff we were able to promote, and I'm quite proud about that. It was a nice boost to all the other staff, who realized that, with us, you really can get on. We want that, we want progression within the business."
As it expands, PGR has developed its services in order to keep up with increasing demand. "We've got a sales office; it started with two people, and it's now grown into five. It's a central sales office for the whole company, meaning it can take larger enquiries, and deal with the excess demand from any of our branches. Just last month our sales team put through £1 million for the first time; that's quite a big development, and really good for them," Mark confirms.
"We've really gotten into marketing since taking on our first Marketing Manager about four or five years ago," he adds, ruminating on how the company has changed over recent years. "Before that we relied on in-house communication and word of mouth, but we've now got Charley Kober, who is fantastic. We're heavily into social media, promotions and pushing new products, which in turn helps promote the business; this is especially important now that we've started selling online. Our website went live this year, and it's something we've never done before, so going online really is bringing in a new era for us."
As PGR steps into a new era, so do the rest of us. With the effects on daily life that Covid-19 brought with it slowly becoming a thing of the past, Mark reflects on how the business weathered the storm of a pandemic: "It was so new to us; we shut the business on April 1st 2020 for about two to three weeks, because the staff were very nervous of the situation, and supply looked like it was going to become an issue. We needed time to sit back and think about what we were doing. I think what we did very well was react quickly; we got screens set up, we ordered the sanitizing solutions, and masks, even before it was made legislation. In the end, we managed to get everything done within two weeks.
"Once we re-opened we wanted to ensure that the staff could feel comfortable, so we limited the amount of customers allowed to come into a branch at any one time. At first they weren't allowed in at all, it had to be delivery only. After that, they had to book a slot to come in. We adapted to the situation, and we did it quickly. I think that's been the key."
It wasn't just Mark and his team being proactive that helped PGR define itself during a global pandemic, as its long-standing relationships with suppliers came into play: "We've got a very good relationship with all of our suppliers, and throughout the last 18 months that's been essential for us. With Covid-19, and the restrictions it bought, there have been issues. Supply has been dreadful and it still is. But, because we've got good relationships with our suppliers, they have really helped us out. They've given us great service, and without it we wouldn't be where we are today, that's for sure," Mark affirms.
PGR Builders and Timber Merchants is a testament to the power of strong communication and brave innovation. To continue providing high-quality products and services, the company aims to build a distribution centre, and another five branches, in the next three to five years. In fulfilling these goals, the company will no doubt stay true to the fundamentals that have gotten it this far, as Mark asserts: "The main thing, as I've always said, is that we do the basics right. Customers and customer service is our number one priority."
PGR Builders and Timber Merchants
www.pgrtimber.co.uk
Services: Builders Merchants