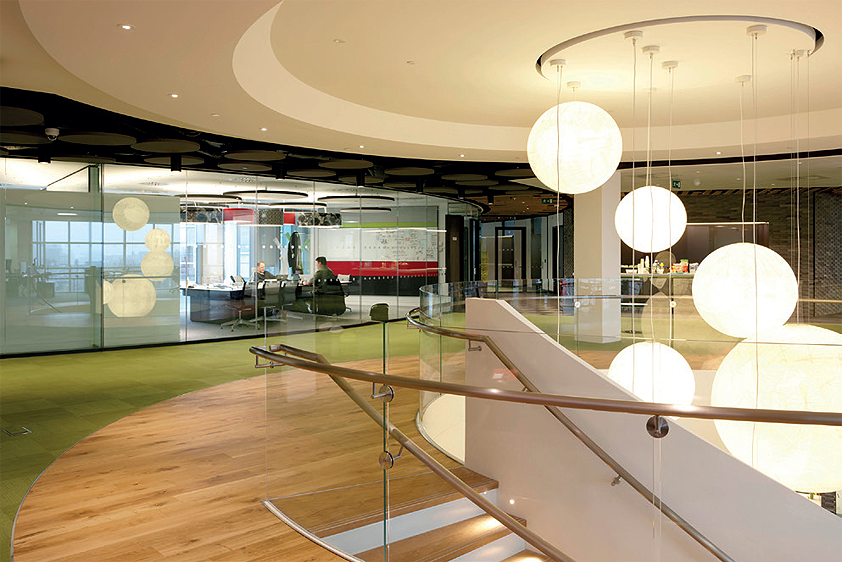 A phoenix on the rise
Established in 1931, Phoenix ME Ltd (Phoenix) is today an established market leader, providing the design, installation and commissioning of mechanical and electrical systems to a number of different work sectors. These include, commercial offices, banking establishments, data centres, government buildings, education facilities, residential infrastructure, retail units, and pharmaceutical laboratories. Phoenix's project experience ranges from £1 million to £50 million in value, and covers the full spectrum of services and distribution systems required for
varied building solutions.
Phoenix's CEO, Lee Compton, first became involved with Phoenix some 15 years ago. "At that time, we were considered a London-based electrical trade contractor, and while we didn't have what I would call a large customer base, what we did have was a track record for working on some relatively niche projects in and around the city," Lee begins. "My remit upon joining the business was to grow it, and I had a clear desire to make Phoenix a reputable and respected, multi-service M&E business, that could grow organically."
This goal would go on to quickly be achieved, with the business growing year-on-year by anywhere between ten per cent and 20 per cent, taking on more new clients as time passed. "We set ourselves a target on taking on a new client every year, and with each one we looking to cultivate a working relationship that would see us carry out multiple projects, not just the one," Lee continues. "At the same time as turning ourselves into a relationship-driven business, we have also picked up an increasing number of larger-scale projects, which has contributed hugely to growth."
Defying limitations
Within the last decade, the business has also progressively moved into tackling work across Europe, which was a unique venture for a company such as Phoenix, but also a highly successful one, with its projects gradually expanding in size, scale and notability. It has in fact led to the business being named on the Sunday Times HSBC International Track 200 league table of Britain's mid-market private companies with the fastest-growing international sales.
"Another of my ambitions when beginning my role at Phoenix was to make it as good, if not better than its competitors," Lee states. "While I believe that we have achieved this, it is an area of focus that continues to drive not only myself, but all of our people, and one that can only be achieved by remaining to be seen as one of the more proactive, easy to work with businesses in our field, and one that defies limitations to carry out any type of job."
Prestige projects
In terms of projects and the types of market that Phoenix serves, it has endeavoured in recent years to serve a diverse range of sectors. Today, one of the busiest markets that it serves is data centres, while the commercial sector also remains fairly busy and buoyant, and it is making good strides into the pharmaceutical and life sciences industries. Going forward, it is also hoped that key infrastructure works will also increase in frequency in the months to come, which the company very much intends to be involved with.
Taking a look through Phoenix's website and its showcase of past projects, there are a wealth of incredible examples of the work that it has carried out for all manner of blue-chip clients. These range from projects on behalf of the likes of Warner Bros, Wells Fargo, Credit Suisse, Amazon and Google. "Without doubt, we have completed a number of significant projects in recent years," Lee highlights. "We are particularly proud of our work delivering data centres both in the UK and in Europe – the majority of which are especially large, demanding undertakings – and will continue to focus on this area going forward. Meanwhile, within the commercial space we do like to take on what I like to think of as prestige jobs, with examples of our work present in places such as 100 Liverpool Street, and current work taking place on major developments such as the regeneration of the Battersea area of London."
Business culture
Another ongoing project of note sees Phoenix working on Google's new Head Office facility in King's Cross. "This flagship undertaking for the company in the UK will result in one the biggest, most expensive and – frankly – sexiest buildings to appear in London for quite some time," Lee enthuses. "When it comes to such projects, clients like Google and many of the others
that we have worked with understandably want to have the very best contractors on-board, and there is an extensive process that one has to go through to win this work. In this instance, we had to put a great deal of time and effort into proving that our culture as a business aligned with that of Google. On their part, they are looking to us for collaboration, for examples of out-of-the-box thinking, and for us to bring ideas to the party for how we can engineer things better and embrace new technology wherever possible, and I firmly believe that is what we have shown to be more than capable of on countless occasions to date."
With the healthcare and life sciences sectors being significant areas of growth for Phoenix in the past year, it can also be found working on several high profile, high quality projects, including one on behalf of AstraZeneca. "This project involves the construction of a global R&D facility located in Cambridge," Lee imparts. "Operating alongside Mace Group, we are working extremely hard to deliver this important facility, which will ultimately be market-leading in a number of respects."
Team effort
AstraZeneca is, of course, one of the leading names in the development, manufacture and distribution of vaccinations against the Covid-19 virus. Reflecting upon Phoenix's own performance during the time of the pandemic, Lee reveals how it has worked to overcome the barriers that have been presented. "When Covid-19 really took hold here in the UK back in March 2020, we – like everyone else – were initially speculating on what that meant for both the immediate and long-term future," he says. "With construction being deemed to be an essential industry, we quickly turned our focus towards overcoming the barriers to working under strict safety conditions, so doing things like providing the correct PPE for our people to use on site or modifying our transport arrangements to get people to and from site without taking unnecessary risks.
"I can truly say that we made it our business as a management team to drive the business forward through the embracing of new, safe ways of doing things, whether that be adapting greater flexibility in working hours or considering a larger degree of offsite assembly work in a socially-distanced environment. The result of our team's efforts was that our turnover for 2020 actually increased year-on-year, rather than decreased which was the case for a lot of other players in our field, and that says a lot about our company and the way we always strive to deliver for our clients."
Growing family
With those results in mind, the company has an optimistic outlook for what the months ahead in 2021 have in store for it. "As you can imagine, we are very much going to be focusing our efforts on those markets or sectors that continue to be sources of high growth for Phoenix, such as data centres," Lee states. "We also envision more opportunities for us arising from our work with the likes of AstraZeneca in the pharmaceutical and life sciences worlds. There is clearly an awful lot of investment being made in those sectors at present, and we want to be a key part of the works that will arise from that.
"We are also going to focus on doing more work across Europe in a number of different countries. We have worked successfully to date in places such as Finland and Belgium, and we want to take our experience in these countries and bring them to other locations across the continent. That will be a big driver for us in the years to come."
Having come through 2020 extremely well – and growing in the process – Phoenix can now see an ever-more competitive marketplace ahead of it, one which will be influenced by the decisions and moves taken by companies to survive the pandemic. "I think companies have definitely taken a more proactive view of tightening up on costs in order to be more competitive in bidding for work," Lee confirms. "When it comes to Phoenix, what we have done is focus in on efficiencies across the business in order to improve on not only our effectiveness on site, but also our own profitability.
"We have always valued the contributions of our people, whose opinions matter hugely to us, and so we have made certain that we have worked closely with them throughout the past year to ensure that they are happy with the conditions under which they work. We look after them to the best level possible, so whatever efficiencies or changes we make to the way we operate are done so with their wellbeing at their very core."
As Lee goes on to conclude, those same employees should also soon see additional faces joining their ranks, as the company ramps up its efforts as more of the economy emerges from the pandemic. "We are actually in the process of recruiting staff as we speak. We have been on a bit of a drive to identify new talent that we can bring into the business in recent months, and we look forward to welcoming these men and women into what is a growing family here at Phoenix."
Phoenix ME Ltd
www.phoenixme.co.uk
Products: Mechanical and electrical systems