Changing the face of concrete
When John Grant, National Specification Manager of PICS, takes to the stage at The UK Concrete Show 2020, at Birmingham's NEC this March, he will be delivering a presentation that he hopes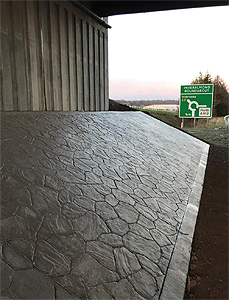 will open the eyes of those attending to the wide range of possibilities that coloured concrete can deliver. Indeed, his presentation, entitled 'Transforming Concrete', is intended to break down the preconceptions some have surrounding the use of concrete – often associated with the grey, dull underpasses and building stair wells of the 1960s and 70s – and shine a light upon its many uses and benefits in this day and age.
At the same time, the company will use its presence at the event to showcase a number of its own successes in using decorative concrete for industrial floors, pre-cast and bespoke structures and other projects which produce aesthetically pleasing, and structurally sound, flooring, paving and walls. "The message we are looking to convey at The UK Concrete 2020 show is that rather than being a dull and practical product, concrete is anything but, and can be a transformative ingredient in projects of all kinds," John explains.
As John will detail during his presentation, the evolution of design options which have transformed projects with ever more creative decorative concrete installations has been clear to see over the last 40 years. In fact, today, the use of texture patterns, polished and coloured exposed aggregate finishes, and vibrant colours in concrete structures and products is wider than ever. He will also use the opportunity to detail numerous examples of applications and environments where visitors ay not have before realised that through the use of their range of Hatcrete concrete colouring solutions, decorative concrete is used daily. These include sea-front promenade works, theme parks, zoos and wildlife parks, hotel and leisure resorts, museums and visitor centres, and public street works and transportation infrastructure.
"One of the biggest things we want visitors to take away from The UK Concrete Show is the understanding that, when it comes to transforming concrete, PICS can be many different things to different people," John continues. "By that I mean, whether you are an architect working on the designs for a new project, a manufacturer looking to build a particular structure, or an engineer investigating ways to use concrete in a specific application, we are there to help you to identify a means of utilising concrete in ways that you probably wouldn't have considered before.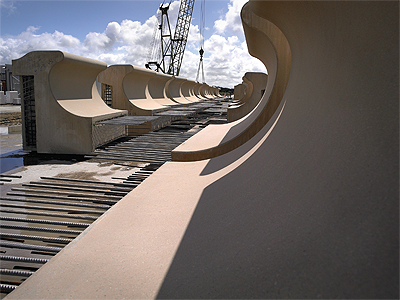 "We want to play an active role in encouraging all industry sectors, especially those who have in the past turned to alternatives such as metal or brick, to reconsider concrete as an ideal decorative building medium. This requires the educating of people, as much as anything else, in order to update their understanding of concrete and how, when patterned, textured or coloured, it can help create some truly stunning sights, whether that is the bright outside of the Bullring Shopping Centre in Birmingham or the sky-blue walkways and walls of Manchester City's Etihad Stadium. We can also use our platform to further extol the environmental benefits of locally produced decorative concrete, when compared to the impact produced by natural stone that is shipped from countries on the other side of the world such as India or China."
Transforming projects
When it comes to PICS itself, it is now coming off of the back of another positive 12-month period, one where it has seen growth across almost every part of the company. This has been particularly true in the case of its work in the industrial flooring sector, where examples of its efforts include the application of dry shakes and fibre suppressants to improve the performance and wear characteristics of the floors within distribution centres such as Amazon, and with the creativity and high traffic issues at various theme parks and major attractions.
"Another field in which we have grown considerably in the past year or so has been within the film industry, where we have provided decorative concrete that has been used across several major movies to create or recreate particular locations, which again showcases the transformative effect concrete can have," John adds. "Furthermore, the core home improvements paving sector remains very strong, with the majority of people choosing to stay put and invest more money in upgrading their properties."
Such was the success of the business in 2019 that, by the time this article is read, PICS will have posted another record year in terms of turnover. With the budget that the company has put together for 2020 anticipating further growth, and with its appearance at The UK Concrete Show 2020 imminent, exciting times clearly await on the horizon. "What The UK Concrete Show will hopefully do is highlight that the demand for our concrete colouring solutions is most definitely out there – and rising – and we look forward to having the opportunity to create greater awareness of how we can take concrete and transform the appearance of countless future projects."
PICS
www.picsuk.com
Products: Pattern imprinted concrete