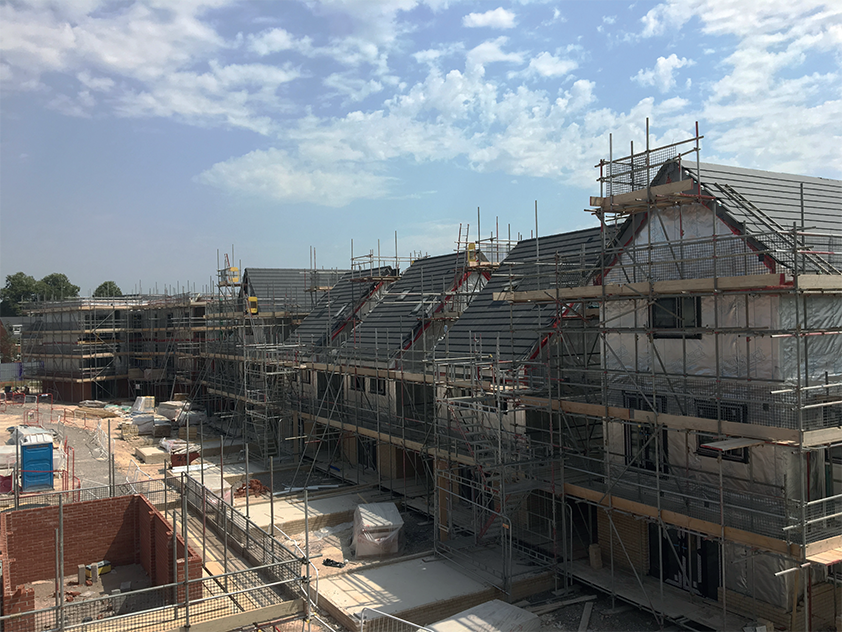 For wood measure
Pinewood Structures offers a wide selection of structural timber solutions to housebuilders and contractors, with some of its most popular including pre-insulated timber frames, closed panel solutions and its One-Roof panelised roof system
Established in 1981, Pinewood Structures' five-acre site can be found between Cambridge and Bedford. Since then, the business has become one of the UK's largest manufacturers of engineered timber frame structural solutions for the construction of housing, apartments, retirement living, hotels, and student accommodation. Although the company deals largely with the house-building industry, it has undertaken a spectrum of projects over its 40-year history that range from supermarkets to medical facilities and schools. "We have had the same management team since 2008, and we feel that we are a respected name in the industry – trusted to deliver good service to our customers," says Peter Keogh, Sales and Marketing Director at Pinewood Structures. "Since we started, we have worked hard to build many of the relationships that support our network. Some of our clients have even been with us for over 15 years, and we are very much a relationship driven company.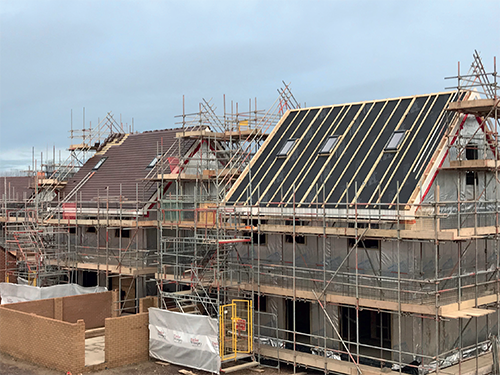 "We work closely with our customers across every stage of the project. We will speak with them at the early feasibility stage to analyse whether a site is a good fit for timber frame solutions, and then support them right through the design process to help develop the best details that suit the scheme. Once the project goes to site, our supply and erect package would typically include all external walls, internal partitions, floor cassettes and roof. We also offer closed panel solutions, which we would supply and fit," Peter says.
In the instance when some customers build out projects using both timber frame and masonry construction, Pinewood Structures offers them a product for each of these solutions – with its One-Roof project suitable for both masonry and timber frame developments. This is just one of the ways in which the company separates itself from the competition. Another key trait, which Peter points out, is how the business turns to customer feedback and market research in order to fuel innovation for a better service. "We recently conducted some market research and confirmed that our USP is that we are trusted to deliver. We offer excellent service and reliable delivery, and we provide quality products time and again. Our customers depend on a supplier who can do what they say they are going to do in terms of service, and that's what it is all about really: a service enveloped in trust to deliver," Peter shares with us.
In light of recent changes to Part L of the Building Regulations requiring higher levels of insulation, and given the increasing emphasis on low carbon builds, Peter highlights how customers have begun re-evaluating their methods of construction. Pinewood Structures has engaged at the highest levels with customers to try to assist and advise them on the recent changes. "We found that at Group level, housebuilders and contractors are looking to form partnerships with companies that they can depend upon. This approach means that they trust the service levels on an increasingly important element of the build, and ensures the best product for their client. That suits us perfectly – as a business, we're about cementing long-term relationships with our partners by providing reliable service time and again."
Peter estimates that the company delivers in excess of 1000 units a year, and shares an example of a project with us that demonstrates the company's strengths. "There is a site we have been working on since 2018, which is a 600-plot site for one of our clients in Surrey. Some of the units are affordable, some of them are for private sale, and in the past couple of years,
through the struggles of Covid-19, the focus has changed back and forth because there was a fear that the demand for private housing was going to completely dry up at the start of the pandemic.
"So, we had to be flexible, and we worked with the customer to change build routes, while continuing to work with aggressive build programmes. We were building up to eight units a week, and it ramped up very quickly. The units were pre-insulated timber frames, supplied and erected by us. We are also working with the same client to look at a life cycle analysis on a standard timber frame, compared to a masonry build. They are very proactive and have strong zero carbon aspirations.
"The site is still ongoing, and when I think about how we navigated the many challenges that were asked of us, I am proud of our performance. It has been a real success story for both us and the client, and it's one we are delighted to have been involved with," Peter says.
Looking ahead, the future is an exciting time for Peter, as the company celebrates its 40th year. "We are evolving all the time, and looking for the next thing. We have BIM and 3D design capabilities, which is increasingly becoming an item that customers are looking for. In terms of the product line, there is definitely an evolution happening with regards to closed panels so it will be interesting to see how great that demand becomes.
"What I do know is that we will move wherever our customers need us, and continue to push our products to evolve alongside their needs. We have quite an exciting time ahead for the business as a whole as well. We have recently added to the senior management team to ensure that we are always forward-thinking, while also continuing to fulfil our vision of being trusted to deliver. We look to reward people who have been with the company for a while, and who know how we work, because culture is very important to us," Peter highlights.
It is clear from what he has shared with us that one of the key drivers to Pinewood Structure's success is its people, and the company will do whatever it takes to ensure its team is well taken care of to give their best to customers. "To know that we have a team that buys into the way that we look to operate is very special, because we need to know that in every department across the business, people can be trusted to deliver, and that they are going to make decisions that are consistent with what we are doing.
"We are also excited about the further growth of our One-Roof solution, which is a relatively recent offering from us that I believe is going to do very well. We are already on one framework with a national house builder, and we are utilising the strong relationships we have from the timber frame side of our business to evolve it further. I firmly believe that our business on both the timber frame side and the One-Roof side is just going to go from strength-to-strength over the next few years and beyond," Peter concludes.
Pinewood Structures
www.pinewood-structures.co.uk
Services: Structural timber solutions