Pinnacle Consulting Engineers
From residential developments to supermarkets and gas platforms, Pinnacle Consulting Engineers is the go to company for construction consulting solutions
Collaborative solutions
From residential developments to supermarkets and gas platforms, Pinnacle Consulting Engineers is the go to company for construction consulting solutions
Norwich headquartered Pinnacle Consulting Engineers has witnessed rapid expansion since its inception in 1996; although new to the market, the company was awarded a framework partnership with one of the UK's leading national retailers which led to the opening of offices in Welwyn Garden City, Bristol and Dublin. The company's success progressed as Pinnacle diversified its customer base and began working in a broad range of business sectors, as director and co-founder David Meigh begins: "Pinnacle has continued its growth into the energy, technology, commercial and education sectors and the recent opening of its central London office. From its core offer of civil and structural consultancy, it has developed an expertise in commercial due diligence appraisals and feasibility studies of potential development sites for its many commercial clients bringing the framework partnership benefits of value engineering and risk awareness."
Operating across a number of sectors has resulted in an impressive portfolio of highly successful projects for blue chip clients such as Tesco, HSBC, Santander, The Crown Estate and Shell, who are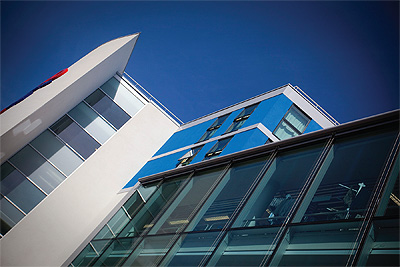 attracted to Pinnacle's ability to respond to complex challenges to deliver sustainable, cost-effective solutions. "Our use of often cutting edge technologies and awareness of the range of construction technologies available for consideration at the outset of a project if best value is to be achieved results in transparency of choice, and often significant value savings against benchmark industry cost indices," says David.
Recognised for its integrated and collaborative working methods, Pinnacle's areas of expertise include structural engineering, building information modelling (BIM), civil engineering, infrastructure design, engineering masterplanning, due diligence, flood management and pre-development engineering. By developing a highly skilled and competent team of engineers and remaining up to date on the most cutting edge technology in the market, the company is able to deliver tailor made, client specific solutions and market leading results.
A specialist in large project consultancy for supermarkets, the company has worked with Tesco on many projects in locations such as Watford, Orpington, Seaton and Sheringham. "For Tesco Sheringham, we were challenged to design a unique store that would be both technologically edgy while blending in with the town's historical architecture, which provided our design team, working in partnership with architects Wilkinson Eyre, with the opportunity to maximise the use of Building Information Modelling (BIM) to realise a fresh and innovative approach to store construction. BIM allowed the professional team to combine each of its 3D models with Pinnacle's own Tekla multi-material mode model to realise a building of complex shapes and multi materials. The project has since won numerous awards, including Best Engineering Project in the 2013 Tekla Global BIM Awards, competing against many other prestigious entries on a world stage," highlights David. The company was presented with the Constructing Excellence East of England Regional Award 2014 for Integration & Collaborative Working for the project.
Another challenging project for Pinnacle involved the redevelopment of a derelict site in Seaton, Devon for Tesco in 2009, taken from earthworks to opening in an impressive eight months. With more than 245,000 m3 of fill required to raise the site above flood level in order to redevelop it, the company proposed the innovative solution of bringing in the necessary volume of material by sea; however, because the site is not based directly on the beach, dredging contractor Westminster Dredging Company used its ship, Oranje, to bring the fill from the Bristol Channel to approximately 1.6 km offshore for transfer onto a barge capable of carrying 15,000 m3. Once there, the fill was pumped via pipeline over the Yacht Club and two roads onto the site.
"A land-locked flood prone 15 acre site in the centre of town provided the opportunity to import some 500,000 tonnes of imported sea-dredged fill from the Bristol Channel by ship and barge for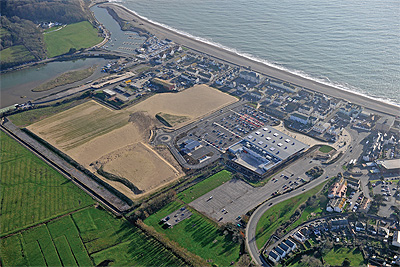 pumping onshore to the site. The resulting development plateau has since enabled construction of a 55,000ft2 food store and some 260 housing units on what was considered to be an undevelopable site," explains David.
Pinnacle continues to expand its data centre experience with numerous projects for co-location clients, developers and operators of wholesale data centres. Projects include new facilities for clients in London and the M4 corridor and more recently, commissions for new data centres in the Baltic states and northern Europe. Fully co-ordinated Building Information Modelling is a prerequisite and plays a key role in the spatial planning and detailed design, enabling the complex services provisions and plant configurations to be clash free and incorporate operational and maintenance aspects. Many projects focus on the installation of new white space data halls in existing warehouse buildings, requiring the strengthening of floors for the high density racking loads required by end users. Often, these works are adjacent to live operating facilities and in confined spaces so various specialist low vibration installation techniques have been adopted to ensure minimum disruption.
This commitment to providing high quality, technically innovative solutions has led to the ISO 9001 and ISO 14001 registered company developing a foothold in the oil and gas market, says David: "Pinnacle has provided innovative structural engineering solutions for the gas industry in the UK and NL waters of the Southern North Sea for clients such as AJS, Shell, Seajacks and NAM since 2011." A notable contract within this sector was the L13-FD-1 Velocity String Project for Shell involving the design and detail of structural steelwork on a live offshore gas well head; the work enabled the rejuvenation of locked-in gas wells, bringing them back on line and resulting in Pinnacle being awarded the Institution of Structural Engineers 2014 East Anglian Regional Award for Structural Engineering Excellence.
Moving forward, Pinnacle's award from the Institution of Structural Engineers is certain to lead to increased demand from the oil and gas industry, as owners and operators recognise the potential of working with a highly experienced company that focuses on value and innovative solutions. "While we are committed to promoting our skills, knowledge and relationships in the retail sector we also focus on the energy, technology and commercial/residential markets. These sectors offer us significant growth potential and are a strategic fit with the geographical spread our offices," concludes David.
Pinnacle Consulting Engineers
Services: Construction consulting