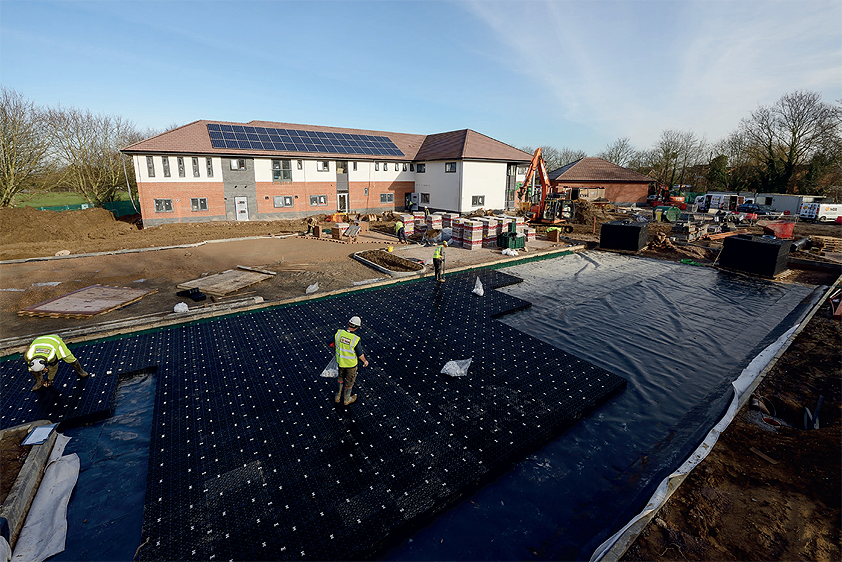 Genuine ingenuity
One of Europe's most successful manufacturers of piping systems for the residential, commercial, civil and infrastructure sectors, Polypipe has built a tremendous reputation over the years for its market-leading sustainable water and climate management solutions. Launched in 1980s Doncaster, the business overcame humble beginnings as a manufacturer of simple drainage equipment, growing quickly into a major producer of plumbing products and an assortment of plastic goods. After a short period on the stock market, Polypipe solidified its focus on the product range it retains today – plumbing and drainage systems, building materials, underfloor heating, and, following the purchase of Nuaire in 2015, ventilation.
Martin Payne, Genuit Group's CEO, joined the business in 2016 and has been clarifying and refreshing its growth strategy ever since. Speaking to Construction & Civil Engineering, Martin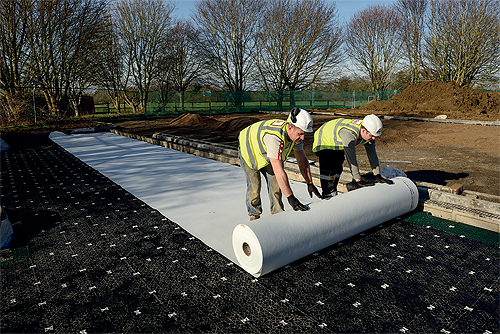 explains that good customer relationships, innovative solutions and, most importantly, strong sustainability credentials continue to drive the company forward.
"In the Group, we are, of course, involved in underfloor heating, plumbing and drainage, but if you look at the key drivers behind the business, we are trying to solve environmental issues within the water and climate management space, such as resilient drainage and flood resilience," Martin says. "The whole concept is centred around making our built environment a greener and better place to live, so we have a whole range of solutions to help developers to do that."
Recently, an industry-wide push for zero carbon heating in construction has resulted in an increase in activity for the Group's ventilation business. Transmission systems that work in line with new low-carbon, low-energy heat sources are becoming more popular in the sector and Polypipe is well-positioned to deliver relevant solutions to serve the burgeoning demand.
"Even beyond the environmental factors fuelling our growth, regulatory changes within the building sector are driving us forward as companies look to meet targets in terms of air quality and low carbon emissions," Martin reports. "Technical expertise and excellence in the field make us an ideal partner in this area."
Innovative products
One of Polypipe's latest major projects involved the boosting of flood defences at a £2.7 million medical centre in Churchdown, Gloucestershire – an area prone to flooding. Serving 20,000 patients from the local community, the 1191 square-metre site includes consulting rooms, nurse treatment areas, training rooms and a large car park. Working in conjunction with EPG and NGB Cheltenham, Polypipe Civils & Green Urbanisation assessed the existing water table in the car park, which offered limited storage, and implemented solutions to ensure the sewer and drainage systems at the medical centre would not be overwhelmed, even if the area experienced high rainfall.
In terms of the company's broader product range, Polypipe regularly introduces new and innovative solutions to its line and most recently, at the end of 2020, the company launched Haven. Designed to meet the specific IAQ needs of clients, while creating healthy, comfortable indoor environments, Haven ventilation products are best suited to projects with specific or demanding air quality requirements. Later this year, Martin expects the Group to add its latest Haven model to the range – SafeHaven.
"We've been working on SafeHaven with our ventilation business group for two or three years now," Martin reveals. "Intended for the ventilation of high occupancy offices, schools, care facilities and NHS properties, SafeHaven protects against viruses like Covid-19 by bringing clean air into a building and then extracting it at floor level to ensure ventilation is executed from top to bottom. A lot of air conditioning units and air cleaning systems circulate air around a space, but in a Covid-19 environment that is not what you want. For safety, our system has an ultraviolet filter that can kill 95 per cent of airborne viruses, making it a very popular product with employers, education authorities and health services worried about the quality of air coming into a building."
Critical activities
As Martin suggests, the Covid-19 pandemic has been shaping the nature of Genuit's work of late. The virus has had an equally sizable impact on the way the business operates internally, forcing the firm's workforce to adapt to changes and overcome numerous obstacles.
"People are the most important part of this business and so our primary objective at the onset of the Covid-19 crisis was to make sure they were safe and well. Our employees repaid our dedication by leading us to a very successful year," Martin declares. "In 2020, we performed critical activities, such as supplying and maintaining the Nightingale Hospitals, NHS facilities, and the care sector. Whilst we did have to reduce activities in our factories, we still kept serving clients throughout the pandemic, as well as manufacturing visors for local communities in a very safe way."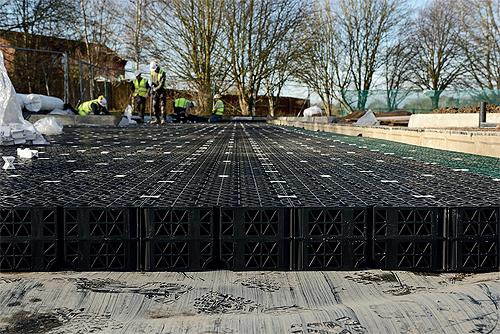 Operating from 15 manufacturing sites in the UK and a single location in Italy, Genuit has long been ahead of the curve in terms of production efficiency. Although the company has been pleased with the results of recent investment in automation and assembly improvements across its network of facilities, Martin is most proud of the Polypipe recycling plant in Horncastle, Lincolnshire.
"At Horncastle, we take 17,000 tonnes of consumer milk bottles and bleach bottles and put them through a ten-stage process, which turns them into material we can use to make sewer pipes and drainage products," Martin states. "Over 46 per cent of our plastic usage comes from recycled materials, which puts us way ahead of the competition. I don't think there is another site of Horncastle's scale doing recycling in the way that we are.
"Sustainability means an awful lot to all the stakeholders in our business – from employees to shareholders to customers. Not only is it about doing the right thing, but we are increasingly seeing a competitive advantage thanks to our recycling credentials."
Genuit Group's commitment to sustainable practices has seen the company sign up to the Race to Zero emission reduction scheme and the firm is joining many of its clients in driving progress across Scopes 1, 2 and 3. The focus on emission reduction sits alongside similar recycling, innovation and workforce-related targets. For example, regarding the latter, Martin would like to see five per cent of Polypipe's workforce in education, whether through apprenticeships, graduate schemes or on-the-job learning.
In 2021, the Group is a very different, and far more varied, organisation than when it opened its doors as Polypipe in 1980. No longer a simple manufacturer for the plumbing and drainage industry, the company has developed into a leading solution provider for real world environmental issues, with the ability to deliver specialist products as varied as integrated heat pumps and magnetic filtration. To reflect this growing sophistication and increasingly diverse offering, as of April 6th 2021, Polypipe's parent company, the Polypipe Group, will now be known as the Genuit Group.
"We were looking for a name that allowed all our employees to feel part of the group, while maintaining an affinity to our customer base and brand," Martin remarks. "We asked our workforce what they thought best described the culture at Polypipe and the word 'ingenuity' came up over and over again. It sums up our approach to problem solving and solution development, and that's why we decided on 'Genuit', as a variation of 'ingenuity'.
"To be clear, the customer-facing Polypipe brand itself will not change, but our new acquisitions will join Polypipe under the Genuit Group umbrella," Martin adds. "We have had six acquisitions in the last three years, and we now have a portfolio of very strong brands in their own right. Nuaire is the number one light commercial ventilation business in the UK, ADEY is the number one magnetic filtration and chemical treatment firm for water-based transmission systems and heating, and they sit alongside a whole range of complementary companies."
Key drivers
As the number one plumbing and drainage company in the UK, Polypipe will continue to receive substantial investment from the Genuit Group in 2021. The company will also be joined in the group by Genuit's latest acquisitions, which include Plura and Nu-Heat. With Covid-19 vaccination programs starting to prove successful around the world, Martin and his team at Polypipe finally feel as though they can start focusing on the company's long-term future.
"Resilient drainage, green urbanisation, healthy air and zero carbon heating within the residential and commercial sector are going to be key drivers for us in the months and years ahead. We are very lucky to be operating in some really strong markets at the moment," Martin points out. "Our post-Covid-19 world is likely to have a structural housing shortage, which bodes well for the group, and I would like to see the business continue to grow both organically and through acquisition.
"Despite the challenges of Covid-19, we were able to invest in new products in 2020 and we expect to see that pipeline come to fruition over the next few years, which is very exciting. As a business, we will continue to align ourselves with environmental and regulatory drivers, whilst operating as a sustainable business ourselves in line with targets we laid out in November 2020 regarding carbon reduction, plastic recycling, digital innovation and the development of people."
Polypipe
www.genuitgroup.com
Services: Piping systems and commercial building services