Powerminster Gleeson Services
Powerminster Gleeson Services' team-based approach allows it to make a significant difference to rhe residents and communities in which it works
Concentrating on growth
Powerminster Gleeson Services' team-based approach allows it to make a significant difference to rhe residents and communities in which it works
As a member of respected construction company M J Gleeson Group, Powerminster Gleeson Services is a leading facilities management provider and specialist in gas and electrical maintenance, Private Finance Initiative (PFI) contracts and housing refurbishment. The company deals with residential property and estates, providing services such as kitchen fitting and rewiring for councils, local authorities, schools, libraries and public buildings. It has a wealth of experience in large-scale property refurbishment and community regeneration, and provides a fully integrated range of services.
The business recently changed its name from Powerminster in order to align itself fully with its parent company, which it has been a part of for 23 years. Financial director Darrell Fox outlines the company's background and main activities: "Powerminster Gleeson Services is a wholly owned subsidiary of the M J Gleeson Group and all work is UK-based.We changed our name at the end of the last financial year to strengthen our marketing.We wanted to retain the brand name Powerminster whilst acknowledging Gleeson Services, which demonstrates a close link to the Gleeson Group.We provide installation, maintenance and repair services to domestic and commercial properties, including installing central heating systems and rewires to houses, facilities management services with domestic and commercial properties, and gas servicing.We undertake a number of PFI contracts – currently two in Manchester, one in Sheffield and one in Ashford, Kent – ranging between 20 and 30 year contracts providing whole life maintenance facilities."
In partnership with Gleeson Capital Solutions, the Group's specialist PFI and Public Private Partnerships (PPP) bid activity, the organisation seeks to identify potential investment and partnering opportunities to suit its expertise and investment strategy. Since PFI was introduced, Powerminster has signed five deals with value in excess of £100 million, earning the business an excellent reputation as an integrated PFI solution specialist.
Darrell elaborates on some current contracts: "We have a £29 million PFIcontract with Cheshire County Council, which is a 30-year scheme.We'll be providing facilities management and maintenance services to five new 'extra care' sheltered housing schemes as of September 2008. This type of work generally flows – it's either a modernisation or a new build – so the contract usually includes decades of maintenance work.We have a similar arrangement in Manchester at Grove Village, where we're providing 30 years of maintenance for 600 properties by looking after bathrooms, kitchens, roofs, windows and garden areas."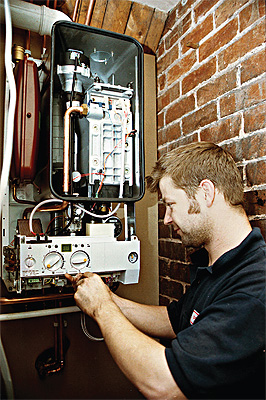 Powerminster Gleeson Services is also working in Ashford in Kent on a PFI contract performing both installation and maintenance services. "The Ashford Social Housing PFI contract is for domestic properties," comments Darrell. "The contract started in May 2007 and iscurrently going though the refurbishment and construction phase.We're working on refurbished properties by installing bathrooms, kitchens, central heating systems and rewires.We'll also be providing maintenance services both on the newly refurbished properties and on the existing housing stock before it is refurbished."
Powerminster is currently negotiating another PFI contract with Leeds City Council worth £40 million due to start in 2009. Darrell believes that Powerminster's considerable success, particularly with PFIs, can be attributed to its strong support and growing dependence on e-business practices: "Our good systems and procedures stand us in good stead while having the stability of the M J Gleeson Group is a key strength. The speed at which we can turn information around is another strong point because our engineers working in the maintenance field use personal digital assistants (PDAs) so that we send jobs to them electronically. Once the job is complete, that information gets relayed to our management system and we send reports to clients detailing exactly what work was completed."
Continuing, he adds: "As we're trying to place orders, issue work tickets and receive information electronically, we take into account potential suppliers' ability to trade electronically when choosing who to work with.We used to issue 4000 pieces of paper per week simply to get our employees out to work but that's been reduced by at least 95 per cent. Although we capture all information electronically, sometimes we still end up printing the final outputted worksheet to provide to the client – it comes down to whatever the client wants."
When selecting suppliers, Darrell also thinks that flexibility and cost are important factors: "We have a series of preferred suppliers with whom we negotiate pre-set terms and discount rates because cost is a significant issue. The location of suppliers' depots and the size of the stock that each depot holds is also key because often it comes down to whether they can hold a specific type of stock if we require it. In this sense, working with suppliers who are flexible is essential."
With thoughts turning to how Powerminster will develop, Darrell's main aim for the company is straightforward: "At the moment, we're concentrating on organic growth.We're in a very strong position in the PFI sector with a large market share and, with regards to the rest of the market, we win a decent proportion of what we tender for. Our aim is to build on our excellent reputation in the marketplace and grow, whilst maintaining a stable bottom line."