Premier Interlink (Waco UK Ltd)
Premier Interlink (Waco UK Ltd) is one of the UK's largest manufacturers and suppliers of multi-storey buildings
Going green
Premier Interlink (Waco UK Ltd) is one of the UK's largest manufacturers and suppliers of multi-storey buildings
With over half a century of experience in the field, Premier Interlink (Waco UK Ltd) is one of the leading manufacturers of multi-storey buildings and cabins in the UK. Comprising an integral part of Waco International Ltd, the company specialises in steel framed modular buildings, which are used in various industry sectors, such as education, healthcare, custodial, construction and commerce. As well as manufacturing what are arguably the sturdiest buildings on the market, the organisation has excelled in the development of environmentally sustainable buildings in recent years.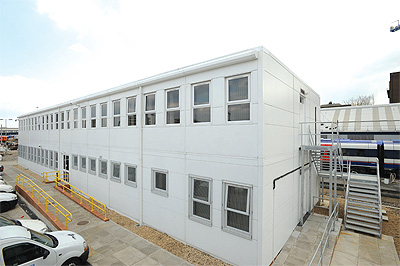 Elaborating on the company's strengths, Jenny Fothergill, marketing manager of Premier Interlink, says: "Our PremierPlus range is one of the most innovative steel structured buildings in the UK. The perceived thought behind modular buildings is that they are temporary and relocatable but that is not really the case with us, we prefer to see them as fully compliant, permanent buildings that can be utilised in temporary situations."
The high standard, and indeed speed of construction, of Premier Interlink's buildings is perhaps best illustrated by the project that the company carried out in the early part of this year. Westfield Shopping Towns, which is based in Stratford, required site offices and welfare buildings that could be used by 250 staff and 2500 staff operatives while it carried out the construction of the largest shopping centre in Europe, which will be completed in time for the 2012 London Olympics. The building will be on site for over three years so was required to be fully compliant and comfortable as well as providing spacious offices and a high standard of fit out.
After awarding Premier Interlink the contract a large three-storey building was erected in just 19 working days, becoming ready for beneficial occupation in a mere seven weeks. "They needed a quick delivery time and that is what we delivered," says Jenny. "What is quite brilliant about these buildings is that both externally and internally they are modern permanent structures. The fittings are contemporary; it is a facility that is as up-to-date as anybody could possibly need with the added advantage of the quick construction times."
The build is one of the largest examples of the new PremierPlus modular building system, which is setting the benchmark in off-site construction excellence. As one of the best examples of innovation in the sector, it is fast, economical and complies fully with stringent building regulations for permanent buildings. The steel-framed installation has superb thermal and acoustic qualities and significantly reduces a building'scarbon footprint, making it one of the greenest options available. The saving of 'whole life' maintenance costs and increased comfort also marks it down as the leading choice in the field. It is a system that truly bears testament to the 50 years of know-how and experience that Premier Interlink has developed.
The product portfolio includes Interlink, a versatile and multi-storey building product capable of being stacked up to five storeys high, and the Transline range of buildings that are aimed at educational and small offices. The fleet can incorporate staircases and are fully equipped to support technology that is typically found in learning environments. Typical cabins make up a traditional final segment of the product offering and are available in a number of formats to suit most site needs.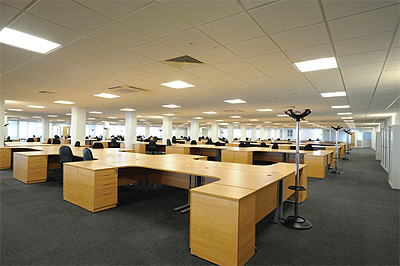 With the quality and range of modular buildings increasing at a considerable rate, the use of off-site construction is becoming more accepted in the building industry. Outlining the advantages of this off-site construction method, Jenny explains: "Because the buildings are manufactured in a factory, the quality and safety is easier to control. We are providing building solutions to schools, hospitals, prisons and other institutions that require speedy solutions and minimum disruption on-site."
And while the number of uses for modular buildings increases, so does the onus on developers to produce systems that are environmentally viable. It is no over exaggeration to say that the company is a pioneer for this cause. "Premier Interlink was the first modular building manufacturer in the UK to become ISO 14001 accredited, which looks at the way a business controls and regulates its own environmental impact, how it treats waste and its energy consumption. We didn't have to achieve that but it shows our commitment to using sustainable products and the emphasis we place on environmental matters. Again, we benefit from off-site construction because it is a controlled site and we can monitor waste.
"All the materials are either recyclable or reusable and we allow for up to 100 per cent reutilisation of all the elements of a building in one shape or form. The steel can be re-cycled even after the 100-year timeframe of an installation has ceased and the cladding we use has a zero ozone depletion core. These are the kind of qualities that clients are very keen to see, they want to work with companies that are environmentally aware and that holds us in good stead," she says.
Looking forward, it is an area that is set to become increasingly prevalent. "We will be looking to maintain the development of sustainable buildings to be used permanently or relocated. The ultimate in recycling is if you can reuse the materials of a building when it is no longer needed," Jenny concludes.