As part of the Waco International Group, Premier Interlink has a trading history of nearly 60 years. The merging of the Premier Transline and Interlink brands in 2004 and the acquisition of the IP of Britspace Modular Buildings and Gateway Pods in 2011 has grounded the business in a dominant position in the market
Mod pod
As part of the Waco International Group, Premier Interlink has a trading history of nearly 60 years. The merging of the Premier Transline and Interlink brands in 2004 and the acquisition of the IP of Britspace Modular Buildings and Gateway Pods in 2011 has grounded the business in a dominant position in the market
Premier Interlink is part of a financially robust global organisation that employs over 4000 people worldwide with a turnover of £300m. "This gives us the financial platform to take on and complete major modular building construction projects successfully and the strength to develop new products and to keep our modular building manufacturing facilities at the forefront of industry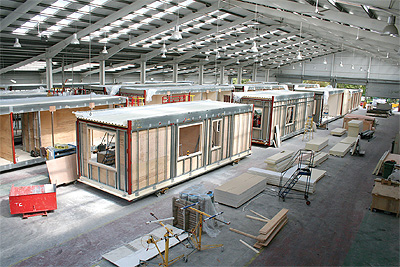 practice. Having businesses spanning different geographical and cultural boundaries allows us to share best practice and growth ideas through group led effective forums," explains David Harris, Divisional Director.
The business's success was founded on skill within innovation and R&D and both remain crucial to the continued growth, as David comments: "We have a strong desire to provide our clients with the best product and service available, and for that, innovation is essential. Over the last 18 months we have brought three new products to market that have reduced the weight and cost of our products, provided seven metre high internal ceilings and brought a modular foundation system to the market. This in turn has opened new markets for us and delighted our existing clients through adding real value to our offerings."
The 35 per cent increase in demand for its services over the past year has been attributed to innovation and effort to provide a high quality service. By operating in a variety of sectors including education, healthcare, commercial, construction, residential, hotel, student, MoD, custodial and retail markets, its modular solutions benefit a huge market. Through the use of this method, the overall build programmes can be reduced by up to 50 per cent. Rigorous quality control is fundamental to the design promoting cost certainty as a result of continuous investment in cutting-edge technology by Premier Interlink. Modular construction also reduces defects and snagging, weather disruption, health and safety risks, impact on client's operational activities and site traffic by up to 90 per cent.
"The systematic and closely controlled production methods of a Premier Interlink factory build helps ensure time scale adherence, quality and budgetary control. Units leave the site with many internal fittings and services already installed ready for quick assembly on-site, reducing final fit-out time. We provide a range of products from light gauge steel frame accommodation units, to 24 storey capability systems.
We can also offer hybrid steel and timber solutions. We have a Hire Business made up of excellent quality, completely compatible, fully interchangeable up to five storey units, where we work with all the key UK main contractors and prestige clients directly. Examples of this would be our niche market providing multi-storey gantry solutions in city centre locations on very tight footprints. We are seen to have a willingness to be open and honest with our clients ready to solve their problems and satisfy their needs. Our products are of the highest quality in the industry and our attention to seamless and quality service gives us a high percentage of repeat work," says David.
The Premier range has been designed with the environment in mind with most materials from sustainable resources. In addition to the high thermal performance and energy efficiency, its design team can incorporate everything to create a building with a low environmental impact including solar or wind power, recycling rainwater for use in 'grey' water systems, ground source or air to water for heating and cooling and PV cells. Nearly 70 per cent of all waste from its factory is recycled or composted, further highlighting the low environmental impact of its products with ISO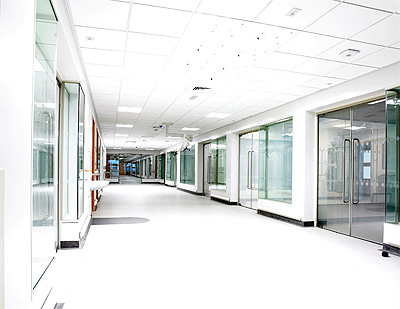 14001 accreditation demonstrating the commitment and respect for the environment. "Carbon emissions and energy consumption at our manufacturing facility have been measured by the Carbon Trust and showed good energy management for our sector and we have a proven track record of working with clients to achieve a BREEAM excellent rating," explains David.
The business has been involved in a number of high profile projects such as the Beacon Army Barracks where the award of the 432 bedroom plus ancillary accommodation for the returning soldiers from Germany, known as Project Barona, was a culmination of a number of successful defect free handovers within the MoD estate, combined with the company's low cost, lightweight and high quality new modular solution. Discussing the project David points out: "It is the type of contract that allows us to drive real efficiencies through our factories using Lean production methods first learnt in the automotive industries." Working with Lend Lease, the business reached a significant milestone in August 2014, reaching 50 per cent of manufacture for the project.
Modern methods
The modern methods of construction used at the factory mean that the modular buildings are being delivered at a rate of over 20 bedrooms each week, offering increased benefits to the construction programme. The production facilities available offer real benefits to the manufacturing programme, with the option to operate multi shifts to meet programme requirements as required.
"Our proven offer of reliable delivery, cost certainty and value through innovative products has secured many contracts such as our ongoing relationship with Timpson and led to other significant projects such as the Robert Owen School in Hereford, where we have been working closely with award winning architects Robert Limbrick and Wilmott Dixon to provide a design and build solution for a vocational school to serve pupils in the surrounding area," announces David. The co-operative academy for 14-19 year olds will be the first of its type in the UK and will prepare students for life and work through strong engagement with employers, training providers, the local community and partnership with colleges and universities. The buildings will comprise 58 modules and are being adapted to suit the design layout from vocational to workshop environments.
"Our main growth drive throughout the next year will be in the affordable housing sector. We see this sector having a real need for solutions due to the volume required and modular can fill the void," says David. The Waco Group is undergoing rapid year-on-year growth in all geographic regions with each Group business bucking the recession and significantly growing. This has been through investment in people, R&D and innovation, developing new products and opening new markets. "Over the next five years Premier Interlink will be looking to triple the size of its high quality hire fleet and become a larger player in the chosen new build markets, ensuring we remain fleet of foot and at the forefront of our favoured sectors," he concludes.
Premier Interlink
Services: Modular buildings & retail pods