Premier Modular (part of the Waco International Group) is experiencing strong growth as it looks to take new opportunities and expand its footprint in a number of sectors
Sixty years strong
Premier Modular (part of the Waco International Group) is experiencing strong growth as it looks to take new opportunities and expand its footprint in a number of sectors
Recognised by the market and competitors alike for its exceptional customer service, innovative products and build quality, Premier Modular has become the UK's premier supplier of modular building solutions. Celebrating 60 years in operation in 2016, the company boasts a strong heritage and a proven track record for delivering high quality modular buildings to a diverse range of market sectors; these include commercial and offices, construction, defence and custodial, education, healthcare, hotel and leisure, housing, marketing suites, residential and student accommodation and retail.
Since Construction & Civil Engineering last featured Premier Modular in February 2016, Divisional Director David Harris says the company has continued with a positive growth trajectory despite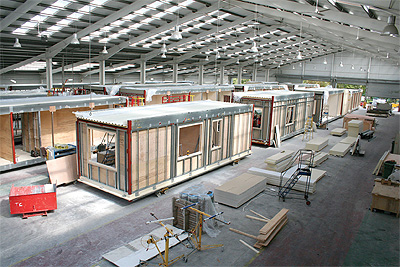 a briefly turbulent time caused by Brexit: "We had a brief downturn for two months during the Brexit voting period, however we have bounced back since then and expanded significantly over the last six months to become 50 per cent bigger than we previously were. This has been significant for both turnover and profitability and has led to us taking on another factory of around 40,000 square feet. In addition to these developments, since we last spoke with CCE we have also invested in our people and product development in line with a drive to enter new markets. However, our real investment has been specifically in IT to get our BIM systems and 3D CAD systems integrating with the goal of reducing errors and speeding up the process of production.
"If you look at market demand, we have seen success in student accommodation and retail and have launched two new markets: social housing and extra care. Another two areas where we are experiencing growth are the education and commercial sectors. As we continue to develop a stronger presence in new markets, we will remain focused on investing in product development. It is obvious that the product for housing will be different to the product in schools or student accommodation; by tweaking our products we ensure they are suitable for each unique market."
This customer-centric focus approach to business has resulted in the innovative company being awarded a major project to provide a four-storey maths education block at the University of Glasgow; work is scheduled to commence in October, with project handover anticipated in April 2017. The maths education block, valued at £4.67 million, is part of a £1 billion masterplan to transform the University of Glasgow into one of the top universities in the world; the planned development scheme will expand the campus footprint by 25 per cent. "This is our first contract in this Glasgow development, which is exciting for us," says David. "We are also working on a five-story office block for JLR, which I have no doubt will lead to other projects in different geographical locations, and an enormous project in the power generation sector. Additionally, we have run a number of drive-thru restaurants for Burger King, which further shows that we are starting to gain some traction in the retail market."
By striving to provide a solution that suits the client's unique demands, the flexibleand innovative Premier Modular has developed a solid reputation for focusing on attention-todetail, quality and longevity of the products it delivers. These strengths have resulted in the company gaining recognition from award bodies including the Construction News Awards, which named the company's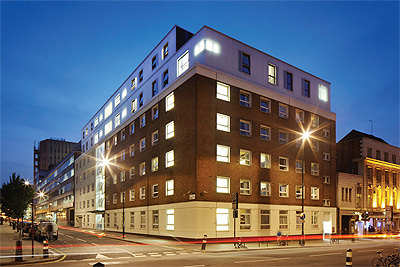 The Foundry project winner of the Project of The Year (Up To £10 million) at the 2016 Construction News Awards.
Working closely with partner Sir Robert McAlpine, Premier Modular provided close to 300 modules to the site in Newcastlebetween March and May 2015 for Trust Estates' 207-student bed accommodation. A mere 17 weeks later the building was handed over to Trust Estates, ready for the new student intake. Modular construction was chosen for this project as failure to meet the customer's deadline would have resulted in the customer missing the opportunity to attract the September 2015 student intake – a deadline that traditional construction would not be able to meet. Upon completion, the Foundry is a five-storey building that offers a mix of four-to-eight bedroom flats and studios. "The fact we built a fabulous student accommodation building in Newcastle in a fast and innovative manner led to us winning this award," comments David.
Having invested in its facilities, people and products over the last 12 months, Premier Modular will continue to push forward with achieving solid growth in the housing and extra care markets while also maintaining a strong foothold in its more established sectors. "Over the coming years it is our goal to develop a facilities management/maintenance offering so we can offer our customers more of a one-stopshop solution and become the goto firm for modular hire and sales business. Key to this becoming a reality is the continued growth of our reputation in the market through the delivery of excellent service and innovative products," concludes David.
Premier Modular
Services: Modular building solutions supplier