Premier Modular (part of the Waco International Group) is experiencing strong growth as it looks to take new opportunities and expand its footprint in a number of sectors
Piece by piece
Premier Modular (part of the Waco International Group) is experiencing strong growth as it looks to take new opportunities and expand its footprint in a number of sectors
When Construction & Civil Engineering last spoke with Premier Modular back in June 2015, Divisional Director David Harris, spoke about the positive growth trajectory the company had been on and outlined its plans for the future, which generally involved diversifying the business offering and capitalising on new opportunities. Eight months on and David retains his positivity, reflecting on a number of successes over the second half of 2015 and is confident about the future. "Our growth levels have continued in terms of turnover and profitability across the whole business in both the hire and new build segments," he says. "This has been helped by our presence in a diverse mix of sectors. We are more active in the student accommodation market, we have reignited our history in healthcare and education continues strongly."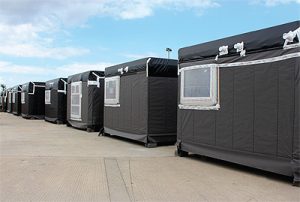 Speaking about market conditions, David sees that some buoyancy has returned to the market despite a noticeable slowdown in order intake before and after last year's General Election. However, he maintains that legacy fallout from the recession still exists placing pressure on pricing and subsequently depressing margins. "I don't really foresee this changing," he says. "However, it just means that we have to be more slick and efficient in taking new growth opportunities to continue a strong performance."
One particular area of opportunity that Premier Modular has begun to take advantage of over the past few months is the housing sector. In our last feature we covered the three-day event that formed the launch platform for the company's innovative modular housing system, also noting the successful award of its first social housing scheme in Hull. Since then it has added another project in Glasgow to its portfolio and its outlook going forward is bright.
"I think there is quite significant growth potential for us in the housing industry with a lot of this driven by the government agenda to build more homes combined with the skills shortage that plagues the traditional market place," David comments. "In addition to the two housing schemes already delivered we have secured positions on three modular housing frameworks, which I have no doubt will start delivering schemes for us over the next three to six months. We have also partnered with a key house builder in the North West, who is very keen to bring modular solutions onto some of its sites."
Premier Modular has also made some serious inroads into larger schemes up and down the country. In London, for instance, its hire business has provided several buildings to the Battersea Power Station redevelopment, including its first six-storey hire building. However, set to prove highly instrumental to its future growth strategy is its preferred bidder status on EDF Energy's Hinkley Point C (HPC) project, the UK's largest modular construction project to date.
With the contract in the final stages of negotiation, the prestigious £40 million accommodation project will help to firmly cement the business as a leader in the UK industry. A number of permanent modular buildings with a combined floor space of 38,000 square metres and made up of almost 1000 steel-framed modules will be constructed off site and installed at Hinkley for the nuclear power plant's ten-year construction cycle. After this time most of the buildings, which will be providing office and welfare facilities for the project, will be relocated to other areas of the EDF estate whilst one will be reconditioned to remain in place.
"For me, HPC is a real feather in the cap having been working on it for over three years now," explains David. "The challenge will be the huge time pressures as when the button gets pressed the client will want a workforce on site as soon as possible. Overall it will take around 16 months from manufacture to handover, with about a year of that spent in the factory. In terms of its significance, it will have a major impact on the business's continued success helping to increase our turnover around 50 to 60 per cent annually over the two-year project cycle. This fits in nicely with the growth trajectory that we've been on over the last couple of years, so the objective will be to maintain this new level beyond the project."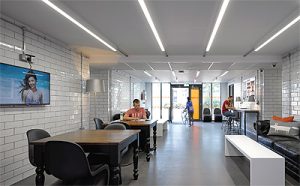 Other successful projects from the past few months include a recently completed children's centre in Westminster, which combines a multi-tiered rooftop section, two-storey open hall area, laser-cut façade and traditional brick finish to create a building that goes beyond the expected possibilities of a modular system. "The fact that we're using systems here that you wouldn't have thought possible with modular construction really demonstrates just how far we have come with it over the past few years," notes David. Similarly, it has recently finished a two-storey school (one of seven for Brent County Council near Wembley), which hosts a MUGA (multi-use games area) on its roof. "This involved pouring concrete on to the top section and required us to look closely at the building's structure to take such big loads, but again shows how far the technology has come," he adds.
Another significant focus for Premier Modular over the past couple of years has been its people. "We have spent quite significant levels of money on different levels of leadership and management courses through the business from team leadership right up to executive development," David says. "We've just had five of our senior managers go to GIBS Business School in Johannesburg on a leadership course, which will be a big step towards our future planning."
In terms of the future Premier Modular is well placed to overcome many of the challenges it foresees relating to managing growth with training and recruitment, regenerating capital expenditure to grow its hire capacity and managing capacity with a newly opened factory. "The three core focus areas as we move forward then are firstly, investing further into our hire fleet and ensuring we keep that utilisation high. Secondly, driving growth into new growth areas like housing, retail and student accommodation whilst maintaining our normal business-as-usual sectors, and finally attracting more people to facilitate this," David concludes.
Premier Modular
Services: Leading UK modular construction company