Propex LLC has a pioneering history that dates back to the early 1900s and today holds a prestigious reputation as a pioneering market-leader in geosynthetic reinforcement, geotextile fabrics and concrete fibre solutions
Concrete solutions
Propex LLC has a pioneering history that dates back to the early 1900s and today holds a prestigious reputation as a pioneering market-leader in geosynthetic reinforcement, geotextile fabrics and concrete fibre solutions
The company employs more than 2400 people in 11 locations around the world including North America, Latin America, Europe and Australia. Over the last four decades Propex Concrete Systems (PCS), a subsidiary of Propex LLC, has built a reputation for quality, customer service and the ability to offer innovative, unbiased solutions for the fibre reinforcement of concrete. Its continually growing list of world leading brands include: Fibermesh – fibrillated/ multifilament micro-synthetic fibres, ENDURO – macro-synthetic fibres, Novocon – steel fibres and Novomesh – an engineered blend of fibres for multifaceted applications.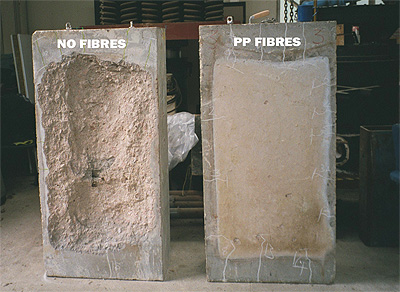 Today, PCS is recognised as a world-leading supplier of fibre reinforcement solutions for concrete, with fibre concrete specialists and distributors in a growing list of countries. It actively participates in global testing, code approvals and guidelines to ensure that its materials meet or exceed national and international standards. Key applications include roads, bridges, water-retaining structures, industrial floors and external hard standings.
In the last ten to fifteen years the use of fibre reinforcement in high strength and ultra-high strength concrete for tunnel construction has become much more accepted and there are now few major tunnel projects that do not incorporate fibre reinforcement in one form or another.
Whilst high performance concrete is widely recognised as a costeffective, versatile construction material, it is beset with a number of drawbacks that are inherent to its composition. By generally accepted engineering standards concrete is relatively brittle, has limited tensile strength and when subjected to rapid temperature increases due to fire is prone to severe damage caused by explosive spalling.
Andy Treanor – Business Development Manager for Underground Applications states: "We recognise that all fibres have their particular strengths and benefits and that one fibre is not necessarily the best solution for all applications. Propex are quite unique in that we offer a full range of both micro and macro synthetic fibre products and steel fibre products enabling us to give unbiased opinions and fibre solutions to suit the performance requirements of most tunnel applications.
"Our Fibermesh range of micro-synthetic fibres provide a unique internal support system in concrete that substantially reduces plastic settlement and shrinkage cracks by increasing the tensile strain capacity of plastic concrete. The fibres also improve the cohesive properties of the concrete resulting in reduced fallout and rebound when used in sprayed concrete applications.
"Our Fibermesh 150, fine monofilament fibre is recognised around the world to provide resistance to explosive spalling with minimal effect on the workability of concrete. Verification of the positive effect of this material on explosive spalling has been obtained from many internationally recognised fire test laboratories including VSH Hagerbach (Switzerland), Efectis / TNO (Netherlands), MPA Leipzig (Germany), SP Technical Research Institute (Sweden) and BRE (UK). An ever-increasing amount of tunnelling projects include this technology as passive fire protection in either sprayed, cast in situ or precast concrete tunnel linings."
Steel fibres have been used in tunnel applications since the early 1970's and are now regularly employed as a replacement to conventional steel reinforcement in sprayed concrete and precast segmental tunnel linings. They are widely recognised to improve the overall properties of concrete such as ductility, fracture toughness, energy dissipation, impact resistance, fatigue resistance and limiting crack propagation in the hardened state concrete. Propex offers a wide range of products from its Novocon steel fibre brand including hooked-end, flatend, continuously deformed and segmental wire materials.
During the 1990's Propex pioneered the development of macro-synthetic structural fibres for concrete and launched onto the world market the S-152 HPP (HighPerformance Polymer) fibre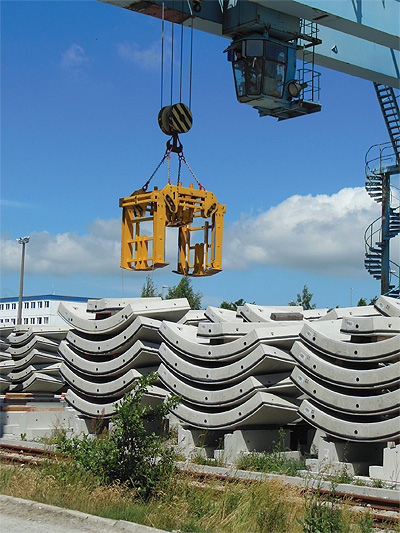 initially for sprayed concrete applications in mining. Since, that time it has continually improved its product offerings and now has materials that compete, at the highest level of performance.
Offering similar technical benefits to steel fibre materials, macro-synthetic fibres have the added advantages of being easier to handle and corrosion free. "From an engineering/technical perspective we are able to provide post-crack ductility with both steel and macrosynthetic fibres, therefore, enabling us to maintain a load carrying capacity once the concrete has cracked," says Simon Evans, Director of Engineering Services. "With this ability engineers are able to calculate a moment of resistance for a specified section of fibre reinforced concrete, which allows them to determine its performance when compared with traditional mesh or bar reinforced section of concrete. We can then determine the fibre requirements and the dosage requirements against traditional standards and codes. This is done in compliance with independent guides that are used throughout the industry."
Propex quality assured fibres comply with European standard EN14889 Parts 1 &2, carry CE Marking and for underground and mining applications have been extensively tested at internationally respected test facilities includingVSH Hagerbach Test Galleries (Switzerland), TSE – Technologies in Structural Engineering (Australia), Amec Earth & Environmental (Canada), The Norwegian Building Research Institute, Greenwich University (London) and The University of Chile.
Test methods for sprayed concrete applications include American ASTM C 1550 (RDP) and European EN14488-5 (EFNARC) panel testing where the performance of specimens is quantified in terms of energy absorbed between the onset of loading and selected values of central deflection i.e. 40mm for ASTM C1550 and 25mm for EN 14488-5. Results of such testing are reported in Joules and a correlation between the EN 14488-5 (EFNARC) square panel and the ASTM C1550 (RDP) has been measured as: EFNARC 25mm (Joules) = ASTM 40mm (Joules) x 2.5
Post Crack performance for fibre reinforced concrete used in applications such as precast segmental lining and slabs–ongrade is normally measured using simply supported beam tests such as ASTM C1609 and EN 14651. These tests are used to evaluate the flexural performance of fibre reinforced concrete. Values are established for first crack and peak loads, as well as residual strengths at specified deflections.
Currently PCS is active on a number of highly publicised tunnel projects around the globe. In Switzerland, the 57km long Gotthard Base Tunnel selected Fibermesh 150 micro-synthetic fibres to afford protection against explosive spalling in the event of fire in station areas and escape routes.
Furthermore, its materials are currently in use in many of the Crossrail contracts in London, Copenhagen Cityringen Metro, North West Rail Link in Sydney, Hong Kong Metro and many more high profile global projects.
As a result of extensive testing and successfully meeting required performance criteria Fibermesh 650 e3 macro-synthetic fibres were selected for use on the Lansimetro West Metro Tunnel in Helsinki. Concerns had been raised regarding potential corrosion issues of both steel rebar and steel fibres in this sub-sea tunnel and macro-synthetic fibres were viewed as the ideal solution.
In addition to the non-corrosive, economical and safety benefits of macro-synthetic fibres, contractors have also noted other practical benefits when comparing with steel fibres. Often, contractors are required to apply a thin layer of unreinforced concrete over waterproofing membranes and water drainage pipes to avoid puncture when using steel fibres. Contractors would then need to return to the area the following day to apply a fibre reinforced layer of sprayed concrete. With macro synthetic fibres there is no risk of puncture meaning that the membranes/pipes could be covered in one operation, therefore speeding up the entire process.
The success of PCS is built not only on the highly sought after concrete enhancing properties of its range of fibres but also on the comprehensive expertise that continually allows the company to develop and define the industry. Throughout its history PCS has collaborated with key industry bodies including ACI, EFNARC and the EN14889 workgroup to develop key guidelines and standards that are followed throughout the industry. As associate members of the International Tunnelling Association (ITA), PCS is also actively involved with the working group developing guidelines for Fibre Reinforced Concrete Precast Segments for Tunnel Lining Applications which will provide design engineers further confidence that both steel and macro-synthetic fibres can replace traditional steel cage reinforcement in this application.
Propex' global network of fibre reinforcement engineers and specialists are among the most knowledgeable in the industry, with practical experience in the complete range of concrete applications. Its technical service professionals are always available to offer open and honest advice and to help you achieve the most economical and functional concrete solution for your needs.
enquiries@propexinc.co.uk
Propex LLC
Products: Manufacturer and supplier of  geosynthetic reinforcement, geotextile fabrics and concrete fibre solutions