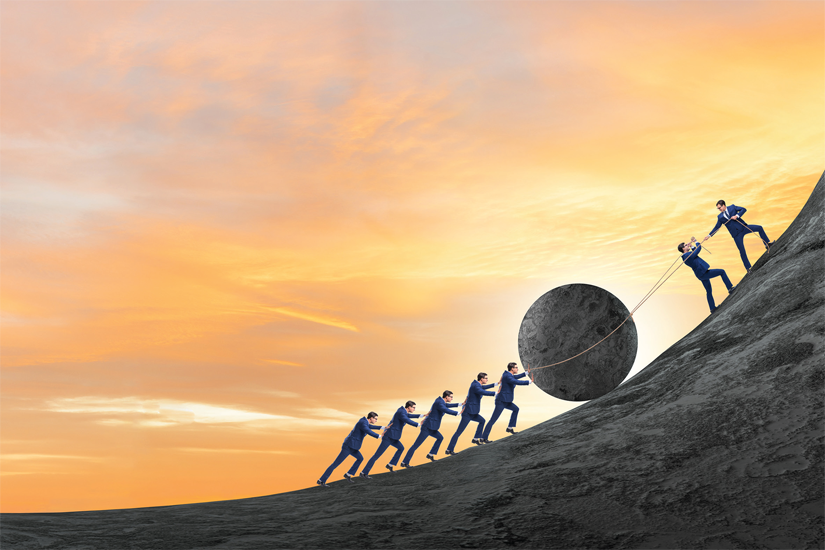 The factors behind going digital for construction. By Simon Eyre
Typically, engineering and construction companies report some of the lowest investment in technology with decisions often delayed repeatedly. This is even though they face a unique set of challenges, often struggling to keep pace with emerging industry demands and expectations that demand technological solutions.
Meanwhile, technology is fuelling the transformation of various related industries around the globe and digital innovations are changing the way people work and live. It is not just that specific companies risk being left behind, but rather an entire industry.
As a result, the need to better leverage data in the engineering and construction industry is now more crucial – and pressing – than ever.
The good news is that – in places – emerging and disruptive technologies are transforming the engineering and construction industry. Whilst those companies that cannot or choose not to embrace technology put their businesses at real risk of failure, there are solutions that can impact so many aspects of business including managing day-to-day operations, competing for work, executing projects, and ensuring the health, safety, and wellbeing of personnel.
There are four main pillars of why technology is no longer a nice-to-have but instead a critical element of executing business strategy successfully: these can be considered 'push' factors, compelling construction companies to explore digital.
Push 1: Human resources
Despite the increasing uptake of emerging and transformative technologies, the engineering and construction industry remains heavily dependent on human resources. However, with an ageing workforce and shortage of skilled personnel, to attract and retain the best talent, it is essential that companies adopt modern and robust business systems – to support the entire workforce across all operational and project-based disciplines.
Push 2: Sustainable construction and pressure on the supply chain
With increasing volatility around material prices and availability, together with a shortage of subcontractors, the drive to embrace smarter and more efficient ways of working with the supply chain has never been so relevant. Whether it is embracing cross-sector concepts, lean construction principles, or adopting modern methods of construction (MMC) to deliver a collaborative and innovative ecosystem, implementing appropriate digital technology is essential to ensure positive outcomes.
Push 3: Productivity
Productivity in the construction industry has stagnated over several decades even though improving productivity would have a profoundly positive impact on both project and corporate profitability. As projects become even more complex, with increasing focus on legislative and regulatory compliance, turning to industry-specific, last mile functionality solutions such as project resource planning, integrated building information modelling (BIM), workforce management, and enterprise asset management, can all help eliminate defects as well as maximize use of critical equipment, assets, and labour resources.
Push 4: Corporate compliance
The age of the paper-based office is over. Regulatory and legislative compliances, whether relating to health and safety, environmental, human resources, taxation, or corporate responsibilities, can no longer be managed effectively or accurately without utilising digital technology.
These four push factors are then complemented by four more 'pull' factors – potential benefits and rapid improvements that drive decisions to go digital.
Pull 1: Certainty
Firstly, the use of analytics enables a construction business to infuse data science into predictions and forecasts. This means transaction and analytics processing creates a single database to optimise budgets, manage subcontractors and issue purchase orders. Documentation is better organised, improving project execution and accounting. From a business perspective, the organisation can base forecasts on reliable data based on a comprehensive analysis of past performance, replicating those practices that drive successful outcomes and testing 'what-if?' options instead of relying on a best guess and experience.
Pull 2: Productivity
Secondly, technology is of course designed to enhance productivity. This may be seen with more connected teams using mobile access to software, or smarter and applications across an organisation that inform smarter decisions – especially better equipment decisions. The gold standard here is of course revenue gains as more productivity drives better customer interactions and even new streams of income.
Pull 3: Collaboration
The third pull towards digitisation is the opportunity to coordinate a complete supply network and the 'ecosystem' of a construction business. This is seen in real time collaboration between each of the network members, contractors, and subcontractors and synchronized processes from scheduling to project delivery, including procurements, execution on sites, and complete financial management. At the heart of this is one version of the truth, accessible to all.
Pull 4: Human resource value
The last pull factor is the ability to embrace the value in staff. By automating processes and repetitive actions so teams can focus on the project delivery, a business can then start to attract and retain the best talent. That work is then more enjoyable as workflows are streamlined and better coordinated.
Whilst construction clearly has a substantial gap to close in its adoption of digital technologies, it is equally evident that there is a lot of low hanging fruit for construction companies to pick, when it comes to early return on investment in these programmes. The factors that are driving this exploration of digital technologies will not be going away (indeed they will only intensify) and it will be those construction companies that move now that set the tone for the rest of the industry.
Simon Eyre is Senior Director – Industry & Strategy – Construction & Engineering at Infor, a global leader in business cloud software specialized by industry.
Providing mission-critical enterprise applications to 67,000 customers in more than 175 countries, Infor software is designed to deliver more value and less risk, with more sustainable operational advantages. Infor is committed to providing customers with modern tools to transform their business and accelerate their own path to innovation.
For more information, please see
www.infor.com