Systems for every need
One of the leading manufacturers of concrete equipment, Putzmeister UK is looking forward to its regularly scheduled appearance at The UK Concrete Show, and to engaging with both existing and prospective customers
Putzmeister UK Ltd was formed in Matlock, Derbyshire in 1974, and after nine years of growth, larger premises were inevitably required. It was at this point that Putzmeister UK moved to its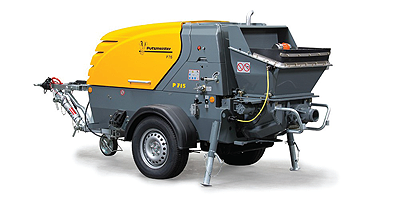 current location in Chesterfield in the Midlands. From the onset, it was evident that the market would accept the brand and its products, which ranged from the renowned truck-mounted concrete pump to the more specialised placing booms, precasting and tunnelling equipment.
Over the years there have been some fantastic milestones and ventures involving the company. These includes its participation in the Crossrail project, the Forth Road Bridge, Tideway, and of late the Hinckley Point Project. A lot of these milestones have come about as a result of a combination of committed staff efforts, and close collaboration with clients.
"Adapting to the market and its ever changing and evolving requirements is one of our biggest strengths," explains Putzmeister UK's Finance Director, Darin Mills-Brown. "In any business operation, your people are key to achieving sustainability and longevity, and this ultimately makes your business profitable. Putzmeister UK has been fortunate in this regard that we have a strong core of long serving staff members that have stood the test of time since as early as 1984. Today, regular internal training of our expert teams in sales, service and parts is also key to our continued success."
In 2012, Putzmeister was purchased by the SANY Group, which is ranked as one of the top five construction manufacturing equipment companies worldwide. Included in this sector is the SANY Concrete Pump. This division of the group is the market leader in concrete pump manufacturing. Later in 2020, Putzmeister will be announcing new major market developments to complement its brand and offer an alternative solution for the UK market.
New solutions
"With our market being one in which the demand from end users for equipment that is more operationally efficient, fully emission compliant, and ultimately better performing is ever increasing, the OEM equipment supplier of today must ensure that it offers the full package and more," Darin continues. "Adding value becomes a really important factor is closing deals, and as such we at Putzmeister have launched and updated a number of new solutions, for example the Putzmeister Machine Cockpit, the information hub for your machines – anywhere and reliably in real time."
Features of the Putzmeister Machine Cockpit include:
Real time information: The construction-site status of vehicles is provided in real time, giving up-to-date information of their set-up and work progress
Remote Service: Notification of critical machine conditions
Data Analysis: Key figures for delivery rate, machine use and fuel consumption that enables the reduction of unproductive periods of time
Maintenance: Messages delivered for upcoming maintenance intervals, preventing unnecessary downtime and correct planning
Anti-theft Function: A notification is generated as soon as the machine leaves a defined area. This makes it possible to react quickly when required
To test a demo version of the Putzmeister Machine Cockpit, visit www.putzmeister.com/cockpit-demo
To meet the challenge of keeping up with the times, the company has also upgraded its Putzmeister Experts App – version2. Free and available for iOS and Android smartphones, the app can be downloaded here:
iOS: http://pum.bz/pmexpertsappapple
Android: http://pum.bz/pmexpertsappandroid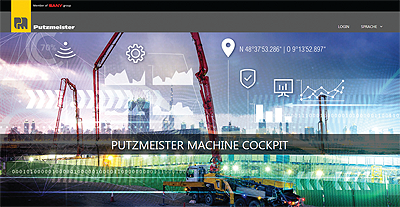 Expanding and exhibiting
"One of the other big recent achievements of the company has been the completion of the first stage of our extension plans for our parts storage facilities," Darin adds. "This new area now enables us to keep both more stock on site, and a wider range of parts to improve our service to meet the end users' requirements. Less down time and having more machines being productive is the ultimate aim. In addition, we have taken on additional staff in key areas of the business to support our clients' demands. This will allow us to respond more rapidly to their respective enquiries."
Putzmeister UK will soon find itself exhibiting at The UK Concrete Show 2020, at Birmingham's NEC on March 25 and 26. "We have displayed at the show for several years now, with very positive results," Darin says. "With the market as it is, and with Putzmeister UK being a leading manufacturer of concrete equipment, we owe it to the industry to show that we are still willing and able to contribute, participate and promote our offerings and strengths. The UK Concrete Show has always provided us with an ideal opportunity to showcase both tried and tested equipment, along with the latest innovations and enhancement of new equipment. It also provides a more informal opportunity to meet face-to-face with our existing customers, potential new ones, and to have open discussions about their requirements and how Putzmeister UK can address them."
Putzmeister UK is cautiously upbeat about current market conditions in early 2020. "The current focus tends to be on things like infrastructure, residential, hospitals and schooling contracts, and these are all areas that fall within our market sector, which is good news for our clients and the communities that they operate in," Darin states. "Our aim for our next period of growth is to solidify our current standing in the industry, and to build on this foundation and extend our market share as the leading provider of concrete machinery, parts and service."
Putzmeister UK Ltd – Member of SANY Group
www.putzmeister.com
Services: World class construction products, systems and solutions