Qatar Rail is making significant progress into developing the country's rail network that will be critical to Qatar's future vision of economic growth
A vast undertaking
Qatar Rail is making significant progress into developing the country's rail network that will be critical to Qatar's future vision of economic growth
In 2008, under the light of continuous and rapid economic and social development in Qatar, the country's Emir launched the Qatar National Vision 2030, a scheme to manage and implement this development in the most productive way possible. One significant part of this development framework is the Qatar Rail Development Programme (QRDP), a vast project managed by the newly formed Qatar Rail to deliver a complete rail network to support the growing population and economic activity in and around the country's capital, Doha.
"Our vision is to create the favourite mode of transport for everybody and to provide an integrated railway together with a public network of bus systems," begins Senior Programme Director at Qatar Rail, Dr-Ing Markus Demmler. "We want to make it attractive and sustainable, both in terms of economic and ecological impacts, and to make sure it is of the highest quality whilst remaining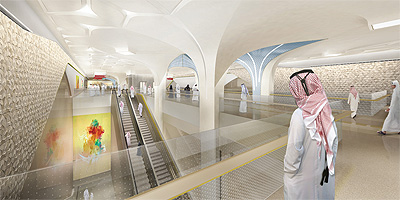 economically viable. Ultimately, it will run parallel to achieving Qatar's overall vision to reduce emissions, as most of the country is run on cars at present, to ease congestion and improve travel times both into and within the city."
An overview of the planned network for the development project serves to display the sheer scale of Qatar Rail's undertaking. The programme is split into three separate projects, the Doha Metro, a Long Distance network and a light rail network in the up-andcoming city of Lusail. The long distance network is designed for both high-tech passenger and freight services across five lines and 502 km of railway connecting population centres with major industrial hubs and forming critical connections with neighbouring countries. The lines include: a mixed passenger and freight line from Doha to Saudi Arabia; a high-speed passenger line from Doha to Bahrain, capable of speeds up to 270km/h; a freight line from Mesaieed Port to Ras Laffan; plus two mixed lines from Doha to Dukhan, and Doha to Al Shamal. By 2021, 8000 passenger trips are expected to travel on the network every day, with this rising to 24,000 by 2031.
To facilitate the developing city of Lusail, a light rail, tram-based network is being developed across four lines and 37 stations, two of which will link to the Doha Metro network. In a city that is predicted to house up to 450,000 residents in the near future, the Lusail network has been designed for a capacity of 50,000 passenger trips a day by 2021 and 120,000 a decade later. With an average speed of 29km/h, the lines will take an average of one to two minutes between adjacent stations.
The Doha Metro project, a strategically planned underground network to serve the expanding city of Doha, is undeniably the most complex of the three. As part of phase one, planned to be completed and operational by the end of 2019, 37 stations will connect nearly 86km of track spread across three separate lines. The Red Line, which will also be known as the Coast Line, is planned to run for 41 kilometres from Al Wakra in the south to Lusail in the north and will stop at 18 stations along the way. The Red Line will connect Hamad International Airport to the city centre and it is estimated that a trip from the airport to Lusail will be 36 minutes compared to current peak times of an hour and half. Other notable stops will include West Bay, Katara and Qatar University. At its deepest, the Red Line's tunnels will operate as far as approximately 46 metres beneath Doha's surface.
Connecting Al Riffa in the East to Al Mansoura in the West and passing through Education City, the Green Line will stop at 11 stations along its length of 22 kilometres. Significant stops for the Green Line, or the Education Line as it is also known, will be the Hamad Hospital, Al Shaqab and the currently in development, Qatar National Library. Extending 14km from Ras Bu Aboud in the west and Al Aziziya in the west will be the Gold Line, or Historic Line. Stopping at 11 separate locations, the Gold Line will be a crucial link for the Qatar National Museum, Souq Waqif, Al Waab and Sports City – a key hub for the 2022 Qatar World Cup.
Due to be completed by 2020, ahead of the 22nd FIFA World Cup, the Doha Metro Phase One network is being achieved through eight separate projects. Three of these projects relate to 17km of elevated and at grade (EAG) routes, plus six stations, all of which will be above ground and highly visible. These are the Red Line North (RLN) – six kilometres of track and two stations, to be completed by December 2018; Red Line South (RLS) – six kilometres and three stations, to be completed by autumn 2016; and Green Line (GRN) – another six kilometres and just one station to be completed by December 2018.
Phase two will see the metro expanding with additional line extensions and a brand new line according to the city's growth, the total number of stations will be increased by over 64 across more than 200 kilometres of track. Upon completion by 2021, the entire metro system aims to take 17,000 cars off the road, having a significant impact on the city's carbon footprint.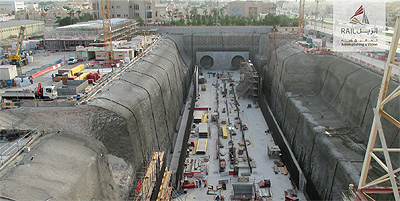 "In terms of timescales, we released the first civil design and build contracts for the Metro scheme in 2013," explains Markus. "Work, including MEP and architectural fit out, will be completed by 2018. The railway systems contract, which is separate, is due to finish in 2019 with the aim to be fully operational by 2020, if not the end of 2019. So far, we are 36 per cent towards overall completion (as of March 2016) and have already achieved 85 per cent of the tunnelling work, for which we have employed a record-breaking 21 simultaneously operating TBMs. Significantly, we have only dropped behind schedule by 2.3 per cent."
As a young and burgeoning company taking on a project of such scale, Qatar Rail has faced a number of challenges, particularly in the development of the Doha Metro network, but has been able to overcome many through significant strategic decisions and management processes. "When it came to our contractor strategy we decided it would be more beneficial to allocate many of the risks to contractors because they have the knowledge and experience," highlights Markus. "This is what we have done through the awarding of design and build contracts, eight of which are civil with one overarching systems contract." However, here arises the challenge of successfully managing a number of contracts in parallel to each other. As such, Qatar Rail has set up both a delivery division, to oversee the project management of all contracts with support from consultants, and a technical division, which ensures that significant design decisions regarding certain aspects that needed to be implemented across all lines are made in harmony with one another.
Due to time pressures put upon the scheme the QRDP and Qatar Rail have achieved a number of unique milestones in the way it operates in Qatar. First of all is its contract strategy, as Markus explains: "The usual way in the Middle East is to take a design-bid-build approach. However, because of the time constraints a design and build contract was decided upon to be more viable. Because of its irregularity in the region there was a certain amount of concern about this approach initially, but it has saved us a lot of time and because of its proven success in the QRDP other authorities are now taking this approach as well."
Another significant aspect of the programme, which highlights both the scale and success of Qatar Rail's management, is its health and safety record. Markus points out that the project has a target of a 0.1 per cent AFR (accident frequency rate), but is currently operating at 0.06 per cent. "Overall, we have over 112 miillion man-hours worked on the project so far, so this is outstanding," he says. "To achieve this we are constantly running extensive training centres with our contracting partners, so that every person who comes through a contractor is fully trained in line with our zero harm policy before going onto site. This focus on wellbeing is continued in the general facilities, such as accommodation, as a lot of the labour is coming from abroad."
Successful progress defines the Qatar Rail project so far in terms of operation, management and safety, and this is set to continue throughout its course. "By the beginning of 2017 all TBM work will be completed, with the Red Line North and Green Line tunnelling work just finished at the end of March 2016," explains Markus, looking ahead at the coming 12 months. "Before the second half of the year all MEP and architectural contracts will have been awarded, and we have just had approval from his Highness the Emir for all mock-up architectural finishes, so we will be ready to begin fit-out works this year. The ultimate goal is to finish all civil structures, and this means that underground stations will be around 85 per cent complete and ready for the systems contractors to begin work on track installation and technical systems.
"Of course, with more subcontractors moving in manpower will be increasing to around 35,000 across the metro project, which brings its own challenges, so as the project changes in nature, so too do its challenges. Looking further ahead we are already preparing for phase two of the programme. Although this hasn't been confirmed as yet, we think it would be wise to continue directly on from phase one as we have all the machinery, equipment and labour on site."
Focus on: Major Stations
Phase one of the Doha Metro programme, which is due to be completed and operational by the end of 2019, will feature 37 stations connected by nearly 86km of track across the Red, Green and Gold Lines. The 41km Red Line, or Coast Line as it will also be known, will stop at 18 stations on its way from Al Wakra to Lusail, and connect Hamad International Airport to the city centre. Notable stops will include West Bay, Katara and Qatar University. In 2013, the contract for the Red Line North section of the programme, which includes the build of seven stations, was awarded to a consortium led by Italian construction firm Impregilo and comprises of South Korea's SK Engineering and Construction and Qatar's Galfar al-Misnad Engineering and Contracting.
The Green, or Education, Line will run 22km between Al Riffa and Al Mansoura, stopping at 11 stations including ones at the Hamad Hospital, Al Shaqab and the Qatar National Library. Finally, the Gold Line will comprise of
11 stations as it links Ras Bu Aboud to Al Aziziya over 14km of track. The Historic Line, as it will otherwise be known, will add the Qatar National Museum, Souq Waqif and Al Waab to the Doha network, as well as providing a critical link to Sports City –a major hub for the 2022 Qatar World Cup.
Due to be expanding with additional line extensions and brand new lines in phase two according to the city's growth, the total number of stations will eventually increase by around a further 64 as more than 200km track is brought into operation. When completed, all lines will intersect at the central Msheireb station, the largest in the city, which will also serve as an iconic landmark designed to help locals and tourists orientate around the area. A strong visual connection between the entrance and concourse will also enable a smooth passenger experience and clear direction throughout the station. In 2013, a consortium of Spanish firm Obrascon Huarte Lain (OHL), Samsung C&T and the Qatar Building Company, was awarded a 1.1 billion euro contract to build Msheireb, as well as the Education City station – both major interchange hubs.
Station design is a key factor for the entire Doha network and an architectural branding scheme has been established to ensure continuity of local flavours and personality throughout the metro system. All stations, which will eventually exceed 100 in number, will adhere to a contemporary 'vaulted space' concept, reflecting the heritage of the region's traditional Bedouin tents. Functionality has also been designed into the aesthetic value of ornamental panels, which will form the backbone of a dynamic lighting and ventilation system. Through the use of traditional elements of Islamic and local art, each station will be a unique tribute to Qatari heritage with dhow-inspired exteriors and a 'pearl-effect' aesthetic on the inside.
Qatar Rail
Services: Delivering Qatar's rail network