Out-of-this-world Glazing
As a leading specialist in high-end glass solutions, Radii Planet Group continues to bring the most complex and demanding architectural visions to life for its growing community of satisfied customers
With a combined heritage of over 40 years, Radii Planet Group (Radii Planet) is the result of a powerful merger between two big names in the commercial glazed-partitioning industry. Combining the design affluence and advanced tracking systems of Radii Partitioning, with the in-house production capabilities and national reach of Planet Partitioning, has given Radii Planet a sustainable, adaptable and efficient model upon which it has built ongoing success since 2019.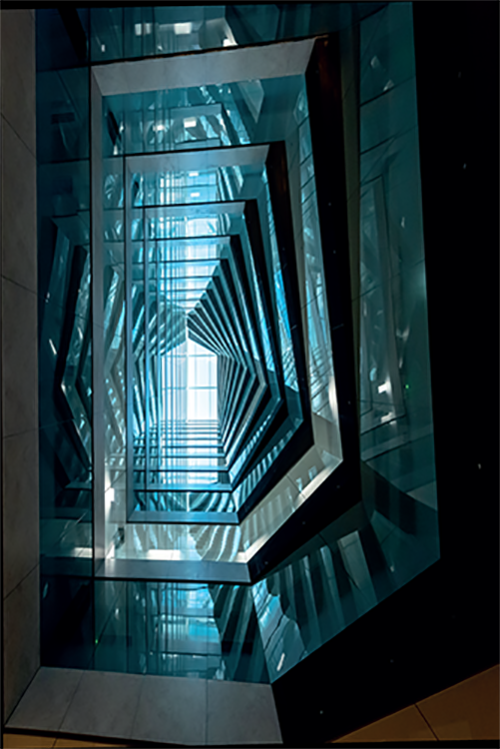 Radii Planet Group collectively covers every region in the UK. Whilst the group's Radii division is focussed on projects for larger blue-chip clients in central London, the Planet division extends its reach across the entire UK with regional offices in the South, West Country, Midlands, Northern England, and Scotland.
As a national business, the company works on a variety of private, public and commercial projects. "We focus predominately on internal glazed partitioning, within Cat A and Cat B commercial fit-out, but we also serve a wider set of sectors including healthcare and education. We even do expansion work in some residential areas, and public spaces such as airports," explains Dominic Searle, Radii Planet's Chief Operating Officer.
"A big core focus of what we do is commercial fit-outs, and we are a specialist contractor within that market, which means that a lot of our products are specified by architects and designers as part of a reasonably large fit-out project. We run all the way from upper-mid market to the largest blue-chip headquarters buildings," he adds.
In the two years since the group's initial merger, it has seen significant growth, and a consolidation of the two companies' independent successes. A core component of Radii Planet's growth in recent years is its strong relationships with contractors and customers alike, as Dominic emphasises: "Customer focus is one of our main strengths; we have a real focus on customer service and delivering excellence around what the project demands and needs.
"Innovation is a big area as well; we are continuously looking at new products, and the evolution of our existing systems," he continues, highlighting Radii Planet's ongoing focus on adaptability.
"The glazed partitioning requirements within the commercial fit-out market have changed over the last 30 years, and they will continue to change. As a result, we are looking to continuously adapt our product range to ensure we are covering what our clients and their tenants require.
"Some of those innovations are around developing the existing systems, so for example we have single and double glazed systems, you might think you can't do much to innovate that, but we are constantly looking at changes around the design of the glass and associated components. These changes might improve the systems' acoustic performance, for example, and we can achieve this by looking at different ways of configuring the glass, aluminium and other materials that we use," Dominic details.
These developments are in line with recent demands for more adaptable office spaces, following the rise in hybrid working. "We are in a post-pandemic industry, and a lot of our clients are re-evaluating the use of their offices by reconsidering how their spaces can be used.
"We have spent a lot of time and effort in developing what we call '2D and 3D systems', which are a mix of adaptable and standard meeting rooms that make the entire working space more flexible," Dominic reveals.
These developments include several structural considerations, including new uses of cross-wall components. "With the cross-wall we have looked at making an improvement in terms of the acoustic performance, which is very important. With these improvements, we continue to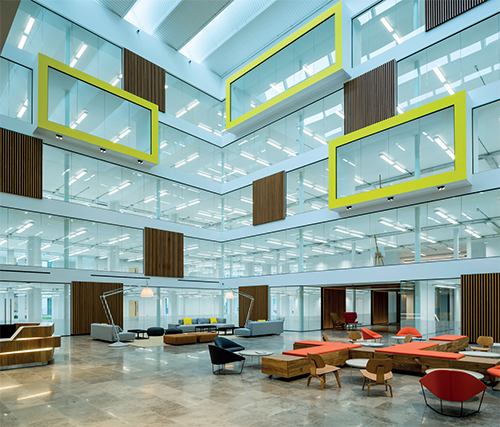 create private spaces with the necessary acoustics and aesthetics.
"We also looked at the reconfigurations of the cross-walls, not only to improve the acoustic performance so they are in line with drywall, but also looking at linking it more into our existing systems. From a build-ability perspective it's typically quicker and faster to install cross-wall than drywall, and it's also easier to take down and re-erect," says Dominic.
"The life of those kinds of systems are perfectly extendable as well, in that they can effectively be demounted and moved to another building," adds Dominic's colleague, and Operations Director of Radii Planet, Darren Gilmour.
By increasing the re-usability of its systems and materials, Radii Planet supports its sustainability mission, which works alongside the company's recent technological innovations. "A big area we are focusing on is sustainability," Dominic confirms. "All of our systems across the entire business are fully 100 percent relocatable, so product reuse is something we have focused on for many years."
The company also focuses on lifecycle assessment when it comes to its core materials, as Darren explains: "This year we have been putting a lot of time and effort into getting EPD (Environmental Product Declarations) for our systems.
"Most materials we use have EPD's of their own that we have been able to use up until now, and the next step is to get our group of products all under the same banner. We are hoping that is all going to be in place at some point in the next few months."
With the aim of reaching carbon neutrality, Radii Planet has made various investments in new sustainable technologies and systems. "We have invested quite a lot of money in reusable plant that gets used time and time again, we just spend time tracking it and keeping it up to Health & Safety standards," states Darren.
"There is still quite a long way to go, we are looking at bringing further efficiencies into the factories, especially in terms of measuring our energy and water usage. It will give us another task list for next year in the build up to net zero, which again is going to be a big focus," he adds.
Focussing on investment has been one of the reasons for Radii Planet's success over the last 18 months, as Dominic affirms: "Everyone within the construction industry has been impacted in different ways over the last 18 months, and we could quite easily have hunkered down and said we are going to try and survive as we were – but we decided that survival wasn't enough.
"We wanted to come out much stronger, and ready for the post-pandemic uptick in activity, hence the almost £2 million worth of investment we made in the new factory and manufacturing facilities."
Having recently established an architectural glazing division, and a new product division, Radii Planet now invests time in streamlining its operations to improve sustainability and overall efficiency. "A lot of our investment over the last few years has been around support systems and IT systems. These new technologies are allowing us to manage the business effectively, whether it's through production or onsite," says Dominic.
"One example of that is bar-coding; we put barcodes on all of our aluminium components so that we can track them all the way through production, from being pulled off a rack as a raw straight length of aluminium, to being cut down into a particular size, prefabricated away from site, powder coated and finished.
"The materials are also being tracked onsite; for example, if there is a piece of aluminium that gets damaged in the construction phase, all the on-site team have to do is scan the barcode and we know exactly which piece of aluminium needs to be remade and that speeds up the whole process of fabrication," he elaborates.
By reinforcing the sustainability, adaptability and efficiency of its operations, Radii Planet moves confidently into 2022 and beyond. "A lot of what we have done here is really about building for the future of the company, which we can achieve by scaling up all of our current divisions, and continuing to invest in ongoing expansion. We hope to continue growing, and investing in not only our infrastructure and systems, but most importantly our people," concludes Dominic.
Radii Planet Group
https://radiiplanetgroup.com
Services: Commercial glass fit-outs and glazed fire-rated systems