Engineering brilliance
As demand rises for Radley Engineering's world-class services, the company is investing heavily to cater for a wider range of specialist needs and systems
Founded in 1972 by Brothers John and Thomas Radley in Dungarvan, Ireland, Radley Engineering today employs 255 people and is now one of Europe's leading specialists in the manufacture, fabrication, and installation of steel solutions. With a strong reputation for quality, flexibility and personable service, the company is active in a global capacity within the manufacturing, mechanical, pharmaceutical, petrochemical, and dairy industries amongst many others.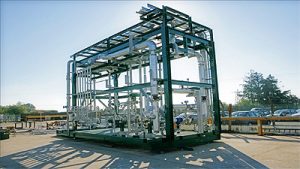 "The main strength of the company lies with its people," begins Technical Director, Greg Conaty. "We have a highly skilled management team of project managers and engineers, alongside a robust team of craftsmen and apprentices, of which we currently employ 22. Many of our staff have been with the company for a long time and people tend to stay with us, developing and deploying their skills to compliment the company's strengths within the industries we serve. We see providing opportunities through our apprenticeship scheme as crucial for the company's future."
Market conditions for Radley Engineering are positive as major international companies are starting to invest heavily into upgrading or building new factories within the Irish pharmaceutical and biotech industries. Export activities for the country's dairy products have also increased. This results in increased business for the engineering firm, and combined with a focused expansion strategy in the petrochemical sector, Radley is going through a strong period of growth.
"We're doing a lot of work for Cameron at present, one of the major suppliers to the oil and gas industry," Greg explains. "We have now secured several subsea welding contracts for 2015. The tubes, which are free issued to Radley Engineering by the pipe manufacturer, are welded under a tightly monitored and controlled environment. The tube material grades are highly specified chrome martensitic F22 and 4130, both manufactured to client's specification and working to extremely high pressures on the seabed. Radley's are the first of any company in Ireland to achieve this welding approval. All weld procedures are completed by our highly qualified and experienced coded welders." Radley Engineering is committed to future investment into new equipment and machinery for the production of the units and will hope to expand its client base in the oil and gas market. Existing clients include ConocoPhillips, Shell, Statoil and Worley Parsons. The company has also upgraded its painting facilities with specialist heating, ventilation and humidity controls to meet the high demands of the oil and gas industry.
Beyond the petrochemical industry, Greg continues to outline some of the additional investments that have been significant to Radley's current growth. "We're really focusing on the fabrication side of the business, so we've done lots of work in instrumentation welding. A number of years ago, Radley invested in a high purity pipework facility. This is a dedicated 2000 square metre clean-room to ISO class 10/1000/10,000, servicing pharmaceutical, bio pharmaceutical and medical sectors. We are also in the middle of extending our existing workshops with a further 600 square metres of undercover space to cater for the growing volume of work that is coming in at the moment. Overall then, there is a lot of work going on at Radley."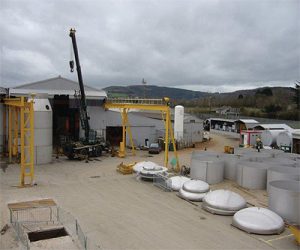 Design and documentation
Radley is the industry leader in computerised vessel design and modelling using both 2D and 3D applications including Auto Desk Product Design Suite (Inventor and Autocad), Autodesk Plant Design Suite, PV Elite and Finglow. This allows the company to design vessels to ASME VIII, PD 5500, EN13445, AP1650 and TEMA standards. It operates a quality management system certified by the National Standards Authority of Ireland (NSAI) under ISO 9001. Radley's commitment to quality, inspection documentation and design standards ensure that client's specification requirements are continually met in full. However, its commitment to delivering this quality in an open manner goes beyond this. "A lot of our customers, such as Cameron and Alstom, carry out their own periodic audits," says Greg. "As do many of the consultants and project management companies that we work for, like Jacobs. It is vital that we maintain full visibility with the type of work that we do and we have to make sure we continue manufacturing to these standards across all our products."
Going hand-in-hand with quality management is the company's commitment to health and safety, for which both its site and factory teams were recently accredited with a safety award. "We employ safety managers and officers with the main objective of making sure all our staff work safely and go home every evening unharmed," highlights Greg. "This is delivered through regular training programmes that focus on different topics and safety issues that may occur in the workplace. Essentially, it's about making everyone aware of what's going on around them – looking out for themselves and their fellow workers."
Radley has established a reputation on a global scale with work successfully completed in markets as far as Dubai, and capitalising on this is will be the company's primary focus as it moves forward. Large projects at present for BMS in Dublin and Sanofi in the UK will be the major focus for the site division over the next year, as will continuing to tender and win new mechanical installation contracts. Greg concludes: "As the company looks to the future, we will continue to maintain our excellent relationships with the existing supply chain from client, EPCM and contractor in our current market sectors. We will forge ahead to develop new relationships within the subsea oil and gas markets as well as the UK nuclear power market. This is an exciting time to be working at Radley and with our next generation now in key positions within the company the future looks bright. Our vision is to be a leading global provider to specialised engineering solutions that will bring value to our clients."
Radley Engineering
Services: Specialists in design, manufacture, fabrication and site installation of high quality stainless steel, carbon steel and other exotic materials