Community-driven construction
Family values continue to drive longevity for one of the region's most successful civil engineering and road surfacing companies, Rainton Construction. The Durham-based contractor is part of MGL Group, a proud local business which celebrated 50 years of trading in 2021
Rainton Construction has come a long way since its inception in 1992 and attributes its success to the high-quality workmanship it provides when delivering a broad scope of construction services throughout the North East of England.
A commitment to partnering is also what sets the business apart as it continues to thrive, collaborating with a variety of public and private sector clients. This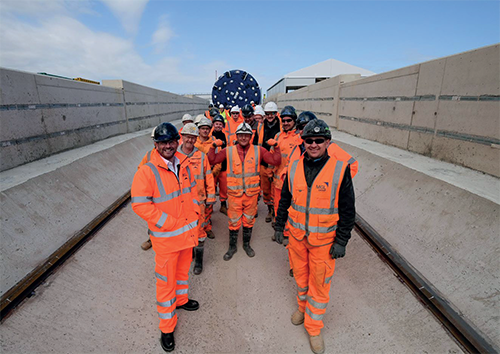 client focused ethos is embedded into all aspects of Rainton Construction's day-to-day activities and core values.
"We currently self-deliver works as a principal contractor for government and local authorities as well as supporting Tier 1 contractors through partnership agreements and places on frameworks. For specific projects we are able to draw on our group capabilities to provide a holistic delivery model and add more value," summarises Dave Elliott, Managing Director of Rainton Construction.
"The industry continues to evolve and as the region's construction requirements change, we have expanded our in-house delivery so we can offer a flexible single service or end-to-end solutions," he adds.
The business's hard work and dedication to a sustainable, efficient, and high-quality service has recently been met with official industry recognition in the form of five awards from the Civil Engineering Contractors Association. This is something Dave is extremely proud of: "Our success at the CECA Awards was a fantastic achievement for both our business and the people involved. The recognition for the individuals is invaluable and very well deserved.
"We were awarded the Civil Engineering Project of the Year and Subcontractor of the Year for our work on the Tunnel Boring Machine (TBM) Launch Ramp at the Wilton Polyhalite Processing Facility in Teesside. This really highlights the diverse capabilities of our business as well as demonstrating the importance of having the right skillsets in house to carry out the works to the highest possible standard."
The business worked as a partner for global construction company, STRABAG, which is delivering a £5bn polyhalite mine in North Yorkshire for Anglo American. Rainton Construction was awarded a significant civil engineering works package and played a critical role in the project, undertaking initial works for the 37km transportation tunnel which enabled the TBM to commence its journey from the Wilton site towards the mine at Whitby.
"We began by constructing the TBM Launch Ramp and Port Hole at the Wilton processing site. The tunnel runs to Whitby then under the sea to where the polyhalite is located. Once mined, the polyhalite is then transported via a conveyor to the Wilton facility for processing," Dave explains.
Due to the extremely tight tolerances required in the construction of the Launch Ramp, incredible accuracy had to be maintained in a highly pressured environment and under strict time restraints. He reiterates that the skillset of his team was crucial to scheme's success: "The project team understood exactly what was required. They worked collaboratively to find solutions to challenging technical requirements and shape the design and construction processes which enabled us to deliver the works on time and exceed client expectations."
Celebrating staff success is something Dave actively encourages: "For me the highlight of the awards was the recognition of two of our rising stars who were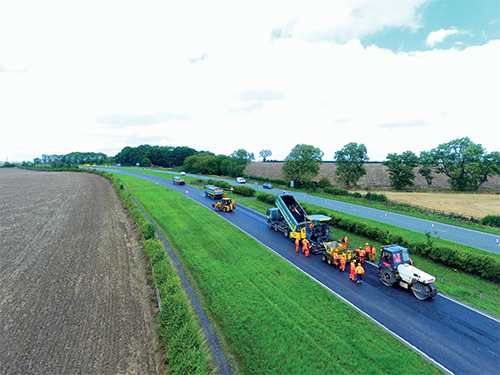 crowned winners of the Apprentice of the Year and Trainee Quantity Surveyor of the Year categories. As a business we focus on giving all our people the opportunity to be the best. It was great for these up-and-coming individuals to be recognised so early in their careers for what they have achieved so far."
A fundamental understanding of the importance of people in running a successful business is at the core of the company culture, as Dave confirms: "Our working culture is delivered from the top down. We are a proud local employer and recognise that our people play a key part in driving our business forward.
We invest a lot of time in training and bringing on new staff, ensuring that everyone is given the opportunity to thrive."
This focus on investment in people extends beyond those within the company itself and MGL Group works hard to reinvest in its local communities through philanthropic work. In 2016, the group founded its charity arm the MGL Foundation Trust to drive social value and support worthwhile causes with the core business and staff making contributions into the trust and backed up by internal fundraising activities.
"We make a significant impact on the local economy through employment, education and engagement opportunities. Our vibrant social value programme creates outcomes that are relevant and beneficial to local people," said Dave.
"Across the business our employees are keen to get involved. From fundraising and charity events, to dress down Friday with all donations being matched by the company, making a positive difference is something everyone is committed to."
Another key element of the company culture is the drive for a more environmentally conscious industry and this is something Dave is passionate about: "We also won the award for Environmental Company of the Year which demonstrates our commitment to addressing environmental and sustainability issues now and in the future.
"Innovation plays a big part in our approach, working with our sister company Tynedale Roadstone, we are focused on recycling and reducing our environmental footprint. We recycle locally sourced, end-of-use plastic and tyre waste which we then put into our asphalt products and lay on local road networks. We do a lot of these works through our regional framework contracts as sustainable practice is very important in the public sector."
The business undertakes all its own cold milling works as well as the surfacing operations on principal, non-principal, and unclassified roads for several local authorities. Rainton Construction also self-delivers a variety of asphalt products including its innovative surfacing solution Plastipave.
As part of a resurfacing scheme on one of its regional frameworks, the company renewed a large section of dual carriageway on the A689 in County Durham. By using Plastipave materials on this scheme over 6.5 tonnes of waste plastic was saved through re-use, which is the equivalent to over 230,000 plastic shopping bags going to landfill.
"Our Plastipave products provide a long-term, cost-effective, and sustainable asphalt solution for end of use waste streams and contribute to a circular economy as those materials are then fed back into the local road network," explains Dave.
"We source our feedstock waste mainly from local recycling companies to obtain both end of use plastic and tyre wastes, saving it going to local landfill or incineration. We are constantly promoting the use of our Plastipave products in the marketplace as we see it as a sustainable solution for these end of use wastes."
Being a responsible business is all about continuous improvement and addressing some of society's biggest issues. The company remains dedicated to its family-owned origins: "One thing we never forget is that, despite our continued sustainable growth we are a proud family business, driven by our founding ethos of high-quality workmanship and developing strong partnerships with our clients and local supply chains," asserts Dave.
He concludes: "It's been another challenging year, but the resilience of our teams means that we have completed our projects safely and on time. We are continually adapting to meet the changing market and customer needs, while retaining the core morals and ethics which are the foundations of the business."
MGL Group – Rainton Construction
https://www.mglgroup.co.uk/rainton-construction/
Services: Civil engineering and surfacing