The perfect mix
Rakem's product portfolio has been specifically chosen to create the perfect balance between its customers' needs and their end applications
An agent and distributor for manufacturers that supply speciality raw material to the paper, coating, plastics, textile fibres, pharmaceutical and chemical industries, Rakem has spent the best part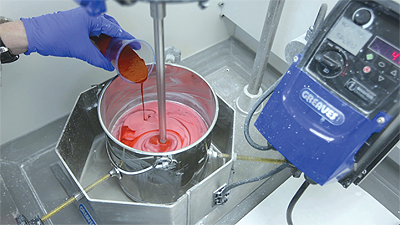 of the last 25 years building its relationships with its customers. "As a family run business, we work hard to ensure that all of our customers not only have access to high quality pigments, but that from the smallest to the largest they all feel valued," explains Caitlin Rafferty, Group Marketing Manager for Rakem and the wider Rakem Group, which also includes Maker Industrial Ltd. and Cemkem. "We apply an honest approach to our work, treating customers, staff and shareholders with equal respect, while all of our suppliers and products are carefully selected with quality being the highest priority."
As the eldest grandchild of Rakem's founder Frank Rafferty, and a representative of the third generation of the family to take up a role within the business, Caitlin is tuned into what makes it special. "Rakem is completely unique when compared to other raw material distributors," she states. "Whilst Rakem started life as a raw material supplier, it can now provide services that others cannot. As manufacturers ourselves, we understand how important raw materials are, especially when continuously improving products, and there are very few, if any, suppliers out there that possess experience in producing finished goods. Furthermore, with over £1 million worth of new laboratory facilities at our disposal, we are proud to offer our customers extra support and assistance when choosing and using Rakem's and Cemkem's raw materials."
Rakem provides raw materials that are used throughout the construction industry, but particularly in sealants and adhesives. With the wider group's other entities also providing ready made products such as tile adhesives, SBR mixes, membranes and water repellents – as in the case of Maker – as well as novel raw material such as Cemkem's Lithkem, which is used in a variety of dry mortar products, one would be hard pressed to visit a builder's merchant and the Rakem Group not be connected to each supplier and product in some way.
"When a customer approaches us looking for a raw material, we provide them with more than just a product, we also provide a service, and it is not uncommon for a customer to reach out for advice on a raw material and end up with a newly formulated solution instead," Caitlin says, before providing an example of the group's work. "Currently, we produce one of the UK's leading tile adhesives, which has been continuously developed over three years. Using Rakem's raw materials and expert knowledge within the industry, working closely with our customers, and by taking full advantage of its state-of-the-art laboratories and R&D teams, we were able to develop a product that the industry was in desperate need of."
Britain has a reputation for leading the way in terms of R&D, and in keeping with this Rakem has utilised its own skills and expertise to create new products that aim to improve the construction industry. "Ten years ago, we didn't even have an R&D team, nor in fact a laboratory," Caitlin reveals. "Over the last five years we have built four new laboratories, invested over £1 million in
equipment, and provided jobs for five extremely talented individuals who possess a bank of ideas for future products.
"Excitingly, with the growth of our R&D services, Cemkem has had the opportunity to develop its own range of additives. These cementitious additives are completely unique to the market and will not only improve the manufacturing process of many construction products, but will improve the overall quality and finish of products already in use within the construction industry."
Rakem's R&D facilities represent one of the biggest investments the Rakem Group has made to date, and they have been one of the most crucial attributes to its growth in recent years. "The R&D department supports each company within the group, providing in-house testing of raw materials to the development of finished goods," Caitlin adds. "The time that we save by being able to test in-house, for example, has been a massive gain for our customers. Our equipment is on a par with that of global chemical suppliers, while being based in the UK means that we can use location to our advantage by offering our customers shorter lead and testing times."
Personal touch
Despite the effects that on-going Brexit uncertainty have had on the industry as a whole, Rakem still enjoyed a successful first half of 2019, and it looks forward to its plans for the coming months. "We have several exciting developments in the pipeline," Caitlin enthuses. "In 2019, we will be promoting new grades that will improve brightness and opacity in the coatings market, while in Q3 we are very excited to be announcing our new partnerships with other suppliers, growing our portfolio, and being able to offer a full package to customers. In the meantime, our R&D team is carrying out the final tests of our railway paint, Thermakool 10, which will prevent tracks from reaching higher temperatures, which can cause buckling. We look forward to its official launch at UK Construction Week in October."
Rakem has experienced exponential growth in the last five years, and it aims to see this continued at a similar rate for the foreseeable future. "We remain very much a family run company, and whether we have ten or 100 employees, we will make sure that we maintain our personal touch and ethos," Caitlin declares. "Our company vision states that we aim to be the number one choice for our customers, providing them with high quality services and products, and we will continue to work hard to achieve just that!"
Rakem
www.rakem.co.uk
www.rakemgroup.co.uk
Services: Raw materials agent and distributor