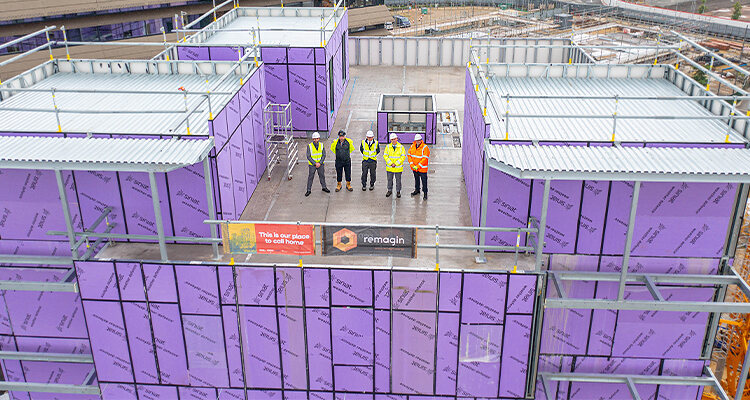 Remagin's rebranding unifies its companies and drives its focus on sustainability
Amid a structural revolution, the global pioneer Remagin of Etex New Ways Division Ltd. (Remagin) is re-engineering the construction landscape by spearheading the wider adoption of offsite construction with prefabricated components. With a strong presence in various sectors, including single and multi-family housing, healthcare, education, hotels, student accommodations and more, Remagin is reinventing the way entire projects are executed. Leveraging its expertise in designing, assembling, and supplying or installing 2D panelised steel frames, the company sets the benchmark for efficiency, eco-awareness, and unwavering quality. Scott Bibby, Country Manager for the UK and Ireland, joined the company last year and details its evolution from its roots to its recent rebranding.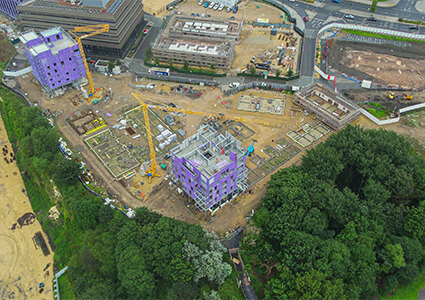 "Etex group has a rich history dating back to its foundation in 1905. The company boasts considerable experience in the construction industry, having been involved in building products and materials since its inception. We have five research and development centres and invest approximately 30 million euros each year in research and testing. Today, we operate in 45 different countries with a workforce of 13,500 across the world. Recognising the increased demand for off-site construction, Etex decided to set up Remagin in 2020, merging its three distinct off-site companies – EOS Ltd. in Durham, Sigmat Ltd. in Yorkshire, and Horizon Ltd. in Ireland – into one entity. EOS was acquired in 2016, followed by Sigmat and Horizon in 2021. In June of this year, we launched a major rebranding endeavour, officially uniting all our companies under one cohesive umbrella: Remagin. This strategic move enables us to offer a combined and comprehensive solution to the market," he begins.
Circular construction
Thanks to its rebranding effort, the company anticipates creating significant employment opportunities in various roles for local individuals. Through rebranding, Remagin aims to more than double the turnover of its newly merged companies across the UK and Ireland within six years. Scott explains how the company expects to achieve this. "We can maximise the benefits of Remagin by leveraging the strengths of our three legacy businesses. We offer the best range of products across our companies, providing more value to our customers and helping them deliver exceptional living or working spaces. We're also hoping to improve the team in terms of size and capability and establish ourselves as the market leader for 2D solutions and the off-site sector," he elaborates. Now working as one united team of experts, Remagin will be well-positioned to distribute its workload across all three sites. This collaborative effort will ensure it can deliver faster and more efficient results.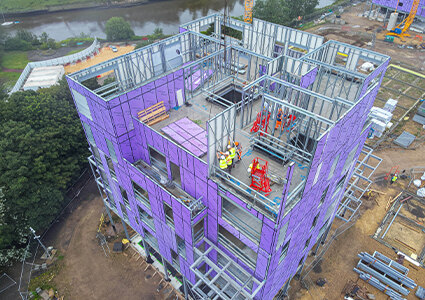 As the company continues to grow, it recognises the importance of investing in sustainability and adopting a responsible approach to its expansion. Among the ongoing discourse regarding the environmental impact of carbon in steel, Scott explains how Remagin embraces sustainability. "Sustainability is one of the four pillars of our strategy at Remagin and Etex. We don't emit as much carbon as construction sites do, and we use renewable energy to power our factories. During our manufacturing process, we emphasise waste reduction and control: any unused recyclable materials are recycled. Steel's infinitely recyclable properties lend themselves to circular construction principles. The steel that Remagin supplies originates mostly from recycled sources, and our structures can be easily disassembled and recycled at the end of their life cycle. Furthermore, although steel production requires a considerable amount
of carbon, its high strength to weight ratio means that we only need a small amount of material to ensure strength and durability,"
he enlightens.
Sustainable solutions
Complementary to its well-developed circular economy practices, Remagin is exploring new options to enhance its sustainability. "Together with some of our suppliers, we have been investigating green steel, which is produced using hydrogen and components other than carbon. It is more expensive today, but we have started offering it regardless, and when our customers are ready for it, we'll be prepared to supply it to them. While making it economically viable can be challenging for some, we are striving to help our customers understand that it serves the greater good. We are beginning to see that sustainability is being prioritised over cost on some projects now, so we're positive there will be a demand for it in the future. We also have a sister company, in which we own 60 per cent, called Evolution Design Services, that possesses its own sustainability consultancy service. This allows us to better understand our customers and explore ways we can make our designs and processes more sustainable," he concludes.
As Remagin continues its transformative journey, the company not only focuses on delivering efficient and high-quality projects but also embraces sustainability as a cornerstone of its strategy. Through a commitment to the circular economy, emphasis on waste reduction, and use of recycled steel, Remagin ensures a responsible approach to construction. By aligning its practices and innovations with service to the greater environmental good, Remagin aims to not just meet, but exceed the constantly evolving demand for sustainably driven solutions, while delivering unprecedented exceptional value to its diverse customer base.
www.remagin.world/en