By maintaining the strong position of respect and integrity that it has built up over more than 100 years, Ridgeons Limited is far and away its customers' preferred independent supplier of building materials
Tricks of the trade
By maintaining the strong position of respect and integrity that it has built up over more than 100 years, Ridgeons Limited is far and away its customers' preferred independent supplier of building materials
Each month, the East of England's leading timber and builders' merchants Ridgeons Limited hold an induction day for its new starters. Here it has become customary for Chief Executive Ian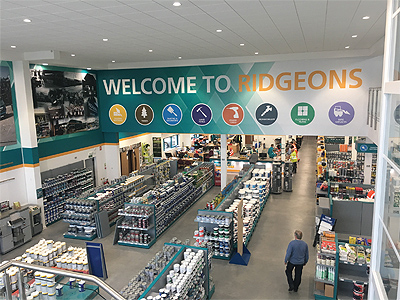 Northen to present to his new colleagues, introducing them to this 107-year-old, family-owned business. As he describes to Construction & Civil Engineering, he always ensures that he refers back to the values and vision of the business that have steered it through more than a century of operations:
"The values we have as a business have their roots firmly entwined with our history." The values in question (ethical, enterprising, straightforward, supportive and trusted) manifest themselves in a number of ways; seeing change as an opportunity, thinking of Ridgeons as a place of learning, avoiding complacency and building a high-performance culture. "Like any business, these core values can be found referenced throughout our facilities, but they run much deeper than that, and we constantly refer back to them, consciously or otherwise, when we make key decisions that affect the business," Ian explains. "To me this is an explicit part of being an independent, family-owned organisation."
Adaptable approach
Founded by Cyril Ridgeon in the back room of his Cambridge home in 1911, Ridgeons today employs approximately 900 colleagues and trades from 26 local branches throughout the East of England. Boasting an extensive breadth and depth of product stock, from bricks, timber and paints, to kitchens, bathrooms, and plumbing/ heating solutions, the Groupencompasses Ridgeons Timber & Builders Merchants, PlumbStock, which is its dedicated plumbing and heating brand, Ridgeons Forest Products, Anglia Tool Centre, a specialist seller of professional power tools, and CRS Wholesale, a bathroom and sanitary ware wholesaler. Together they serve a diverse mix of tradespeople, including builders, plumbers and heating engineers.
"In any given year, we will deal with something in the region of 20,000 or more customers," Ian states. "These range from the stereotypical 'man in his van' individual tradesman, right up to some of the larger regional housebuilders that are responsible for building several hundred units per year, and who operate under all the relevant ISO accreditations and processes. As you can imagine, this requires a high level of adaptability on our part, a characteristic that we have honed and perfected through the decades."
Development process
During the course of said decades, the business has steadily grown through a healthy mix of organic and acquisition-based expansion. In the process, it successfully built up its portfolio of properties and branches, allowing it to be closer to its customers and to offer an increasing number of vital services. These branches represented a major part of a medium-term plan that was initiated by the company at the end of 2016, the goal of which was to implement a series of improvements across the Ridgeons network. The plan itself called for investment to be made in the building and refurbishing of its sites and showrooms, beginning with its Saffron Walden and Cambridge branches.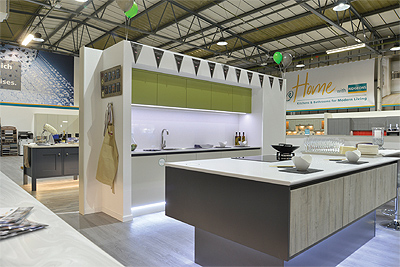 "These branches at Saffron Walden and Cambridge are very much within the heartland of our business activities," Ian adds. "For slightly different reasons, both of these branches had reached a point where they needed to evolve, and what we have done is invest in making them fitfor- purpose, 21st Century sites, perfectly designed for the next phase of our development."
Friendly environment
Measuring approximately 45,000 square feet in size, the Saffron Walden branch was opened inJanuary 2017, and in addition to the core merchant operation includes the kind of extensive kitchen and bathroom showroom that the Group wants to see recognised as the first choice for local trade customers. An attractive, light and spacious showroom, it has been designed in line with Ridgeons' vision of offering a friendly environment to its customers, showcasing a combination of kitchens, bathrooms, tiling and flooring.
More recently, on Tuesday 3rd April 2018, to be exact, the Group celebrated the official opening of its new flagship branch in Norman Way, Cambridge. Offering a modern environment and designed to provide what it calls 'a quicker customer journey', Norman Way supplies both heavy side and light side building and construction materials, and also houses a state-of-the-art kitchen and bathroom showroom itself.
"Our presence in Cambridge has grown considerably over time, to the point where we now have five locations in and around the city," Ian describes. "What we have determined is that going forward our strategy will be to have a higher number of branches in key regions that are slightly smaller in size and supported by a network of larger delivery hubs. This will be the blueprint in the coming years, however we will retain the approach that ensures that no two branches are the same, each possessing their own unique qualities."
The success of these new branches has already begun to reap rewards for the Group, not only in terms of improved sales and customer satisfaction scores, but also in the form of industry recognition. It was at the 2017 BMN (Builders' Merchants News) Awards, held at the London Hilton Hotel at the end of November 2017, that it picked up the award for 'Showroom of the Year' for its Saffron Walden branch.
Company culture
Equally as satisfying, meanwhile, was the second award it picked up on the day, this being for 'Heating and Plumbing Merchant of the Year' in recognition of the successful marketing launch of its specialist PlumbStock brand and the creation of an entity that appeals directly to its customers' needs. Since investing in PlumbStock it has expanded to 21 stores, seven standalone branches and 14 box-in-box businesses at existing Ridgeons' stores, which resulted in a groupwide increase in plumbing and heating sales of over 50 per cent in the first half of 2017 alone.
"As is the case with any award, it is always nice to receive recognition from one's peers, and the latter was particularly satisfying given that promoting the PlumbStock brand had been something that was relatively new to us at the time," Ian enthuses. "Such awards are also a great reflection on the people who make up our teams across the Group. Like many independent businesses, you will find we have a lot of long serving members of our team, and we are constantly taking a view towards internal development and promotion wherever possible. The culture we have created here is one that encourages good, hard working people to have the freedom to get out there and thrive, and clearly this continues to pay dividends."
Sustainable business Turning to the current calendar year, while 2018 has so far come to be defined almost exclusively by the adverse weather conditions experienced throughout the UK in its first few months, the Group is not letting anything distract it from its ongoing mission, which is to build a long-term sustainable business that is built for the needs of the future. As Ian goes on to reveal, this requires a well-planned strategic approach. "There is something of a balance that we have to maintain between achieving growth in our top line, and improvements in efficiency and the way we operate. One of the slogans we like to use is 'better for customers and simpler for us', meaning that we endeavour to do things in a fundamentally Lean way, but with our customers' needs always at the forefront of what we do.
"At the end of the day, all of the efforts we have discussed are about getting the business set for what the future holds. We spend a lot of time and effort getting feedback from the right people, communicating constantly with our customers to ensure that we are offering the services, products and support they need, and that we achieve the results we want in the right way."
Ridgeons Limited
Services: Timber and builders' merchants