Building Guernsey
Having established a reputation for excellence over the course of its 94-year history, Rihoy & Son has become the building contractor of choice on Guernsey
Working on a huge variety of construction projects from small domestic extensions to multi-million pound commercial premises, life at Rihoy & Son is never dull. "Thanks to the size of the island,
we do tend to deal with every type of construction, and can be working on around 30 projects at any one time," agreed Dan Taylor, Projects Director at the company. "Furthermore, our skills mean that we can start at a site that needs demolition and construct a brand new contemporary building from scratch, or we can convert a traditional building, keeping the historical elements and modernising where necessary, such as we did with a 140-year-old former local brewery site recently."
This latter project resulted in the creation of 32 apartments, and required sophisticated planning and execution – something that Rihoy & Son is not just experienced with, but thrives upon. Dan highlighted the Admiral Park development as another project that showcases the scale of schemes that the company works on: "This involved the construction of one of the Channel Islands' largest supermarkets (a 52,000 sq ft Waitrose) and a B&Q superstore," he said. "The retail outlet cost £14m to develop and was completed and ready for trading in 14 months, and some interesting engineering went into that development including installing the first inclined travellators on the island."
It is clear that if a significant development is planned on Guernsey then the skills and experience of Rihoy & Son are a valuable asset for a client, and this was again proven on the construction of Le Grand Courtil, the largest project undertaken by Rihoy & Son, in a contract valued at £25m. "This consisted of 84 units of independent living accommodation for those across the community who need extra care, and included a hairdresser, restaurant and therapy rooms," Dan noted. "This won a Premier Guarantee Excellence Award in 2014, and the feedback from the client and the residents has been consistently strong."
Le Grand Courtil is one of many of the company's projects that have had a great positive impact on the end users of the building, and this is echoed in the refectory build at Elizabeth College. Logistically challenging, a new storey was added to an existing two storey building dating from the late 1800s, while the 570 pupils and staff went about their daily school lives. The feedback from the Bursar of the college really sums up the positive impact of this particular build: 'Thanks to Rihoy & Son we've been given so much more than just a new College building … that continues to have an impact, not just within the College but also within the community too.'
"This is one of the many extra benefits that working on Guernsey has," Dan added. "We see the projects we work on all the time, and continue to see their impact and how they evolve. So, for example, we constructed the 20,000 sq ft light industrial unit housing the R W Randall brewery and we are proud that the famous Breda Lager is now produced in a building we constructed. It was an exciting project that included a number of technical challenges to overcome, and the finished building not only contains the brewery but also a visitor centre, administration offices, and warehousing and storage facilities.
"We were also the main contractor on the Cobo Community Centre, which was a real community project, where a successful ten-year fundraising campaign to replace St. Matthew's Church Hall resulted in a £1.4m building with a divisible main hall, an easily maintained and more up-to-date structure, a well-equipped kitchen, meeting rooms, disabled facilities and access, and toilets, together with well-planned parking. It took 12 months to complete and now provides a flourishing 'heart' to the parish community."
Each and every one of these developments provided its own challenges, but the company sees these as opportunities to increase and extend its skills and abilities, and a valuable way to 
continuously add to the bank of knowledge it has accrued over its 94-year history. "We not only have 150 direct employees, working in carpentry and joinery, groundworks, engineering, project management, contract management, quantity surveying, estimating, materials buying and transportation, but we also rely on teams of trusted subcontractors, who bring their own expertise to electrics, plumbing, roofing, tiling and so forth."
These strong relationships extend all the way along Rihoy & Son's supply chain, from the local building merchants who supply the predominance of building materials, to the wider UK suppliers of more specialist products. "These have been established over many years – we've got relationships with the best companies for every stage of a build and we have experts in-house who manage that for us."
Extrapolate this out to the wider community and Rihoy & Son's presence can be felt there too – the company is not only a keen sponsor of local sports teams and athletes, but also runs a sports and social club, with events for staff occurring throughout the year. "We also have a charitable trust, and through that we have carried out work in Malawi, Kenya and South Africa, where we helped to build schools and sports facilities," added Dan.
From the only B&Q superstore on the island, to offices, warehouses, petrol stations, schools, restaurants, care homes, private homes, and local government contracts, it is clear that Rihoy & Son's activities touch on the lives of not only islanders, but also as far afield as Africa. It's reputation for excellence has been hard earned and is scrupulously maintained by all, and the organisation is keen to reward its staff with regular training and support for professional qualifications.
"We are a key player in the market and our experience and reputation places us in a good position, we always strive to be regarded as a company that tenders from the smallest to the largest of contracts, and will give each of them our strictest attention and efforts. The Guernsey construction market is showing positive signs of recovery and we feel we are well positioned on the island to take advantage of that, to the extent where we are looking to add to our team here." To be part of Rihoy & Son, see the advertisement on the inside back cover for more details.
Alongside working for such a dynamic company with a diverse portfolio of work, Rihoy & Son staff also get the benefits of Guernsey itself, an island with a temperate climate, excellent education system, interesting food culture, brilliant sports and leisure activities and favourable tax arrangements. "While there's a multitude of areas that set us apart from the competition, the three main areas where we shine are time, cost and quality," concluded Dan. "We ensure we have high standards on all three, and that means we have clients who come back to us time and again, as they recognise that the Rihoy & Son name is one that can be trusted to deliver."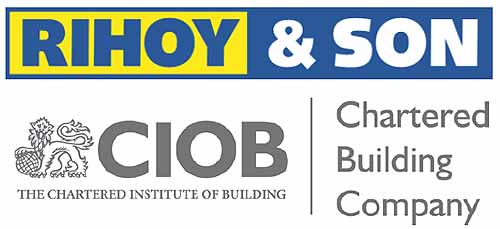 Rihoy & Son
www.jwrihoy.com
Services: Fully certified chartered building company