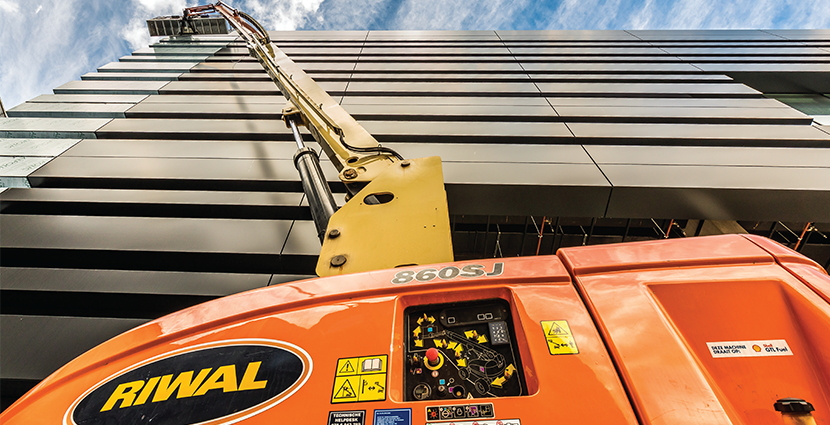 Rising above the rest
Doing business in four continents, offices in 16 countries, 2500 employees, 70 depots, and 20,000 machines worldwide – the numbers seem to speak for themselves, but Riwal is keen to prove these are just the beginning
The story of Riwal is built into its name. Originally established in 1968 as the Dutch division of a UK crane rental firm, Richards & Wallington, the company became private in 1986 – and, taking its name from the initial letters of its progenitors, Riwal was born.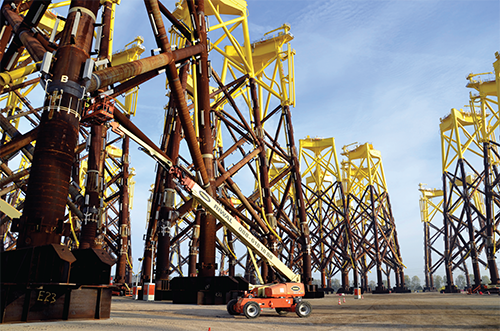 Instead of becoming a jack-of-all trades and a master-of-none, the burgeoning business chose to specialise in one particular niche: aerial work platforms. Over the next decade or so, Riwal expanded abroad, laying roots in Europe, Kazakhstan, India, and the Middle East.
One of the most significant developments to follow was the formation of the Riwal Way in 2013. The Lean programme was created to help fulfil the company's overarching ambition of providing the best customer experience in the industry through the application of numerous best practices.
By identifying and applying these key markers of standardised Lean performance, Riwal has set itself apart from the competition, refining its processes to become as efficient and effective as possible. Last year, the company created the Riwal Way 2.0, cultivating its operations further to ensure and deliver consistency and best practice across its myriad partner countries.
"With the Riwal Way 2.0 we entered a new era," explains Riwal CEO Pedro Torres. "After years of optimizing our internal processes, it was now time to focus more on our customers, providing them with easy and smart solutions.
"We are really revitalising the Riwal Way processes with an operational focus and with a strong commercial mindset, aiming to improve all processes where we interact with our customers," he adds. "This is a huge step and addition to the Riwal Way as we knew it. We are putting more efforts on providing top notch service and making our customer's live as easy as possible.
"To achieve this, we invest heavily in our people, our greatest asset. Everything we do should be customer-centric, this mindset is a crucial part of the Riwal Way 2.0. The customer always comes first!"
Over the years Riwal has become the one-stop shop concerning powered access equipment. Among its market leading products are aerial platforms (for example, articulated and telescopic boom lifts, crawler lifts, and truck-mounted lifts), telehandlers, and forklifts. As part of our discussion, Pedro breaks down the company's four core services.
"First, and most important, is our rental service," he begins. "We have a fleet of more than 20,000 units and conduct ourselves internationally through another firm called Riwal International Rental. There, we attend to the needs of our European customers that operate in multiple countries; however, we also complete long-term rentals in countries wherein we don't currently operate.
"Second, we have our sales division," he continues. "We're a special company because, unlike many others, we don't operate under a pure rental model – we sell new and used products, too. Our maintenance and parts workshop comes third on the list, allowing us to conduct third-party maintenance through traditional means, but also host an online shop for spares called My Riwal Parts. We're growing fast, and we've really ambitious plans for the e-commerce side of the business. Finally, the fourth part is our training sector. For this component, we've been recognised as the first globally certified operator of the International Powered Access Federation (IPAF) outside of the UK."
But the core of this holistic approach to powered access equipment is, ultimately, the people that make up Riwal: its employees and its customers. Surrounding that core, are numerous pillars upon which the Riwal Way is built.
"We have a logo underpinning our entire operation," explains Pedro. "The centre is customer-centric, including internal projects we've completed in the past. The second pillar is to be a great place to work for our people, which is really our primary goal and also part of the seven United Nations Sustainable Development Goals (SDGs) to which we are contributing. We employ numerous strategies to improve the health and wellbeing of our people, including diverse country-by-country programmes and comprehensive training courses. Currently, we're investigating Riwal's internal work environment through bi-yearly surveys, measuring how our people are feeling, whether they are motivated, and finding new ways to make Riwal an even greater place to work."
The third pillar is innovation and the fourth is sustainability, explains Pedro, but we'll come to those shortly. First, let's turn to Covid-19 and how observe how Riwal dealt with a crisis that put people at the forefront.
"The Covid-19 pandemic was a very difficult time for us, and 2020 was particularly tough," admits Pedro. "We operate in places like France, Spain, and the UK, where people were severely affected by the pandemic. Moreover, our operations in Qatar and Kazakhstan were really affected. Across the Middle East, we had two crises to deal with: Covid-19 and the issues surrounding oil, causing many difficulties and delays for our team in terms of construction.
"But we've also learned valuable lessons from the pandemic," he adds. "We learned to move faster, react quicker, and be even more creative and flexible. Technology has been advancing quickly since the crisis: you must adapt, or you will fall behind. Thankfully, the Riwal Way encourages adaptation, flexibility, and consistency through best practice."
More recently, as the company moves into a new phase of its post-pandemic operations, Riwal has keenly grasped new and exciting opportunities all over the world. "We were fortunate to be part of the World's Greatest Show Expo in Dubai earlier this year," says Pedro. "Manlift, our partner brand in the UAE, Qatar, and India, was awarded an exclusive partnership with the Dubai Expo following a very strict evaluation. In the end, I believe it was the Riwal Way – our values, expertise, and Lean programmes – that won us the partnership.
"After more than a year of planning, set up, rehearsals, and construction, we provided the service required with around 120 machines, allowing people to safely work at height across a number of the Expo's pavilions," he continues. "Another example of our recent endeavours is data centres. More and more, we're providing our services to European customers to help build infrastructure of this kind."
Riwal hasn't limited itself to the type of projects it will undertake. Lately, for instance, it has established contracts with airlines and airports like KLM and Amsterdam Schiphol Airport, organising the delivery of more than 100 machines for the latter over the last ten years.
However, let's now turn to the first of Riwal's final two pillars – innovation and sustainability – by thinking about why enormous events like the 2022 Dubai Expo and international companies like KLM keep choosing Riwal as a partner for powered access equipment solutions.
"We've always been innovators," explains Pedro. "After the Riwal Way, our new ERP & CRM system is the most important event of recent years. More specifically, through our global enterprise resource planning (ERP) system, we're developing expert solutions for customers to deliver a comprehensive series of key performance indicators (KPIs) for fuel consumption, machine usage, CO2 emissions, and other operational information through a depot-by-depot tracking system. This will all be integrated with platforms like the My Riwal App & customer platform, improving the overall accessibility of these important KPIs and delivering easy solutions for all our customers. The whole digitisation process is really powerful, and I don't know if there is any other rental company, at least in Europe, working this way."
The final pillar of the Riwal Way – sustainability – ties most into the company's future. In fact, Riwal has already aligned its activities with numerous SDGs, setting additional global targets to provide even more positive contributions to the environments of its 16 active countries. For these efforts, the company has been recognized by the International Awards for Powered Access (IAPA), winning its 2022 Award for Sustainability.
"We won that award as part of our wider contribution to the UN's 2030 agenda," asserts Pedro. "That means creating products, services, and initiatives that align with seven core SDGs. It's certainly working; we're returning to pre-pandemic commercial levels, passing a value of 300 million euros, which is ten percent up from last year.
"As we look towards the future, then, Riwal intends to track and report its sustainability data, making sure that it's still conforming to key SDGs," he concludes. "Our rental model is certainly part of this – renting out equipment will always be less carbon intensive than just selling new machines. As it stands, 65 percent of our Riwal fleet is electric; however, by 2025, we want that figure to reach 75 percent in Europe. Looking further ahead, we want to keep growing in the countries we're in, but we also want to continue expanding, always having an eye out for new companies to acquire and new places to explore."
Riwal
www.riwal.com
Services: Powered access equipment