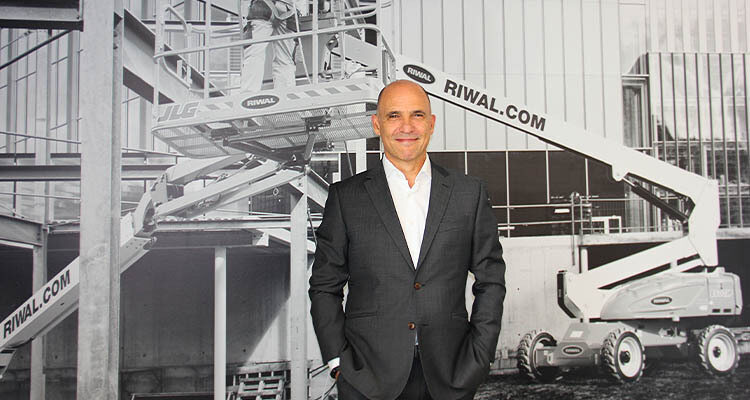 Riwal's electric fleet rentals empower construction amidst uncertainty and rising efficiency demands
During times of uncertainty within the construction sector, companies must double down on delivering all projects to the highest calibre. For 55 years, as a specialist in working at height, Riwal Ltd., has risen above by equipping globe-spanning construction projects with premium machinery and fleets. Chief Executive, Pedro Torres, reflects on Riwal's resilience throughout volatility. "We manage to stay ahead thanks to our expertise in our field. We provide safe and reliable machinery for working at height and are a very knowledgeable business partner. Through our expertise and experience we have been leading the industry in all 14 countries where we operate," he states, "and our latest efforts on digitalisation and innovation are set to consolidate our position."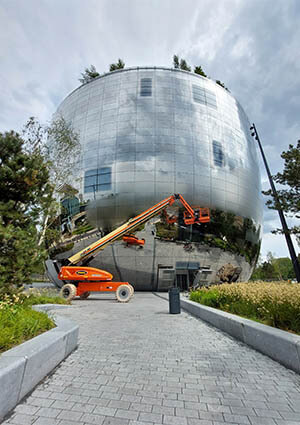 The company originates from 1968. Riwal was a Dutch-based division of a British crane rental firm named Richards and Wallington Ltd. The scope of operations was expanded by creating a separate company in 1986, specialising in the rental of aerial work platforms: Riwal Lift. From 2007 onwards, Riwal focused exclusively on powered access solutions and now offers services worldwide.
Pedro sheds some light on the company's current situation, with operations in Europe, the Middle East, India, and Kazakhstan: "With our presence in more than 60 locations across multiple countries, we currently employ approximately 1400 individuals. In addition to offering secure rentals for aerial work, we also include sales. For example, we are the official dealer of the manufacturer JLG in six countries. With our base in the Netherlands, we consistently deliver the same high-quality service on an international scale. Since Riwal was established, we have remained committed to upholding our company's core values, which revolve around safety, efficiency, and sustainability," he says.
To secure its significant workforce, Riwal has developed a work culture based on service and respect. "I have been in the industry for over 25 years and worked for many companies, from fast growing start-ups to private equities and family-run corporations. These experiences have enabled me to navigate different economic cycles and international work environments. I joined Riwal as a Regional Director in 2012, was promoted to COO in 2015 and became CEO in 2018. In my view, the company embodies the essence of a corporate family. While we may not be a family-run business, the work environment we foster is characterised by a familial atmosphere rather than a bureaucratic one. We are a diligent group of individuals who prioritise hard work, yet maintain an informal atmosphere where communication flows horizontally among team members," he enlightens.
Riwal's culture of respect is followed widely across its branches. "While it may sound simplistic coming from me, mutual respect is deeply ingrained within our organisation, rendering hierarchy relatively insignificant. We employ dedicated professionals with innovative ideas and the drive to move forward. Riwal is an international, very diverse organisation. Consequently, there isn't a single prevailing culture within our company, although we do acknowledge our Dutch roots," he states.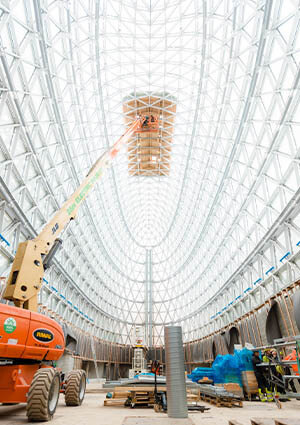 In addition to valuing its people, the company is also renowned for its large fleet and diverse selection of powered access equipment. This encompasses equipment for any type of job: aerial work platforms, telehandlers, and forklift trucks. "We have around 20,000 machines for rent worldwide. Currently, 60 per cent of our fleet is electrical, but we are aiming to increase that to 90 per cent by 2030. One of the current challenges we face is how to effectively track and monitor our machines. There is a high demand among customers for this feature, thus we put a lot of effort in this kind of services. With our customer portal MyRiwal, it is possible to track machines and check availability digitally, direct, and onsite.
"Equally, balancing our objective of transitioning towards greater electrical efficiency with the need to provide reliable services is a significant point of discussion for us. In certain countries, we have incorporated the use of biofuels into some of our operations. Moreover, we have taken the initiative to internally convert machines from diesel to electric power, which is quite exceptional for a rental company. For instance, we have successfully converted a significant number of machines for KLM Royal Dutch Airlines. Our commitment extends beyond this, as we actively align ourselves with the United Nations' sustainability goals," he emphasises.
As such, the company's win of the IAPA award for sustainability in 2022 and the EcoVadis Gold Medal 2023 reflects its commitment to building a greener future. That said, amidst a challenging cost-of-living crisis and high inflation across the world, adopting a sustainable approach is not always easy. "We are dedicated to improving water and energy usage efficiency. By 2025, our aim is to reduce both water waste and CO2 emissions by 20 per cent. To be fully sustainable as a company, we also depend on market changes. As our profit margin becomes strained, further investments can be challenging. The issue arises because customers are not always willing to pay more for the use of electric machines. Therefore, finding a solution to that problem is one of our priorities. As a supplier, we respond to our customers' demands. When governmental institutions intervene in the market and promote electrical machines, it will become easier for rental companies to meet these requirements. Riwal is dedicated to incorporating sustainability in daily operations and governance and pushes these changes in the industry, so we can keep a balance between eco-friendly solutions and ensuring the continuity of our business operations," he adds.
Today and for the foreseeable future, Riwal is focusing on employee health and safety, the environment and sustainable procurement. "Our objectives include utilising key performance indicators (KPIs) to enhance health and well-being, investing in training to expand our employees' knowledge base, and promoting workforce diversity. Additionally, we are actively engaging our workforce to foster a sense of belonging and involvement to become a great place to work. To me, the most important of these goals is increasing the diversity and engagement of our people," he concludes.
To face difficult times in the construction industry, characterised by the cancellation and delay of projects across Europe, Riwal recognises the need for adaptability and efficient decision-making. As such, it is constantly looking for ways to address challenges. "In times like these, we can demonstrate our flexibility as a company. We keep our eyes on the ball by exploring growth opportunities in our current markets such as India, demanding faster machine delivery and selling used machines to align with the dynamic demands of the market."
www.riwal.com/corporate/en