Robert Lee Distribution Ltd
Stocking more than 30,000 lines at any given time, Robert Lee Distribution Ltd is the UK's largest independent distributor of bathroom, kitchen and plumbing products
Superior stockists
Stocking more than 30,000 lines at any given time, Robert Lee Distribution Ltd is the UK's largest independent distributor of bathroom, kitchen and plumbing products
Incredibly, the legacy of Robert Lee Distribution Ltd (Robert Lee) can be traced all the way back to 1855. It is in the more recent past, however, that the business that exists today truly began to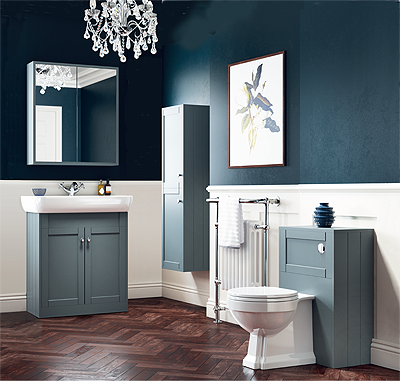 take shape. It was in the year 2000, to be precise, that one of the industry's most respected distributors, Mark Abrahams Bathrooms, completed the acquisition of Robert Lee (London) Ltd, and the rest, as they say, is history.
Understandably so, Robert Lee's Managing Director, Tim Wayman is the man best placed to detail how the merging of two leading independent players came to pass. "Having joined Mark Abrahams Bathrooms back in 1998, at a time when it was a £6.25 million business operating across London and the Home Counties the brief was to succeed the incumbent MD and identify opportunities to take the company to another level of growth."
Such an opportunity presented itself towards the end of the century when the chance to acquire Robert Lee (London) Ltd arose. "In a previous life, I had personally been not only a customer and supplier to, but a competitor of, Robert Lee (London) Ltd, and it was my opinion that its purchase would prove hugely complementary to our existing operations and would open up new business channels," Tim continues. "Ultimately, the acquisition was completed in January 2000, and in the couple of years following we set about integrating the two businesses, consolidating all of our activities into our newly purpose built, 100,000 square foot head office in Waltham Abbey in 2003."
Since 2000, Robert Lee has gone from strength to strength, today stocking over 30,000 different product lines at any one time, and supplying 99 per cent of its retail, merchant and showroom customers with goods on a next working day delivery basis. "The key to our success is, without question, day-in day-out reliability," Tim declares. "Every single day, we have to answer three questions – do we have a certain item in stock, can we deliver it next day, and how much will it cost? Now, you can promise a customer the world, but if you don't deliver on what you say you will they will, quite rightly, vote with their feet. That is why 'delivering the promise', as we call it, sits at the heart of all that we do."
True partner
As a wholescale distributor for a veritable who's who of industry leading manufacturers, Robert Lee has also built its reputation on the back of its commitment to holding stock in depth. "It's fair to say that we carry perhaps the widest range of products of any distributor in our field," Tim states. "For a great many businesses like ours, the tendency is to carry only the best selling and fastest moving items from each manufacturer. Our philosophy is that in order to warrant being considered a true distribution partner it is necessary to hold both depth and breadth from the entire portfolio of products available from that supplier."
Outside of the products it stocks for manufacturers, since 2010 Robert Lee has also gained significant traction in the sales of its own brand ranges. "Today, we have three distinct own brands," Tim explains. "The first – ARLEY – is a range of quality bathroom, showering, kitchen and plumbing products that are primarily aimed towards merchants and trade counters. The second – Warmbase – is our collection of designer radiators, ladder rails and heating accessories, and our third brand is Synergy, which produces a stunning range of bathroom products and solutions that are designed to feature within showrooms."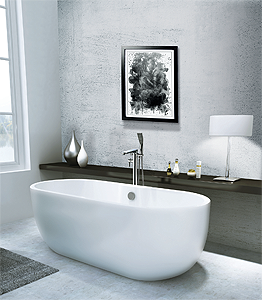 In the case of its Synergy brand, the company has been extremely pleased with its growth, so much so that it will be exhibiting its products at the forthcoming KBB (Kitchen, Bedroom and Bathroom) exhibition at Birmingham's NEC in March 2020. "In terms of our business model going forward, we have every intention on placing our own brand portfolios front and centre of our marketing, as we see massive future growth opportunities on the horizon," Tim states.
Agile trader
Speaking of the future – both the immediate and long-term – Tim goes on to reveal the priorities for Robert Lee in 2020 and beyond, and what he identifies as being two main avenues for expansion. "Firstly, we will continue with the development of our own brand ranges, with the objective of creating additional profit opportunities for not only ourselves but our customers as well. At the same time, we will ensure that we remain wholly committed and engaged with our key brand suppliers, working diligently on their behalf to make the widest range of their respective products available to our customers.
"Growth wise, one avenue involves organic expansion, which effectively means selling more products to our existing customers, as well as new ones. The other avenue is one that we have shown ourselves to be adept at, and that is acquisitions. When we look at such opportunities, we seek to identify the best means of increasing the scope of products that we can make available, and we have an excellent track record of working with unique domestic and international brands. We have also shown ourselves to have our finger on the pulse of the latest bathroom, kitchen and plumbing trends and styles, which allows us to address the demands of consumers. All of which adds to our reputation for being an agile trader, able to respond quickly and efficiently when called upon."
Robert Lee Distribution Ltd
Services: Independent distributor of bathroom, kitchen and plumbing products