ROCKWOOL makes and supplies a full range of smart and sustainable insulation products for the construction industry based on innovative stone wool technology
Products 'U' value
ROCKWOOL makes and supplies a full range of smart and sustainable insulation products for the construction industry based on innovative stone wool technology
The properties of stone wool were discovered in the early 1900's in Hawaii, where the naturally occurring wool-like material hung from trees near the active Kilauea volcano. When scientists found that it had exceptional fire protection and insulation qualities, work began on a manufacturing process toreproduce it commercially. In 1937, Gustav Kahler brought the volcanic principle to Denmark and set up ROCKWOOL's first factory near Copenhagen, making building insulation that could cope with the tough Danish climate. Having proved its success at home, the company began to expand abroad, throughout Europe and international markets. Today, ROCKWOOL operates 27 factories across Europe, Asia and the US.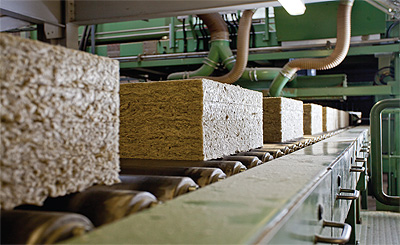 ROCKWOOL's UK factory was built on a reclaimed industrial site in Wales and opened in 1979. The plant expanded in 2009, opening a new production line, and now houses some of the most advanced stone wool manufacturing technology in the world supplying a diverse product range from solutions for every element of the building envelope to fire protection products. "The market is showing strong growth in most key sectors which impact the business. The new private housing market is leading the way with good performance in the industrial, commercial and refurbishment sectors, and public new housing and refurbishment has taken a step backward and looks like it will be a while before we see a significant turnaround," explains Rory Moss, managing director.
R&D and innovation are essential activities for ROCKWOOL to ensure its future growth and success as Rory explains: "Product development enables us to stay a step ahead of our competitors but it is driven by a desire to provide solutions to our customers both in terms of our products and our service. At the beginning of 2014 ROCKWOOL introduced a new way of adhering facings to our flat roof board, which enabled a range of flat roofing solutions to be developed. The uniqueness of the combination of new binders and a unique fleece bedded into the ROCKWOOL has allowed us to develop a flat roof board that will allow mechanically fixed, single ply adhered, liquid applied, torch direct and pour and roll flat roof finishes to be applied to one solution." ROCKWOOL Hardrock is the only product in the market capable of meeting all possible surface finishes which dramatically reduces complexity to the roofing customers and eliminates waste, as leftover product can be utilised on other projects, regardless of roof finish, assisting its distribution partners' stock profiles. "The introduction of ROCKWOOL Hardrock significantly reduced our SKUs; reducing production change overs, reducing on-site stock levels and has led to the product being accepted into stock by our distribution partners for the first time in history, which has improved our service offer to the end customer in terms of lead time and minimum order quantities. Due to its makeup, Hardrock is the only flat roof solution on the market that can meet all fire and acoustic, and major roof cover requirements in building regulations without requiring additional layers. The solution also reduces the amount of fixing to the deck required for wind uplift, speeding up installation and reducing system costs," highlights Rory.
Each year the Insulated Render and Cladding Association (INCA) 2014 Awards recognise the leading external wall insulation (EWI) projects that demonstrate innovation and excellence. "We are delighted that four of our REDArt EWI projects have been shortlisted for awards. The winners will be selected on the basis of outstanding thermal performance, a high level of technical difficulty, excellent workmanship and striking design and aesthetics," he says.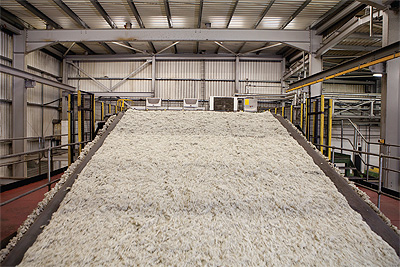 In 2009, a £70million investment was made by the business to open up a new line in the UK, doubling the manufacturing capacity at the plant. As part of this investment, a new recycling facility was built enabling the recycling of virtually all of its production waste, as well as significantly expanding the capacity to recycle waste returned by customers. State-of-the-art packaging processes and stock control systems were also put in place to optimise production runs and improve the service offered to customers with best available technology environmental systems installed to reduce the factory's environmental impact.
Its products save over a hundred times more energy and carbon in use than is produced during manufacture, and created from a natural, sustainable and recyclable resource, it is continually replenished naturally from within the earth. "Our high-tech production process utilises filters, pre-heaters, after-burners and other cleaning collection systems to ensure an environmentally responsible approach. Waste material, refurbishment and demolition waste, along with off-cuts, can all be transformed into briquettes and recycled into new ROCKWOOL products. The dedicated recycling facility at our Bridgend plant allows contractors and builders to recycle their unused insulation, and reduce dependence on landfill," points out Rory.
Looking ahead, new construction and refurbishment in both private housing and commercial sectors present great opportunities for the company to grow with the market, take share and present new products and services, as Rory concludes: "ROCKWOOL has a legacy based on outstanding and truly differentiated products which provide real value to customers and end-users. We need to build on that legacy with new products, penetrate new markets and provide market leading service and expertise to our customers."
ROCKWOOL
Products: Sustainable insulation products for the construction industry