Rudridge provides services to a wide range of civil construction professionals, all of which receive unrivalled customer service and a swift response
Putting the groundwork in
Rudridge provides services to a wide range of civil construction professionals, all of which receive unrivalled customer service and a swift response
One of the most significant developments to take place within Rudridge over the last few years has been it becoming part of the Travis Perkins group in 2015. As a result of this the company has found a number of ways to strengthen its capability and the services it provides for its customers' groundwork, drainage and civil engineering material needs. Two years on since Rudridge became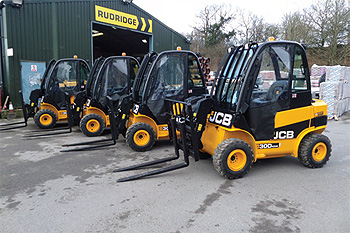 part of the Group and the company continues to enjoy the benefits that this offered, while over time it has continued to settle into the new situation and utilise it to provide an even more comprehensive and competitive service to its customers. This is something it has persistently worked very hard to achieve, and in regards to this Group Operations Manager Darren Price said: "We consistently aim to align procurement deals with our key suppliers and this has brought some significant benefits to Rudridge, not just from being part of a much larger group but also from the perspective of having significant resource at our fingertips when we need it."
Since Rudridge last spoke with Construction & Civil Engineering in March 2016 it has undertaken a number of investments and developments, and has a new addition to the already strong team, which Darren spoke about: "We have appointed a new Regional Director, Clive Summerfield. Clive joined us from Keyline – our sister company, where he has had 18 years of service. Clive is responsible for the day-to-day running of the business and brings a wealth of experience, both within the industry and the Travis Perkins Group, and this has helped Rudridge further integrate into the Group." This demonstrates some of the strengths that come from being part of the Group, and having access to talented and experienced staff across a number of companies. It also is a sign that Rudridge, even within the Group, is determined to have the very best at its company and to continue in improving the business even further.
In addition to the new personnel Rudridge has also made a number of other investments that will benefit the business, which were discussed by Darren: "Some of our major investments include: renewing a significant percentage of forklift trucks in our branches, as well as fitting the forklift trucks with hydraulic attachments that have reduced manual handling significantly, therefore decreasing manual handling injuries. Similarly traffic management programs have been implemented on all sites to reduce the risk posed to all visitors to our branches. We also have two new 32 tonne HIAB vehicles that have been introduced to the fleet, with plans for three more in 2017. We also have gained specialised concrete ring lifting attachments for our delivery vehicles, and specialist equipment for all LGV drivers that help keep them off the backs of their vehicles and able to operate all mechanical handling equipment on their vehicles with their feet on the ground." Through these various investments Rudridge has ensured that it is not only providing an efficient and effective service but also an even safer one.
Due to what this approach has added to Rudridge it has meant that the company's already wellrespected quality has further increased across its extensive product range. Rudridge is also constantly adding and improving this portfolio, and one of the latest examples of this is that it now stocks Hepworth Clay Drainage across all its branches. This is a market-leading brand of clay drainage and will provide the company with new and exciting opportunities, which it has managed to do through the strong relationship it has with Wavin. In addition to this Rudridge's customers also enjoy a service that strives to support them and can be relied upon, and the motto that runs throughout the business optimises this with 'Trust us to Deliver', a ringing statement of intent that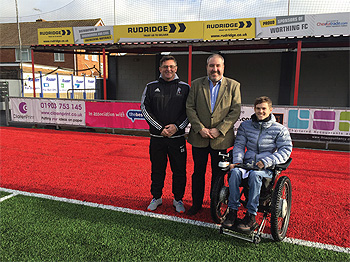 its clients can put their faith in. The business also offers a next day delivery service for orders received before noon, which is yet another way that it sets itself apart from competitors. In order to achieve this the business maintains a close relationship with customers, supply chain partners and colleagues, which means that the company will not only say it will do something, but that it will actually follow through. It is due to thesereasons that Rudridge has built strong loyalty with its customers, and this will be something that it continues to prioritise.
Rudridge adds to all of these qualities and strengths that contribute to a strong brand with a number of sponsorships. There are a several of these, but some particular highlights include its support of local teams of Worthing FC and Horsham FC, and it is just one way that the company likes to get involved and help the local community while also raising the profile of the brand.
Therefore, with such a consistently high standard of service Rudridge continues to be a prominent figure in the provision of services to civil construction professionals. In addition to the quality and reputation of the business and its services, it will also no doubt see its brand bolstered by the various sponsorships and ties it has with sporting groups, events, and charitable activities. All of which suggest that Rudridge will no doubt enjoy many more years of success to come.
Rudridge Ltd
Services: Distributor of materials for groundwork, drainage and civil engineering