Since it first started trading in May 2000, Rudridge Ltd has established a solid reputation as one of the UK's leading specialist distributors of materials for groundwork, drainage and civil engineering applications
Building opportunities
Since it first started trading in May 2000, Rudridge Ltd has established a solid reputation as one of the UK's leading specialist distributors of materials for groundwork, drainage and civil engineering applications
The business was founded by Directors Robert Rudd and Alan Betteridge in Farnham, Surrey and today operates from four sites across London and the South East. During February 2015 the company's board approved the sale of Rudridge Ltd to the Travis Perkins Group. Commenting on the sale in 2015, Rudridge Director Alan Betteridge said: "The professionalism, integrity, respect for the Rudridge brand and, perhaps most importantly, the people we met at Travis Perkins, left us in absolutely no doubt that they were the right organisation to take the business to the next level. During the sale process it became evident that being part of a bigger organisation would be a very positive step for both Rudridge and our employees."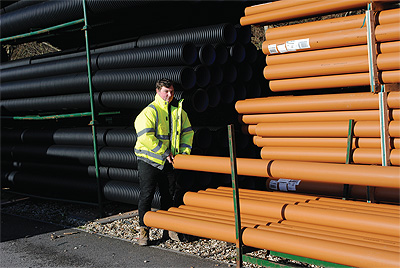 Rudridge was previously profiled by Construction & Civil Engineering magazine during August 2015, only a few short months after the acquisition of the business by the Travis Perkins (TP) Group. While Rudridge continues to maintain its own identity under the management of both Robert and Alan, integration between the two companies continues at a rapid pace. "All Rudridge staff recently moved over to Travis Perkins contracts, which is a very positive step for both the business as a whole and for all colleagues involved as the new contracts reflect more accurately the benefits associated with being employed by a FTSE 100 company," observes Group Operations Manager, Darren Price. "Rudridge will continue to trade as its own brand and there is no plan for this to change moving forward. TP Group recognise the strength of the Rudridge name in the geographical area that it operates in and the intention moving forward is to continue to strengthen and grow the Rudridge name and reputation."
Further to its on-going integration with the TP Group, Rudridge continues to invest in and improve its business practices and equipment to ensure that the company maintains an industry-leading level of service.
"We are constantly investing in all areas of the business. In the last few months specifically we have made an investment in our mechanical handling capabilities in our branches and have ordered hydraulic squeeze attachments for our fork lift trucks for all branches," Darren elaborates. "From March 2016 every Rudridge branch will each have two of these attachments, which we estimate will reduce manual handling by up to 70 per cent. It will also improve our service proposition by reducing waiting time in our branches for the customers that collect goods from us."
While Rudridge has maintained an enviable position within the market with its acquisition by the TP Group and continued investment into the business, the last six months have proven challenging for the industry as a whole. A general softening in the market during the second half of 2015 resulted in less construction work going ahead and increased competition between contractors and suppliers. "Slow trading conditions meant that we have needed to focus on both our service proposition and ensure that we show our customers value to remain their merchant of choice in what has become an even more competitive market.
"2016 has started off much more positively for us. January saw like-for-like growth and forward projections and our quotation pipeline suggests that this is likely to continue into the year," Darren reveals. "The challenges within the industry sector previously mentioned have made the market more competitive and subsequently given us some margin challenges. We approach these challenges by aiming to give our customers something different from the competition and trying to add value to our offer wherever we can. Our unique transport and haulage model and the relationship we have with our hauliers allows us to offer a next day delivery service for all orders received before midday regardless of how busy we get and in most situations we can even offer next day deliveries late into the afternoon. None of our competitors are in a position to do this."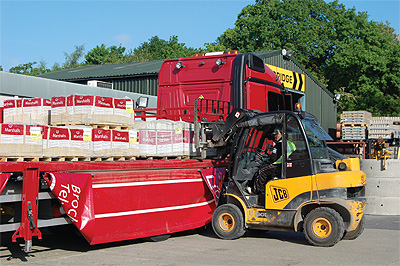 Throughout its history Rudridge has established itself as a trusted supplier to small, medium and large residential builders as well as to contractors for several prestigious and highly publicised projects. As a result of having successfully delivered material for the Horse Guards Parade project earlier in 2014 for example, the company was subsequently asked to participate in another prominent project in Australia Gate and Spur Road at the Queen Victoria Memorial in an area adjacent to Buckingham Palace. The main contractor requested that the same sandstone that had been provided for the Horse Guards Parade project be used, as it had proved perfect for the area. As a result the client asked Rudridge to supply the same materials and finish as it had done previously.
Furthermore, the company was later asked to match some existing edging for the project – it took several templates and the same supplier of the paving, Woodkirk Stone, produced and supplied the stone. It was clear that the Buff Sandstone, a durable material of excellent quality from Britannia Quarry, was just right for the area, and that it had been worth the time taken to research the materials for the initial project. Finally Rudridge also received a further enquiry asking for the fine grained sandstone to be used inside Buckingham Palace itself and was also specially selected by English Heritage to work on another restoration project in North Yorkshire. "We have worked on a number of prestigious projects over the past 12 months, including natural stone for Horseguards Parade and the US Embassy," Darren says. "None of these would have been possible without strong relationships with all of our customers, suppliers and manufacturers alike."
Throughout the remainder of 2016 and beyond, Rudridge Ltd will continue to focus on finalising its integration with the TP Group, as well as with leveraging the benefits of being owned by the group. "Our focus remains on being the specialist civils and groundworks materials distributor of choice for our customers, whilst standing out from the crowd and offering the best value and service in the industry," Darren says. "Rudridge is now in a unique position to offer the flexibility and personal service of an independent merchant whilst being backed up by the biggest merchant of them all! This clearly is the best of both worlds and we fully intend to take advantage of this – the Rudridge brand will continue to build on the reputation it has built over the past 15 years in the years to come."
Rudridge Ltd
Services: Distribution of groundwork, civil engineering and drainage materials