The beginning of January 2008 sees Abetoni Oy reach a milestone in the company's history with the changing of its name to Rudus Concrete Product
A concrete future
The beginning of January 2008 sees Abetoni Oy reach a milestone in the company's history with the changing of its name to Rudus Concrete Product
Rudus Concrete Product, a concrete product manufacturer became a subsidiary of Lohja Rudus in 2004 – an organisation active in the ready mixed concrete, concrete products, aggregates, crushing contracting, asphalt and recycling businesses in Finland, the Baltic countries and Russia. All companies under the group's umbrella are now being fully integrated into the organisation, with every brand name being changed to Rudus.
Reijo Kostiainen, managing director of Rudus Concrete Product explains: "As of 1st January 2008, Abetoni will be changing its brand name to Rudus, and the company will become known as Rudus Concrete Product. This will make advertising and marketing significantly easier as there will be only one brand name to remember."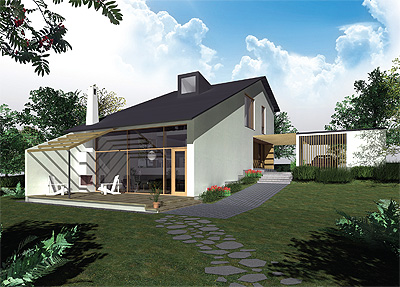 He continues: "One of the main challenges we will be facing throughout the name changing process is developing the reputation of the brand. This is a task for everyone within the group – we need to develop a strong reputation in the market and ensure that our clients know what Rudus has to offer."
Rudus Concrete Product, with approximately 250 employees and 13 plants in Finland, is a noteworthy player in all of its product segments, including concrete piles, pipes and manholes, and landscaping products. Being part of a larger group enables Rudus Concrete Product to create a service and product portfolio, which makes an outstanding combination, creating added value for its customers.
The company's products are often characterised as part of the working infrastructure of a development and they are also widely used in building a safe and beautiful environment. For example, concrete piles are used for the foundations of roads and houses. Concrete pipes and manholes are used for ensuring the flow of sewerage and the drainage of rainwater, so that the environment remains healthy and safe. Landscaping products, such as paving stones, curbstones, channels and flower-pots, are used for both enhancing the appearance of living environments and traffic.
Rudus Concrete Product uses its products and solutions across a wide range of contracts. Reijo comments: "We are currently working on a very important project in Helsinki. We have delivered a significant number of concrete pipes and manholes to the Vuosaari Harbour project. These deliveries have kept us very busy throughout 2007 and the harbour will go into operation in 2008."
This modern centre includes a cargo harbour, a logistics area, traffic channels and the Meriportti Business Park. The Vuosaari Harbour will be the most modern in the Baltic Sea when it is completed and the operations of the West Harbour and North Harbour in Helsinki will be moved there.
Reijo continues: "We are also delivering road barriers to the E-18 highway project. We are continually looking for new challenging projects to work on and we are working with designers and engineers at the planning stage. As a result, we will be able to advise them which concrete solutions will be best for their project. We aim to make people aware of the advantages of our concrete products and develop a strong reputation for Rudus products in the market place."
He adds: "We are also aiming to develop our paving stones product range. In addition, we have recently developed a new business area, which is called 'Rudus Stone House'. This will sell complete packages for individual customers who want to build houses. The main idea is to provide clients with insulated concrete blocks to build a stone house."
For Rudus Concrete Product, it is important that key development targets in regards to the environment and safety extend far beyond the parameters of certification. Looking at these issues, Reijo comments: "We are currently looking at how we can recycle more of our waste and reduce our energy costs. In addition to this, we are working extremely hard on improving our safety statistics. We have been able to enhance this over the last year but our overall aim is to have no work related accidents at all. Safety issues are very important to us as we believe that if you excel in this area then not only will you improve the overall running of the company but you will also provide a nicer working environment for employees."
By offering high quality products and outstanding customer services, Rudus Concrete Product believes that 2008 will provide many opportunities for the company. The main challenge the business will be facing in the future is its aging workforce. Reijo concludes: "A number of key people within the company are retiring over the next few years, which means that the next generation of employees will be taking over. We have to ensure that we train and educate these people as the future of the company lies in their hands."