A recipe of expertise, knowledge and innovation has contributed to R&W Civil Engineering's ability to deliver innovative and complete solutions in the only way it knows how; the R&W Way
The right way
A recipe of expertise, knowledge and innovation has contributed to R&W Civil Engineering's ability to deliver innovative and complete solutions in the only way it knows how; the R&W Way
Since it was established in 1981, the R&W group has successfully operated across the south of England, providing a comprehensive range of civil engineering, traffic management and environmental services. With specialist expertise in highways maintenance, R&W's people collectively embrace its traditional values of reliability, adaptability, trust and integrity, which allows it to provide all of its customers with an unrivalled first-class service. Whilst retaining these core values, R&W has also developed and expanded upon them to create the 'R&W Way'.
"Our vision is to be the employer and contractor of choice across the south of England," explains Mark Hepburn, Director of R&W Civil Engineering. "The R&W Way, which embraces the values of being safe, showing respect and always delivering, is the organisational ethos that is helping us to achieve this goal, while also helping us develop enduring and effective relationships with our clients."
Utilising a combination of extensive in-house resources, local knowledge and technical expertise, R&W offers innovative and complete civil engineering solutions to customers including tier one contractors, such as Kier, Skanska and Balfour Beatty, private developers, public sector clients and local town councils. Be it bridge reconstruction, groundworks, drainage schemes or vehicle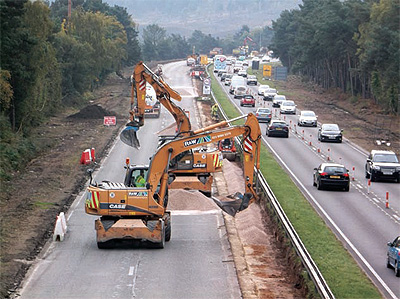 restraint systems, R&W is able to offer planning, building, repair, maintenance, refurbishment and recycling services through its five businesses; R&W Civil Engineering, R&W Traffic Management, R&W Environmental, R&W Rail and R&W Langley.
R&W Civil Engineering strives to create added value for its civil engineering clients. With a reputation for reliability and exceptional service delivery, it is commonly the first port of call in challenging emergency situations such as flooding, structural or embankment failures, and road collapses. By being able to understand its clients' constraints, as well as their desired outcome, it is little surprise that the company has gone on to be responsible for the planning and reactive maintenance of many of the UK's busiest roads.
"The services we provide vary from groundworks to complex repairs to structures such as motorway bridges," Mark continues. "On occasion, we will provide civil engineering and traffic management work separately, but typically we provide these as a package, providing our clients with several important benefits, including cost savings, the pooling of resources, the sharing of experience and various operational efficiencies. As a result, we remain incredibly busy across the business, with all teams fully occupied and a healthy amount of work in the pipeline."
R&W Civil Engineering's success can also be measured in the numerous awards it has been presented with for its service, operational excellence and its positive environmental impact. Understandably, the company is very proud of the awards it has received, seeing them as recognition of the way it conducts itself. In 2015, the company was included in the London Stock Exchange's list of '1000 Companies to Inspire Britain', rewarding its sound financial management and strong growth in the preceding years.
"We have accrued several awards in the field of sustainability thanks to our proprietary wet waste recycling centre, including a 2015/16 Rushlight Award for water management and the Constructing Excellence Award for Innovation 2016. We were also finalists in the 2017 CIHT awards for sustainability," Mark reveals. "We are particularly proud of our record when it comes to recycling and our approach to waste management. We believe our efforts are making a significant positive contribution to our region and on behalf of our industry, with 60,000 tonnes of reprocessed material reused on the roads and 7500 tonnes of wet waste diverted from landfill per year as a result of our actions."
In 2017, one of R&W's directors, Christine Allen, was the recipient of the Women in Construction award for Business Leader of the Year, recognised for the collaborative approach she has taken within the UK highways sector throughout her career. Meanwhile, the company has been named as a finalist at the 2017 Construction Excellence in the South-East Awards in the category of People Development, and the CECA Southern Award for Inspiring Change.
R&W is committed to the promotion of home-grown talent and encouraging progression through the business. Kate Whiles, R&W's newly appointed eighth Director, is a shining example of this. Kate was recently promoted to Commercial Director and has joined the Board. She joined the group in 2005 as its first quantity surveyor before going on to take up the role of Commercial Manager, where she built up a highly successful team.
R&W made the move in 2015 to further enhance its reach in the civil engineering market through the purchase of Langley Civil Engineering. "The joining of forces between R&W and Langley has brought great benefits to both companies," Mark says. "R&W Langley, as it is now known, has benefitted from the financial strength, infrastructure and support services that the R&W Group enjoys. At the same time, R&W's other companies have gained from Langley's largely distinct client base in Dorset, Hampshire and Wiltshire."
Highways England has a commitment in place to spend over £15 billion on major road schemes between 2015 and 2021. Each of the country's political parties have made clear that they view the issue of upgrading and developing the UK's infrastructure as a priority and this has emboldened R&W's belief that its own opportunities will continue to grow, as will its presence across the south of England.
With an increase in projects comes the need to recruit and R&W is keenly aware of its own responsibilities towards encouraging more school-leavers to pursue science, technology and maths (STEM)-based careers. For its part, R&W has several STEM ambassadors and works closely with local schools, colleges and universities, while also offering apprenticeship, work experience and graduate schemes to help young people enter the sector.
"Our vision is to attract the best talent in order to continue growing our multi-skilled teams," Mark concludes. "We strive to be recognised as the employer and contractor of choice in the south of England, and we believe success is as much about how we do things as what we do. By employing the best people, looking after them, keeping them safe and by providing the best possible service to our customers, we will continue to meet our goals, while growing in a strategic and sustainable manner."
R&W Civil Engineering
Services: Civil engineering, traffic management and environmental services