The last few years have been a time of positive change for the R&W Group, and thanks to the legacy of its founder and the tireless work of its people, the future is arguably bright
Passing the torch
The last few years have been a time of positive change for the R&W Group, and thanks to the legacy of its founder and the tireless work of its people, the future is arguably bright
The last few years have without doubt been an eventful time for the R&W Group and its seven respective businesses – R&W Civil Engineering, R&W Traffic Management, R&W Environmental,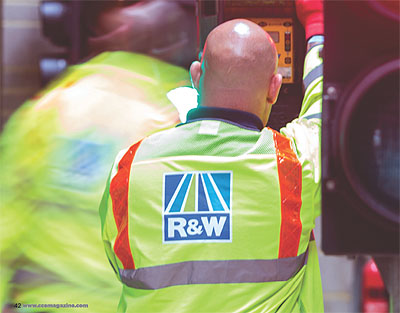 R&W Rail, R&W Langley, R&W Limited and R&W BPMS – including the acknowledgement of the accomplishments of its founder Ray Ransom, who was presented with the Outstanding Contribution/Lifetime Achievement award at the prestigious CECA (Civil Engineering Contactors Association) Southern 2017 awards dinner.
For those unfamiliar with Ray's story, he founded what would grow into the R&W Group in 1978 by using a £500 loan from the bank to purchase a second hand JCB. One of the first projects he secured for the company involved working on the construction of the Manchester Stockport bypass, which in turn led to it being part of the initial construction work on the M25. Further contracts would see R&W play a key role in the extension of the runway at Gatwick Airport, as well as numerous other motorway and trunk road initiatives across southern England and beyond.
Today, R&W is recognised as being a major highway infrastructure and traffic management specialist, with over 400 highly skilled employees, and Ray was very much the ever-constant driving force behind the business. His management style and ethos, as well as the 'can-do' attitude he instilled in his employees, helped to create a people-focused route to delivery now referred to as 'The R&W Way'. Ray's career has also seen him champion improvements in safety and operating practices, as well as conceiving a number of sector changing innovations, such as the development and introduction of side tipping lorries that fed the concrete paving trains responsible for creating the motorway network across the country.
"Ray has been an inspiration and shining light for many years to many people that have worked for him, worked with him or simply come to know him through his reputation," commented R&W's MD Andy Theobald at the time of the award being presented. "Despite his drive and enthusiasm, Ray is also an extremely humble and helpful person, and can still regularly be seen jumping into a digger to help on-site when and if he can. He is a family oriented man who has tirelessly promoted and supported the highways construction industry, championed new and safer working practices, delivered on expectations, and strived for excellence both in himself but also through his ongoing support of others. For more than 40 years Ray has been an encouraging 'father' figure and is a deserving person to be recognised with this lifetime achievement award."
Solid foundations
Following on from the above events of 2017, it was in July of 2018 that Ray formally decided to begin his next adventure by passing on the role of Chairman of the R&W Group to its Operations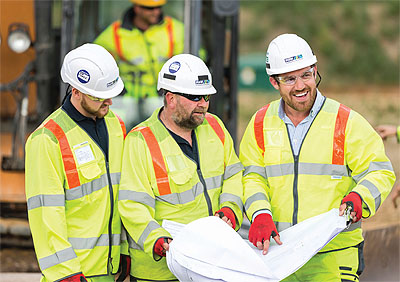 Director, Howard Hutchinson. "I am incredibly proud to take on my new role as Chairman of the R&W Group alongside my operational role in R&W Civil Engineering," said Howard. "I will continue to ensure that the R&W Group remains strong in our market position, vibrant in our approach to innovation, and passionate about both safety and the service we provide our customers. Most of all, I want to make sure that we maintain the strong R&W family feel that is at the heart of R&W's success. Over the last decade, Ray has been a great mentor and friend. Working closely with him has provided me with a very solid foundation on which to continue to help build the Group's prosperity."
Howard first joined the Group in 2006, quickly becoming an instrumental part of the team and helping to grow it to where it is today. Passionate about training and developing people, and also understanding that the skills gap that exists in the civil engineering industry is the biggest challenge it faces, he threw his support behind an apprenticeship initiative with a group of regional contractors working closely with Fareham College.
The initiative, known as the Civil Engineering and Groundworks Apprenticeship (CEGA), sees apprentices complete 20 weeks of college-based intensive training to ensure they are fully qualified to work on site for the next 18 months of their course. The site in question is a bespoke facility known as the Civil Engineering Training Centre (CETC).
Next generation
Proving incredibly popular, CETC has been recognised for being at the cutting edge of recruitment and people development when it won the 2018 Constructing Excellence Apprenticeship Initiative Award.
At present, there are two intakes of apprentices per academic year, and in the first two intakes it enrolled 66 apprentices. However, due to increasing demand, it now plans to significantly expand in the next few years, delivering 1665 apprentices to the workforce between 2018 and 2023. Recognising the vital role the initiative plays in driving regional economic growth, the Local Enterprise Partnership has also recently allocated a grant for said expansion for over £2.5 million.
With the R&W Group firmly installed as being a key contributor to the education and development of the next generation of civil engineering talent, Ray has a lot to be proud of when looking back on his and his business' achievements over the years. He has not disappeared into retirement, however, and today continues to chair R&W's parent company, Chantacre Ltd, as well as being heavily involved in the day-to-day running of R&W, as the Director responsible for R&W Environmental.
As Ray stated: "It has been my absolute privilege to have been R&W's Chairman for all of these years and I am very proud of what we have all built together. I know that Howard will do a fantastic job and I wish him all the best as he embarks on the next stage of his own career."
R&W Group
Services: Civil engineering, traffic management, environmental, rail and plant hire, sales and service