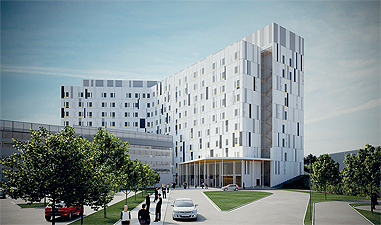 Safe access
Vaasa Hospital District's new H building is going to include the iLOQ 5 Series digital locking and access control solution.
---
Built in connection with the Vaasa Central Hospital in Hietalahti, the area of the H building will be approximately 37,000 square meters, with ten floors and additional technical space. When completed, the H building will be an intelligent hospital with modern and high-quality facilities, a cost-effective lifecycle and the capacity to utilize future technology.
"iLOQ solutions allow us to better maintain the safety of hospital patients and staff and enable flexible access management in different situations. For example, iLOQ's access management system allows you to remotely delete unreturned keys, keeping your system's security up to date. In addition, the system offers the possibility to use other tags in addition to the keys," explains Timo Koivisto from the Vaasa Hospital District.