In safe hands
Focusing on safety solutions designed for productivity, SafeRack has established a growing reputation as the preferred provider of industrial accessibility equipment internationally
The recognised industry leader in truck and railcar loading platform systems, SafeRack continues to invest in its people, plant, and safety solutions on a path for international growth and success. In the first half of the year the South Carolina-based manufacturer has enjoyed a marked increase in demand for products across diverse industries including aerospace, aviation, automotive, bulk chemical loading, crude oil, food and pharmaceuticals, mining and minerals, natural gas and LPG, marine, and wastewater. The manufacturer is well-versed in serving these segments and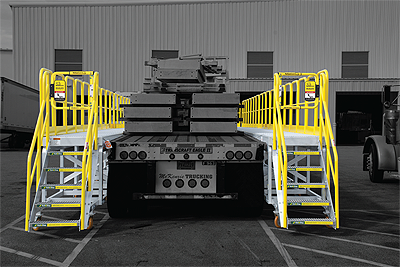 regularly innovates to keep pace with current trends.
Graeme Murphy, Vice President of Strategy and Business Development explains: "Without a doubt, some of these markets are more capital intensive than others. We have invested in a number of vertical market specialists for each segment to facilitate a higher level of engagement and knowledge-sharing when looking at each client's unique requirements." Murphy goes on to report: "This continued investment and the confidence our customers have in our business, position us well to secure large capital projects as funds are released."
For those familiar with SafeRack, it will come as no surprise that the company consistently attracts and develops world-class talent. As a business that treats its staff as its most valuable asset, SafeRack has established a family culture where hard-working employees thrive and receive the support they need to increase their qualifications and advance in their professional careers.
SafeRack has also recently taken steps to improve its infrastructure. The company set up a world-class Training and Innovation Centre earlier this year at its headquarters in South Carolina. The new facility is focused on providing education, consultation, and knowledge-sharing for SafeRack customers. Murphy explains: "The Innovation Centre provides clients with a full-scale, climate-controlled training facility enabling them to visualise what is possible, what can be done, while in a hands-on safe environment. We believe that this unique opportunity is what's missing in the typical service model. We're committed to providing superior customer service and exceptional collaboration."
Increasing productivity
In the spirit of mutual success, SafeRack has built a proven track record of successfully completed projects often responsible for the introduction of new operational methods. One example of such strong partnership is a recent collaboration with Jefferson Energy, a midstream oil company serving the Gulf Coast of the United States. SafeRack engineered and installed a customised solution to help Jefferson Energy's partner Exxon successfully meet the market demand with a 10-spot double-sided refined rack. With the completion of the installation, Exxon and Jefferson are now able to provide more secure transportation of gasoline across North America.
With countries like Mexico and Brazil producing less refined petroleum, America's oil and gas giants are currently facing the task to meet this demand. While US-based refineries and midstream terminal companies are well-positioned to pick up the slack, they often lack the infrastructure to meet and execute the demand for export. When Jefferson Energy agreed to partner with Exxon to provide logistics, it needed a safe and efficient loading system to support its breakthrough in the market.
European expansion
Using proprietary design and engineering technology, SafeRack determined that 30 unloading spots were necessary to justify the Jefferson Energy project. The company's engineering team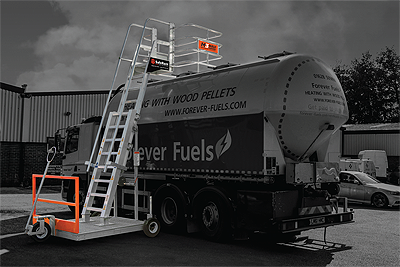 designed a seamless track and gangway system, so railcars would not have to be decoupled while unloading. Jefferson Energy Project Manager Larry Doucet was pleased with SafeRack's ability to deliver a solution. "Most terminals take three to four hours to unload 15 railcars. We're now unloading 15, setting up the next 15, and unloading them in under 2.5 hours. SafeRack helped us reduce unloading time by about 40 per cent, impacting productivity significantly."
To watch the video about the Jefferson Energy SafeRack project visit: https://www.saferack.com/ethanol-loading-saferack-jefferson-energy/.
Ready to migrate its success in North America to Europe, SafeRack made its first-ever appearance at the UK Concrete Show in March this year, showing visitors how they can increase throughput without sacrificing safety. "The Show was an excellent place to give impetus to our plans for European expansion," explains Murphy. "We are now engaged on several projects in the UK. Although we've had an office in the country for seven years, we are now adding additional resources to grow our presence in European markets. It is increasingly becoming the case that no matter where you go in the world, you are likely to see SafeRack products and solutions in operation," he states proudly.
More of the same appears to be the company's recipe for achieving long-term success. With the knowledge that its customers aim to increase productivity without sacrificing safety, SafeRack continues to engage with clients early on in their projects to share best practices, ideas, and experience. "It is a tried-and-tested strategy, which helps us execute projects on time and within budget, all while providing customers with superior solutions," Murphy notes. "We have set a very high standard for customer service and maintaining it is our goal for years to come. Inextricably linked to that is the continuous development and supply of high-quality products and turnkey solutions, which will enable us to develop and enhance these strong relationships with clients, stakeholders, and legislators," he concludes.
For more information about how SafeRack is meeting the growing needs across diverse markets worldwide, visit: www.saferack.com
SafeRack
Services: Manufacture of Industrial Safety Solutions