Saferoad VRS' continuous investment in its manufacturing process has enabled the supplier and installer of vehicle restraint systems and sound noise barriers to produce highly effective, low-cost products that are continuously being used in key motorway projects
Have a safe journey
Saferoad VRS' continuous investment in its manufacturing process has enabled the supplier and installer of vehicle restraint systems and sound noise barriers to produce highly effective, low-cost products that are continuously being used in key motorway projects
It did not take long before Saferoad started making its own vehicle restraint systems (VRS) and noise barriers after the organisation's entry into the UK market in 2008. The Norwegian company was founded just a year earlier as a merger between Orsta Group and Eurosklit Group. It then expanded into the country following the acquisition of Balmer Lindley Group, initially focusing only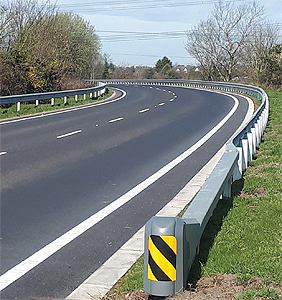 on the installation of the abovementioned products and operating under the name of Saferoad VRS. Once set up to manufacture its own VRS and noise barriers, however, it demonstrated extraordinary capabilities that have allowed it to grow into one of the three largest suppliers of its kind in the UK.
"We are following an innovative manufacturing process that allows us to produce large quantities of material at low cost," John Cudlipp, Operations Director at Saferoad VRS, begins. "Recent years have seen us invest significantly in expanding our capabilities, which has resulted in the production of very cost-effective products. In addition, we also work closely with a number of small independent manufacturers in the UK who are fully-certified to manufacture our products, which further balances the economies of scale and provides support for local business."
Over the years, Saferoad VRS has developed a host of flagship items that are widely recognised for their quality. These include the company's highly distinctive energy absorbing SafeEnd terminal and a range of higher containment VRS that stand out for their efficiency. "We have experienced a steady increase in demand for our products over the last seven years, with clients acknowledging their innovative nature and the comprehensive service we provide," John states.
He moves on to share his observations regarding changing market demands for VRS and noise barriers: "We have noticed a trend for the use of concrete foundations for deformable steel VRS and in response to this need, we have invested in developing systems that reduce the overall amount of concrete required, providing environmental and cost benefits to customers.
"With noise barriers, there appears to be a likely move away from traditional timber barriers towards longer-lasting materials such as galvanised steel, plastic, and aluminium," he adds. "Whilst we have some regrets over this, given the sustainable nature of timber, we are well-placed to meet the challenge."
Prestigious projects
A telling example of the confidence the industry has in Saferoad VRS' abilities, is the company's successful bids for several major projects on UK trunk roads. "Two of these are the M4 and M6 smart motorway schemes. Our involvement in both will be to supply and install both VRS and noise barriers and we are very happy to get the opportunity to work with two of the UK's premier Tier 1 contractors and build on our existing relationships," John details. "It has to be said that there has been a positive change in Tier 1 contractors' attitude towards their supply chain and the construction industry is certainly becoming a lot more inclusive than before, which is opening up new opportunities for a business like ours.
"Both programmes are challenging in terms of quality, time constraints, and the need to provide value," he adds. "By adhering to our approach of constantly developing simpler, lighter, more cost effective, and easier to install products, however, we are certain to meet the project goals and our customers' expectations. There is a good number of people within the company who have experience of between 20 and 35 years, so seldom do we come across anything that someone has not had to overcome in the past."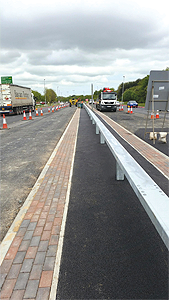 Speaking of the more typical challenges Saferoad VRS has to cope with in a project, John claims that while every scheme poses its own issues, one of the traditional concerns is the limited space the company has to share with many other trades trying to complete their own works. "This holds true especially when working on the trunk road network. Therefore, in order to resolve any issues or even prevent them from happening, there has to be a good deal of collaboration and communication between different entities.
"There is also the challenge of working within ageing infrastructure, the details of which are not always known, meaning that the designers are often forced to make assumptions. This, in turn, can lead to considerable delay and disruption with escalating costs. When this happens, it becomes very important to work with the customer and do everything possible to mitigate delays and reduce the additional costs," he continues.
Finally, the creation of easier to install VRS on Saferoad VRS' part is changing the dynamics of the entire project. Adrian names the possible solution to the disorganisation of the workflow that might follow: "As we continuously innovate and come up with quality products, we constantly find ourselves catching up with the trades, which enable our work to commence. In this situation, I believe that the best course of action would be to delay the VRS installation to a later stage of the project, so that the forward trades can progress sufficiently before we step in."
Digital ambitions
Since all efforts undertaken by Saferoad VRS to grow the business in the last 11 years have met with success, the company is eager to continue doing what has proven to work in the years to come. "Introducing new products, training and investing in our workforce, and further emphasising safety are a must for us," John insists. "Looking further ahead, our long-term vision is to have the best product range in the market and to be recognised as delivering the best customer service and advice. We are planning to develop a capability that will allow us to provide full digital models of our products, so that they can be incorporated into 3D scheme models, which will further advance our offering. Last but far from least, we will take all the necessary measures to ensure that none of our people gets hurt or has an accident in the next three-to-five years and continue to work towards making the roads a safer place for the workforce and the travelling public alike."
Saferoad VRS
Services: Manufacture and installation of vehicle restraint systems and sound noise barriers