As the Irish economy finds its feet after the recent recession, Sammon Contracting is committed to establishing itself as a market leader through diversification and key partnerships
Successful partnerships
As the Irish economy finds its feet after the recent recession, Sammon Contracting is committed to establishing itself as a market leader through diversification and key partnerships
In celebrating its 30th year in operation in 2016, Sammon Contracting is able look back on a successful history marked by growth and diversification. Now able to count itself amongst some of the biggest building contractors in Ireland, the company started off as a joinery and interior fit-outs firm garnering much of its early success off the back of numerous referrals. As the Irish economy emerges from one of its deepest ever recessions, much of the construction industry there is facing an up hill battle, as major contractors set their sights on renewed growth. As Miceál Sammon, Founder and CEO of Sammon explains, his company is making significant steps towards realising this. "Last year we trebled turnover and we forecast a further doubling of turnover this year so we're now on a very steep growth curve," he points out.
Today Sammon offers a portfolio of capabilities encompassing design and build project management right through to its joinery roots, serving a range of market segments including education and commercial buildings. With around 150 full-time employees ranging upwards from junior engineer and quantity surveyor level, Miceál describes the business as a management contractor. At any one time it may have a total of 1000 supply chain and subcontractor people working under the Sammon umbrella across its multiple sites. Committed to employing the highest skilled candidates in the market, Miceál puts much of the firm's success down to its people.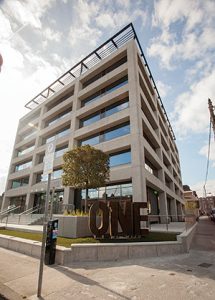 "One of the greatest attributes we have is the experience of our staff, particularly when it comes to their global experience," he explains. "It is this combination of global experience and local knowledge that allows us to carry out the best work in the different locations in which we work. Our background comes from a trade tradition, which means that our company is very good at dealing with complexity across any of the disciplines. This is because we can approach it from a problem solving perspective. Also stemming from our history in the joinery business, we are very strict on quality and it was from this foundation that we built much of our early success through referral work."
As mentioned, the current challenge facing the entire construction industry in Ireland is the economy's emergence from a serious crash. Miceál notes that for a market to function on a sustainable basis that at least 12 per cent of GNP should be in a construction related sector, which equates to a value in excess of 20 billion euros in Ireland. However, projected figures for 2015 are showing 7.5 per cent of GNP. "If you do the maths this means that the entire construction delivery capability in Ireland would need to more than double, and it needs to do this from a much smaller base of construction companies still standing after the recession. So with a number of opportunities appearing on the horizon there is a sizeable market opening up on the doorstep of major building contractors in the UK," he highlights.
Left bruised by the recession, many Irish constructors were afflicted by weakened balance sheets but keen to stimulate growth and infrastructure development in the country, the government has launched a number of PPP (public-private-partnership) schemes to support this situation. "We have teamed up with the UK construction giant Carillion plc to deliver these PPPs and have recently won our first project under the name Inspired Spaces," explains Miceál. "This is the Schools Bundle 5, a 100 million euro package to deliver six new education facilities around the country. Set to start in the summer of 2016 we hope to deliver our first school by September 2017.
"We have also got our sights set on a new 300 million euro social housing package and some police/justice projects. With an election coming up in the Spring, we expect that more and more of these PPP projects will come to market so the opportunities for growth over the coming months are very good. With this in mind I believe Carillion have made a very wise decision to partner with Sammon as, whilst they bring the strength of their size and balance sheet, we are a very reputable local delivery partner. Local knowledge and experience is key to the successful delivery of projects with the complexity associated with a PPP."
Alongside the growth opportunities these PPPs can bring to Sammon, the company has also invested significantly to create new growth streams for itself. In 2015 it invested 500,000 euros into a new automated CNC machining centre giving the business a new PVC and aluminium window division that is already showing results. "We have delivered about 3.5 million euros worth of windows last year and have between six million and seven million euros in the pipeline at the moment," says Miceál. "We hope to roll this out into the UK as we move forward." He also notes the significant investment the company puts into its staff, saying that having the right skills and systems in place is critical to being able to establish itself as a leading contractor in the market.
As Sammon Contracting looks forward it shares in Ireland's challenging outlook as it continues to get back on its feet. Encouraging new talent back into the market, as well as skilled workers who emigrated to more fruitful economies, and helping banks support the construction industry will all be particular focal points for Ireland's government and industry bodies over the coming years. "For Sammon we have a three-pronged strategy as we look at cementing our position in the top four to six contractors in Ireland within the next couple of years," outlines Miceál. "First off, we will be focusing on delivering these PPP projects whilst continuing to bid for more. Secondly, we need to ensure we keep hold of the substantial market share that we have with Department of Education projects – this currently stands at around 60 million euros a year. And finally, we want to develop our commercial offering, which we have established over the last couple of years with projects like the Aer Lingus HQ and the One Building in Dublin, as we know there are lots of opportunities in the Dublin area in particular. We will also be looking to partner with eligible contractors to help fill the residential gap in Ireland's current marketplace."
Sammon Contracting
Services: Irish multi-faceted construction contractor