Unclogging the arteries of industry with fine process water filtration
For heavy industry across the Middle East the economic impact of the clouds of sand that sweep across the region is considerable. With sandstorms becoming more and more unseasonal and ferocious, the expectations being placed on process water filtration manufacturers to keep systems free of solids is becoming ever more demanding.
As reported by Mr Enric Terradallas from the Sand & Dust Storm Prediction Centre at the World Metrology Organisation, the Middle East has seen a significant increase in the frequency and intensity of sand and dust storms in the past 15 years. It claims that the main source of sand and dust storms originates from Iraq where the flow of rivers has decreased because of a race in dam construction in upstream countries. This has led to the disappearance of marshes and drying up of lakes both in Iraq and Iran, and the sediments left behind creating the dust and sand.
A sandstorm consists of a massive amount of particulate in the air and has a significant effect on a person's health. When breathed in it can cause serous respiratory problems. Industries operating in these conditions suffer a not too dissimilar issue. Cooling systems used by a manufacturing process of any type use air and water to transfer generated heat. Air borne contaminants get drawn into the cooling system which effectively block up it's 'arteries' resulting in, at the very least, inefficiencies in operation; or, at worst, complete failure of processes.
Andy Evans from process water filtration engineers Amiad Water Systems UK reports: "Contamination by smaller particulate and fine dust has seen a comprehensive review of filtration technology techniques for industries operating across the Middle East.
"The problem has been that finer filtration brings with it a limited open surface area available on the filter media on which to retain solids. It is this 'open area', ie holes or porosity, within the filter media that determine the dirt holding capacity and the frequency of cleaning required."
The table demonstrates the effect of finer filtration on the open surface area of a typical filter screen and shows the impact on dirt holding capability. There are a few anomalies in the values as these will vary from manufacturer to manufacturer and wire diameters change but this is a general guide.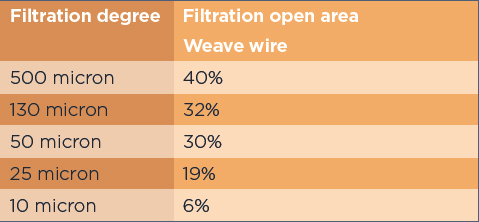 "To accommodate the problem we have developed multi-layer screens," Andy continues. "Effectively, by multi-layering we are providing a significantly larger open area. However, even with this inherent solids holding capability, when cooling systems are subjected to the conditions of sandstorms filters can still become compromised. Typically under sandstorm conditions filter systems will be isolated or become overwhelmed. Therefore the actual design of a filtration plant must take into account the effect of a smaller open filter area. The result of which can seem to the inexperienced a considerably oversized plant for relatively small flows.
"Putting our design to the test, we have recently been commissioned by a Middle East producer of industrial gasses to design and build a 6 off complete skid mounted 2 stage filtration plant with a removal capability of 20 micron, manufactured to meet the rigorous ASME compliance.
"The plant will be designed to filter a ten per cent stream of the cooling process associated with the gas production. It will be located outside in order to be in close proximity to the process and enable it to directly couple to an existing pipework system.
"On the plus side, the plant will be shaded from the high ambient temperatures experienced in this region but otherwise it will be subjected to all the elements that this environment delivers whilst still operating 24 hours a day, 365 days a year.
"Bearing in mind construction, compliance and a 20 bar pressure design and you've got a considerable challenge to meet. Elevated pressures bring backwashing complications as high pressures are discharged to atmospheric pressure during the backwash process. Analysis has shown that if we target 20 micron this will remove the majority of the sand that we expect will be collected and a continual recirculation will produce a filter cake that will further improve removal performance."
The filtration technology will combine a two-stage approach:
A 20 micron screen system incorporating a special spring loaded nozzle cleaning system designed to remove organic material and very fine sand
A high efficiency hydro cyclone, which serves as a pre-filter during normal operation and act as a primary filter during the periods of significant solids expected to be seen during sandstorm.
As sandstorms can happen without much warning an integrated control system will monitor solids loading on the 20 micron screen and automatically remove and insert it from the system during extreme conditions. This process is all automatic with the telemetry of the system continuously reporting system status back to the engineers.
This bespoke filtration technology is expected to be operational by early 2017.
Amiad Water Systems UK Ltd is based in Swansea, Wales and is a subsidiary of Amiad Water Systems Ltd, a leading global producer of water treatment and filtration solutions. Amiad Water Systems UK provides premier filtration expertise for commercial, industrial, manufacturing and municipal water systems throughout the UK.
For more information, please see www.amiaduk.com