The history of Sandvik group began in 1855 in Sandviken, Sweden when Goran Goransson purchased a small ironworks factory and successfully produced the first high quality steel based on the Bessemer method.
Pioneering innovations and market-oriented solutions
The history of Sandvik group began in 1855 in Sandviken, Sweden when Goran Goransson purchased a small ironworks factory and successfully produced the first high quality steel based on the Bessemer method.
Forming Sandvik in 1862, he acquired the rights to use the method and began manufacturing finished products such as saws and steel tubes.
Over 150 years later, Sandvik's business idea still is to develop, manufacture and market highly processed products that contribute to improving the productivity and profitability of its customers. The company primarily targets specialized core niches where it is, or has the potential to be, a world leader. Sandvik Group is divided into five business areas: Construction, Mining, Machining Solutions, Materials Technology and Venture.
Today, Sandvik is known, among other things, as the world's leading supplier of rock excavation equipment, tools and services for the mining and construction industries where it mostly propelled itself through organic growth and acquisitions. This is also how the drilling expertise was brought to the company: In 1997, Sandvik acquired a Finnish drilling equipment manufacturer Tamrock Oy. This expertise today prospers in two business areas of the Sandvik Group namely in Sandvik Mining and in Sandvik Construction.
Pekka Nieminen, Product Area President, Breaking, Surface Drilling and Tunneling at Sandvik Construction, says that Sandvik Group aims at setting the industry standard. "We are a growth oriented company. We strive to be truly global and, despite our large size, also agile and flexible and ready to meet the needs of our customers with new pioneering innovations, market-oriented technological solutions and excellent service".
In construction industry, safety and environmental issues have continuously grown in importance, in particular during the past ten years. "Today, all manufacturers also put a strong focus on operator environment," Mr. Nieminen points out. "The amount of noise, dust and vibration in operator compartments has to be minimised, and new ways of decreasing those even more are being developed".
Another strong trend is the requirement of equipment and tools being built of recyclable components and materials. Manufacturers are also developing oil spillage protection and the machines' ability to use biodegradable oils only.
"Automation is of course on the agenda. In the past few years, remote access has come into the picture as well," says Mr. Nieminen. "Remote-controlled units represent the latest technology in the field even if there still are some safety-related limitations in their use."
At the same time, there is another strong key driver brought into the picture by the ever-more increasing globalization: A growing need for basic machines that mechanize the excavation process and increase productivity but without sophisticated automation systems.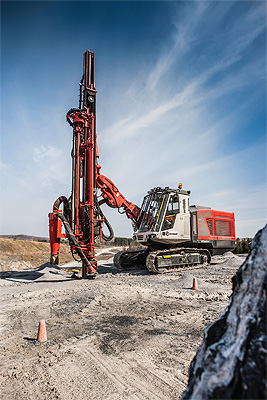 Pioneering innovations
"At Sandvik increased requirements set by customers and projects have definitely been the main drivers of technological development, the most important of those being cost efficiency, safety, excavation quality and productivity. We have responded to these challenges with thorough research of the industry needs and the development of intelligent, accurate and safe drilling technology", Nieminen describes.
An example of that development is, in the field of tunnelling, the intelligent Sandvik DTi tunnelling jumbo series that was launched a few years ago. These jumbos represent the absolute top-of-the-line in the business, similar to the Sandvik iSURE, an excavation process management tool that is quite revolutionary in its approach – and has received a lot of praise in the industry for the excellent results it delivers as well as for its user-friendliness.
Alongside tunnelling, surface drilling technology at Sandvik has developed over the past few years. "Customer needs have always been the driver for any development in this field too," Nieminen points out. "Lately, this has resulted in the development of solutions for low fuel consumption, various kinds of automation systems as well as a range of noise and dust decreasing systems, for example.
"A few years back, we introduced a new type of computer-controlled surface top hammer rig, the Sandvik DPi. This rig features a range of automation and reporting features and offers excellent productivity and very low fuel consumption. The covers of the Sandvik DPi won a design competition in Finland as their structural design ingeniously combines functionality and simplicity, giving a clear competitive edge for the whole lifetime of the product."
But Sandvik has not only focused on intelligent automated drilling solutions but also developed robust, productive and user-friendly basic units. "Based on the customer needs, we are about to launch a new surface top hammer rig that is targeted at markets outside of Europe and the USA," Nieminen sheds light on the upcoming developments.
It would not be possible to launch such products without maintaining a constant focus on the market, in order to try and predict what topics will be at the top of the agenda going forward. In its quest to provide productive solutions to customers, it is clear that Sandvik Construction has remained dedicated to investing heavily in research and development of new products. Continuing into the future with a growing product range, the company is set to make a real vital impact on the tunneling and surface drilling industries.
Sandvik Construction
Services: Specialist mining and construction equipment