Sandvik Mining and Rock Technology
As it continues to serve the ever-changing needs of customers around the world with an industry-leading offering, Sandvik takes the strategic decision to merge two of its core divisions
The next level
As it continues to serve the ever-changing needs of customers around the world with an industry-leading offering, Sandvik takes the strategic decision to merge two of its core divisions
The Sandvik Group can trace its name right back to 1862 when Göran Fredrik Göransson became the first in the world to successfully use the Bessemer method of steel production on an industrial scale. Right from the beginning the company's focus was firmly trained on high quality, added value, investment into R&D, close contact with customers and exports, and the same strategic view still defines Sandvik in the present day. Through a culmination of strong organic growth and successful acquisitions, the group today has three core business pillars in tools and tooling systems for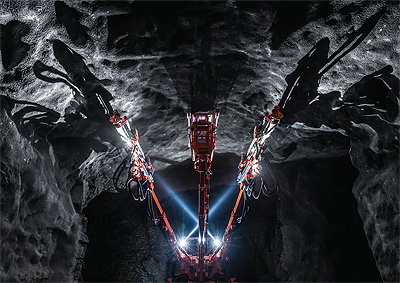 metal cutting, equipment and tools for the mining and construction industries, and products in advanced stainless steel, special alloys and titanium.
In 2015 sales for Sandvik reached 91 billion SEK thanks to the hard work and dedication of 46,000 employees working in over 150 countries. Continuing to drive these volumes and successful growth levels is a central focus on innovation and development. "Sandvik possesses a proud history of engineering excellence, which, when combined with a long standing emphasis on R&D and a global focus on our customers' real requirements, has enabled us to bring new products to market on a continuous basis," explained Vice President Business Development, Pekka Nieminen, when Construction & Civil Engineering spoke with him last year. "The basic demand has not changed for us. That is to produce more with less cost and to improve the overall processes for our customers. Consequently, this is fuelling our R&D work, making innovation the cornerstone of the business."
Perfectly illustrating this total commitment to development, in 2015 three billion SEK was invested into R&D with around 8000 patents active across the group. However, this consistent focus on driving improvement and efficiency does not stop at a product level for Sandvik, but goes much deeper into an ever-present commitment to its business operations. As such, 2016 sees the merging of its mining and construction divisions to better serve the needs of its customers around the world.
Having come into effect on 1 July 2016, the new business area will be known as Sandvik Mining and Rock Technology with Lars Engström, current President of Sandivk Mining, taking the helm as President of the new business area. Speaking of the reasoning behind this restructure, Group President and CEO, Björn Rosengren said: "Products developed for the customer segments mining and construction are based on common technologies with a similar aftermarket offering. In addition, manufacturing units are already largely shared, to some extent, with front line resources. By joining the operations into one business area, we achieve a leaner and more efficient structure. The decentralised business model enables an even clearer focus and faster response to our customers."
Announced in March the business merger will see two of Sandvik's world leading divisions join to offer a more extensive and more focused offering to its clients and the dedication to innovation will undoubtedly remain key throughout the new relationship. Indeed, even since the announcement Sandvik Mining has continued to serve its customers' needs for innovation with the unveiling of a new top hammer drill bit design in May.
Solving a problem experienced by a customer when drilling into abrasive rock conditions, the business has developed a groundbreaking solution, which incorporates the latest upgrade to face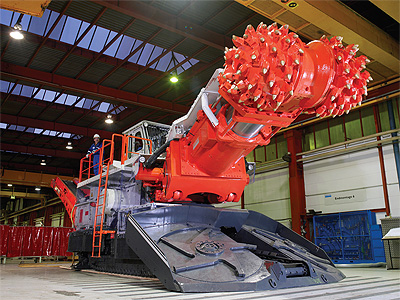 drilling bits in decades. Available in three sizes comprising 43mm, 45mm and 48mm, the new top centre drill bit, which is used for applications such as face drilling and bolting in mining and tunnelling environments, is designed with increased service life as the top priority. A more efficient carbide gauge button design has been employed in addition to an innovative cemented carbide grade, the GC380, to achieve improved operational performance over a longer service life.
"The problem with the carbides that exist on the market today is that they are either wear-resistant or tough," says Robert Grandin, Product Manager Top Hammer Tools at Sandvik Mining. "When developing the GC380, we wanted to combine the best of those two worlds in order to get as much as possible out of the top centre design." The improvements yield significant health and safety benefits, too, since operators are able to spend less time near an unreinforced face. "The new bit design essentially delivers more drill metres per shift compared with a standard bit, thanks to less frequent bit changes," Robert adds.
Recent innovation will be brought to the new business area from Sandvik Construction as well. Also in May, the construction division added to its crushing and screening portfolio by introducing the QJ341+ to its QJ341 jaw crusher range. Once again the product signifies the company's close attention to market demands and customer requirements by incorporating a double deck pre-screen as standard and therefore broadening the firm's offering of the best selling QJ341 series. The new feature provides high amplitude for excellent separation, enabling the removal of a large amount of fines with greater efficiency, higher productivity and less wear on the crusher. The QJ341+ will prove particularly effective in quarrying applications where a high proportion of fines in the feed material are found and test results have already demonstrated increased productivity by as much as 38 per cent in certain applications.
"Our focus is to create the right product and service packages that help our customers to maximise their business performance, be this in terms of productivity, cost efficiency or profitability," said Pekka about the continued outlook of the Sandvik Group. "If we manage to continue with this and it is met with customers' acceptance, then we feel that growth will come from our in-built customer focus." A quick look back over the last year alone for both the mining and construction divisions at Sandvik reveals exactly the vision that Pekka notes here. Product innovation is a regular occurrence, as is the effective delivery of project specific solutions for customers around the world with different needs for a variety of applications and environments. Therefore, there is little doubt that the successful merger of the two divisions in 2016 will only serve to strengthen the relationships shared between the group and its customers as it moves forward.
Sandvik Mining and Rock Technology
sandvik.com Services: World leading producer of specialist mining and construction equipment