Scantruck has undergone a period of growth at a difficult time in industry, calling upon its reputation as a company that can be trusted by customers
Lifting standards
Scantruck has undergone a period of growth at a difficult time in industry, calling upon its reputation as a company that can be trusted by customers
Recognised as a leading distributor in Denmark, Scantruck A/S has become the biggest importer and supplier of a range of vehicles and equipment for the construction and civil engineering sector.
Construction and Civil Engineering magazine spoke to sales and marketing director Henrik Kirketerp- Møller about the company's products and services as it looks to the new year. "We are supplying to the whole building industry, rental companies, the farming industry and to anyone requiring machinery to perform most operations including lifting and digging," he begins.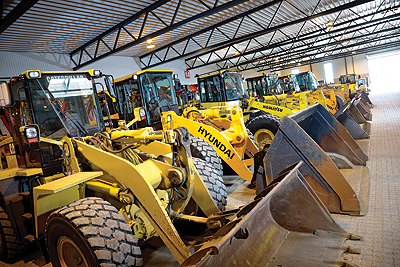 Early in 2013 Scantruck opened up an additional facility close to Copenhagen. Henrik explains how it holds a competitive edge: "We are located in the centre of Zealand in Ringsted, and further North in Skive. Operating from two locations puts us in a strong position to reach out to customers." The new site supports sales of the product portfolio that consist of big brands like Manitou, Komatsu, Atlas, and Mustang heavy vehicles. As the only licensed company in Denmark to import, sell and service this machinery Scantruck currently maintains a market share of 75 per cent of sales and service in its sector.
In the six months since the facility in Ringsted opened, the business has benefited from very positive returns. Having a pure understanding of customers' needs has led to the expansion of its service team in a unique way. Elaborating on this extension Henrik says: "Additionally we have grown from operating ten service vans to a fleet of 40, each with highly trained technicians, available 24/7. If any of our customers operating machinery break down anywhere in Denmark we will be there in two hours to help them.
"We see this service as a necessity. To maintain our market share we must continually provide an unrivalled service, and our customers' needs are top priority. Their business is our business and we want to keep them moving."
The service division of the company has grown in the last three years and Scantruck is putting increasing emphasis on its development. It has established a functional process to maintain targets of accelerated response times. Henrik continues: "As we build up a new range of machinery on offer we put a lot of effort into our service technicians developing an expertise on the machines. They undertake product training and all the vans are equipped with computerised and technical facilities, which allows them to be completely home based. When we receive a request to repair a broken unit our office contacts one of our local remote service technicians and they respond. If the call comes in late in the day, and the technician does not have the replacement parts on board, we organise for parts to be delivered to the technician overnight so that the repair can be carried out first thing in the morning. This process means we are close to all our customers and can respond quickly. There is the added benefit of not requiring our technicians to spend a lot of time travelling on the roads."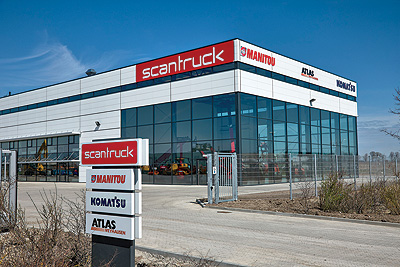 With one eye on strategy, the other remains on finance. The vision is to remain fairly priced and offer its customers reasonable cost solutions to any problems they encounter. It is a key strength that attracts companies to return time again, and currently Scantruck is achieving sales and service figures encompassing over 2000 machines a year. Despite a tough economic climate the business has achieved a steady growth over the past five years. "The Danish market is very low at the moment so we have been focusing on every single deal and every customer. By keeping their needs fulfilled we are achieving our own goals," he expresses.
With over 60,000 square metres of combined space in both locations, Scantruck has been able to source and stock an array of used machines to supply to the demand of the used market. Shedding light on this new channel, Henrik adds: "Buying and selling used machines has become a big focal point for us right now. There is a big market out there for people who can't necessarily afford brand new equipment. We have a dedicated team dealing in used machinery and all the equipment is cleaned and assessed to be in correct condition before it goes to sale."
Having acknowledged the difficult conditions over the past few years and adapting its approach to grow within that climate Henrik maintains a positive outlook to the future: "We aim to continue controlled growth over all three sectors of our business. Imports of new equipment is an area that we aim to improve as the market develops, and we look to uphold our market share. The service division is very strong and we look forward to it growing alongside our used equipment approach. Our aim is to make money, but we recognise that it can only really be achieved by building trust in long term relationships where all parties are satisfied."
Scantruck
Services: Distributor of construction equipment